Mandalay Bay Power Outage Shocks Visitors and Illuminates the Ghost of Danny Ocean
Posted on: May 12, 2016, 07:39h.
Last updated on: May 12, 2016, 12:40h.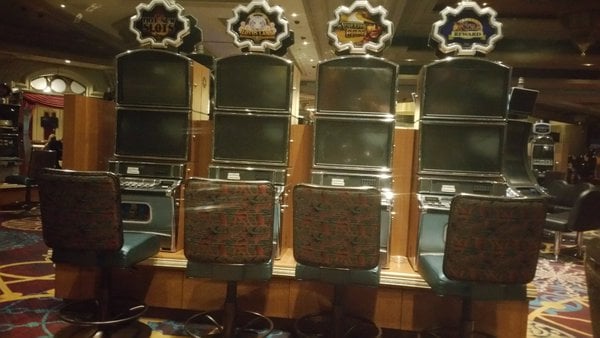 The Mandalay Bay Casino in Las Vegas went without power for about 40 minutes on Wednesday around noon, and naturally patrons and casino officials quickly thought of one man: Danny Ocean.
Reminiscent of the famous "Ocean's 11" Hollywood classic and reboot, when the lights went down the excitement went up as security personnel rushed to secure the resort and visitors rushed to social media to share the news that Ocean might be in the building.
Images and videos of the blackout were almost immediately being shared on Twitter and Facebook. MGM Resorts, which owns Mandalay Bay, said no one was injured and no evacuation was required.
NV Energy, the public utility provider for the Las Vegas metro, said the cause of the outage was unknown and that an investigation is ongoing. No other properties were affected, though Mandalay Bay's neighboring casino Luxor reported a power surge.
Real Life Ocean's 11
Unfortunately for those who would enjoy seeing someone other than the house actually win big for a change, Wednesday's events seem to be just a simple power outage. Mandalay Bay representatives say security guards were able to quickly lock down the building to assure no patrons or potential heisters were leaving the property with ill-gotten money.
Of course, a sophisticated crook capable of disabling a casino's power grid and infiltrating its vault is likely capable of finding a more concealed exit path than the front door.
But the reality is that today's security at casinos is nearly unrivaled by any other industry, and that's especially true on the Las Vegas Strip.
The 2001 remake of "Ocean's 11," while hilariously entertaining, was also rather hilarious for its practicality inaccuracies. The "Z-pinch" generator played a pivotal role in Ocean's team disabling power at three casinos, but the electrical machine wouldn't be able to fit inside a van and would require a much larger power source than the bunch of car batteries the criminals used in the movie.
Remote Heists
While both "Ocean's 11" films were perfect for their time, in 2016 technology has given fraudsters a new tool to steal.
The most recent heist related to the casino industry took place on February 5 when some 20 individuals were able to schedule $101 million in withdrawals from the Federal Reserve Bank in New York. The crooks had planned to take $1 billion and launder the money through various banks and entities including two Filipino casinos before a spelling error foiled the plan.
The cold hard truth is that it might actually be easier in 2016 for cybercriminals to steal money through technological means than by physically entering a casino.
Cybercrime is one of the more costly and dangerous forms of crime in the modern world. The Ponemon Institute, an independent research firm that investigates privacy, data protection, and information security, found that 47 percent of all US adults had their personal information exposed by hackers in 2014.
And McAfee and Intel Security say a conservative estimate for the annual cost of cybercrime on the global economy is $375 billion.
That's why while Mandalay Bay might not have seen anyone leaving with a bag full of cash on Wednesday, money very well could have left the building.