Las Vegas Preps for Influx of July 4th Partiers with Visitor Safety in Mind
Posted on: June 30, 2017, 05:00h.
Last updated on: June 30, 2017, 05:17h.
More than 323,000 tourists are expected to descend on Las Vegas for the Fourth of July weekend. And the hope is that every one of them makes it home safely after an extra-long weekend in Sin City.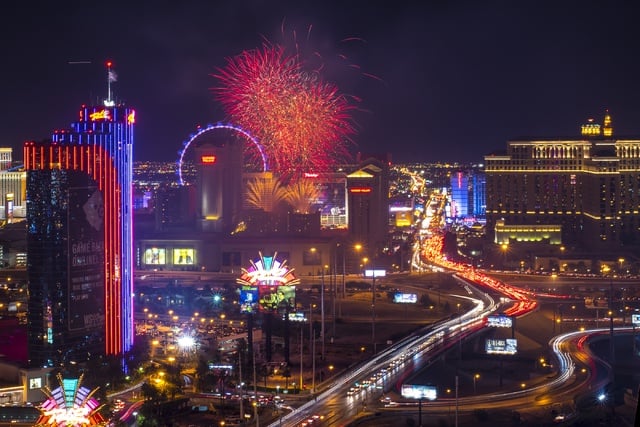 With this year's holiday falling on a Tuesday to stretch the weekend into a four-day affair, casinos, restaurants, shows, and other entertainment venues are preparing for a ka-ching of cash registers to coincide with all the pro-America revelry.
July is not the biggest month for travel to Las Vegas, as temperatures exceeding 110 degrees often can send people to cooler destinations. But Independence Day regularly bucks the lazy summer trends to remind visitors that the city knows how to throw a huge party any time of the year.
The Las Vegas Convention and Visitors Authority estimates 95 percent of available hotel rooms will be booked for the weekend, with tourists expected to spend $217.7 million.
That's just a 0.1 percent increase compared to last year, but these figures account for just Friday and Saturday, not the extra two days of partying that 2017 will likely bring.
About two-thirds of those arriving will be traveling to Las Vegas by car, according to the Nevada Department of Transportation.
Safety First
The Las Vegas Metro Police expect to have their hands full over the long weekend, and have indicated there will be stepped up patrols on the Strip and downtown. The Nevada Highway Patrol said they will have extra officers monitoring the freeways for drunk drivers, too.
As far as fireworks shows go, the July 4th festivities in Las Vegas are not as big of an event as the New Year's pyrotechnics. On late December 31 and early January 1, the entire Strip is closed to traffic.
In 2016, Clark County passed an ordinance forbidding pedestrians in the area from carrying large bags, backpacks, briefcases, and strollers. Such restrictions are not in place for the Fourth, leaving police, who will be patrolling by car, bicycle, an on foot, to be extra watchful for suspicious activity.
On Guard for Terror Attacks
The possibility of violence on a mass scale has become a sad reality in the 21st century, and police and government officials are trying to be proactive in preventing deadly rampages similar to what has occurred in Paris, London, Brussels, Orlando, and elsewhere around the world.
The fact that Independence Day is a uniquely American celebration heightens the need for law enforcement to be on alert. The Islamic State distributed a video recently that called for attacks across the world, and highlighted the Las Vegas Strip as a potential target.
Police have said while they know of no specific credible threat, they always are on alert for people looking to do harm to the city's guests.
This year could mark the last year without safety bollards protecting the Strip. Clark County officials intend to spend $5 million to install 700 protective solid metal posts along Las Vegas Boulevard, a tool that would minimize the possibility of a vehicle being turned into a weapon.
If the County Commission approves a proposal for the bollards, the soonest they could be installed is the end of this year.
Similar Guides On This Topic