Former NBA Ref Tim Donaghy, Who Gambled on Games He Refereed, Charged for Threatening Man With Hammer
Posted on: December 22, 2017, 04:00h.
Last updated on: December 22, 2017, 10:12h.
Disgraced former NBA referee Tim Donaghy, who admitted to betting on professional basketball games he officiated, has been charged with felony aggravated assault in Florida after allegedly threatening a man with a hammer.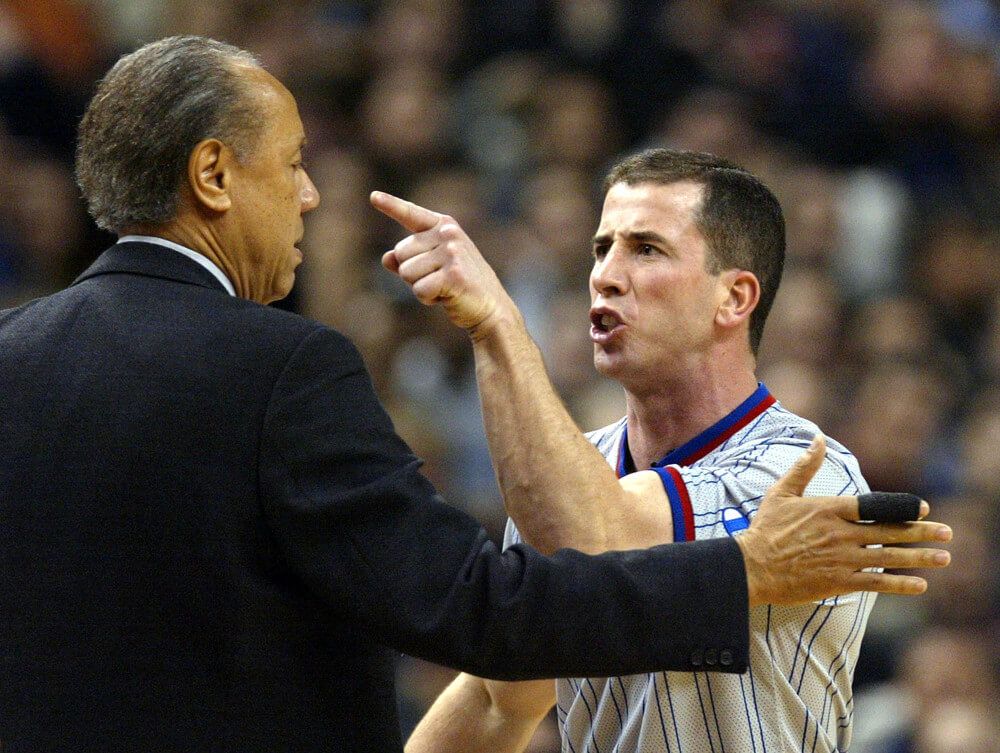 The incident occurred Monday night after Donaghy went to a home where he believed his 19-year-daughter was using illegal drugs. He got into a loud argument with his daughter outside, and when the homeowner came out, the ex-ref yielded a hammer.
Donaghy, who in 2008 spent nearly 15 months in federal prison after pleading guilty to betting on games he presided over, was arrested and charged in Manatee County with aggravated assault, a third-degree felony. He is one of the figures whose actions exemplify why NFL Commissioner Roger Goodell remains opposed to overturning the federal sports betting ban now being reviewed by the Supreme Court.
Sports Betting Controversy
Earlier this month, the SCOTUS heard New Jersey's appeal that it should possess the right to allow its state horse racetracks and Atlantic City casinos to operate sportsbooks. Lower courts have ruled that the Garden State is banned from permitting such activity due to the Professional and Amateur Sports Protection Act of 1992 (PASPA).
State lawyers argue PASPA violates the US Constitution and anti-commandeering laws. During the December 4 hearing, several Supreme Court justices seemed to agree.
Proponents of keeping status quo when it comes to sports betting, and upholding the federal ban in all but four states, say nationwide gambling on athletics could jeopardize the integrity of the games.
That's certainly NFL Commissioner Roger Goodell's main argument. "The integrity of our game is number one. We will not compromise on that," he said this year.
Goodell opines that widespread sports gambling would heighten the odds of players, managers, officials, and others becoming susceptible to corruption. Tim Donaghy's checkered past, which involved making late-minute calls to tilt the outcome of the game in favor of a certain point spread, proves sport isn't immune even under current conditions.
Thwarting Corruption
Supporters of repealing PASPA believe a more regulated sports betting landscape would better protect against rogue individuals like Donaghy.
Numerous real-time data companies have recently emerged that provide monitoring services on betting markets. Sportradar, a firm with investors that includes billionaires Mark Cuban and Michael Jordan, has deals in place with the NFL, NBA, NHL, and NASCAR.
Sportradar's current contracts predominantly deal with real-time scores, statistics, and play-by-play data, but should PASPA be overturned and sports gambling expanded, the leagues might add on the company's monitoring services.
"We monitor odds movements and patterns worldwide to identify suspicious activities," Sportradar says of its Fraud Detection System.
If the NBA had such a program in place in the 2000s when Donaghy was altering the sports betting outcomes of games for himself and outside bookies, the patterns of late-minute calls being made by the referee might have been detected sooner.
Regarding his latest charges, Donaghy's lawyer maintains the former NBA official did not assault nor threaten anyone. But according to the police affidavit, when the homeowner asked what was going on, Donaghy warned the man that if he came any closer, he was going to be hit with the hammer.
He was taken into custody, and later released on $5,000 bail. He is due in court on January 19.
Similar Guides On This Topic