D Las Vegas Resort Owner Derek Stevens Bets Big, Lives Bigger
Posted on: March 14, 2017, 02:00h.
Last updated on: March 14, 2017, 11:30h.
One of the more entertaining byproducts of the NCAA Tournament are the outlandish wagers that gamblers make and D Casino Owner, Derek Stevens never fails to disappoint.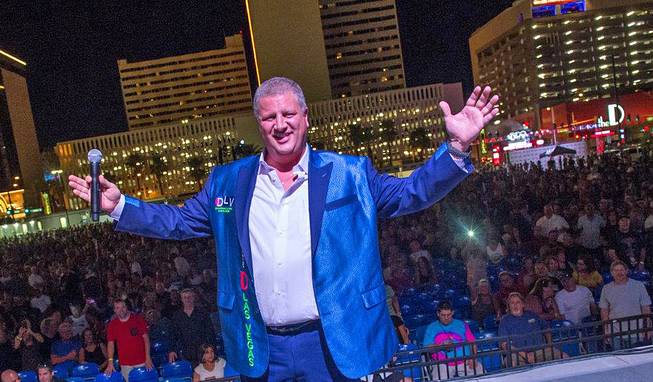 The flamboyant entrepreneur has made another one this year, betting $11,000 on each of the 32 opening round games in the NCAA Tournament. That's $352,000 wagered for a possible maximum payout of $320,000.
The Michigan transplant is known for his cavalier style both at the sportsbook and running his casinos and makes no apologies for either, once telling the Las Vegas Review Journal he likes to think differently than traditional corporate CEOs.
"We're creative," he said. "We do a lot of spur-of-the-moment stuff."
Carnival Barker Mentality
Stevens likes getting publicity for his properties and doesn't mind criticism if it will get him press.
Last year he offered Kanye West a deal when the rapper complained he was $53 million in debt. Stevens proposed the Kardashian husband play a gig at his Downtown Las Vegas Events Center and he could keep the gate receipts, while Stevens took bar revenue. West declined.
Some of his ideas are actually good business decisions. He renovated both D Las Vegas and Golden Gate and brought crowds back to both facilities. Las year he bought the Las Vegas Club, Glitter Glutch strip club and Mermaids Casino, closed them all and is in the planning stages of revitalizing that part of Freemont Street.
"We're in the hotel-casino business," Stevens said. "Downtown needs more high-quality hotel rooms and more big events."
Crazy Like a Fox Betting Strategy
The former auto parts mogul likes his larger than life persona. He is not a reclusive owner, hiding in an office. Many times he is in the bar, holding impromptu meetings or on the floor greeting tourists, sometimes adorned with a large yellow or red trench coat.
His wagers are just as eccentric. Two years ago he bet $20,000 on Michigan State to win the NCAA Tournament at 50-1 odds. He came within two games of winning, but didn't lose his money.
He put $49,000 down on Duke to beat MSU in the Final Four and won $20,000, covering his initial play.
This year Stevens went even more outlandish at the counter. He appeared at South Point on the set of the Vegas Stats and Information Network show on Sirius XM radio and divulged his plan.
He took the underdog in 19 of the 32 first-round games, including Texas Southern at plus-25 against No. 1 seeded North Carolina.
Similar Guides On This Topic
Latest Casino Stocks:
Retrieving stocks data...
Retrieving stocks data...
Retrieving stocks data...
Retrieving stocks data...
Retrieving stocks data...