Vegas Shows No Favorite, But Usual Suspects are Top Choices in NCAA Tournament
Posted on: March 13, 2017, 06:00h.
Last updated on: March 13, 2017, 02:33h.
While the NCAA Tournament selection committee likes Villanova to repeat as champions, several Las Vegas oddsmakers have a different opinion. The Sportsbooks look at this as a wide-open tournament, unusual from past championships that have one or two teams as a favorite.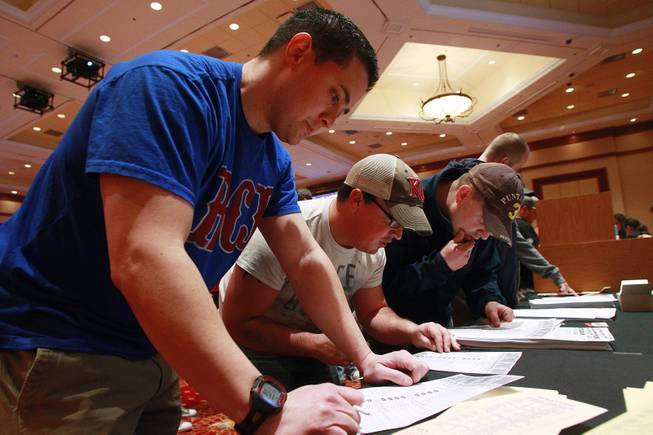 The facility at Red Rock Resort in Las Vegas has seen several teams curry favor with bettors and Sportsbook director, Jason McCormick told the Las Vegas Sun that it is an anomaly.
"We usually have that one team that is chalk to win it all but this year, there's a lot of controversy on the No. 1, No. 2 seeds," McCormick said. "I think it goes nine or 10 teams deep on who should be the favorite."
Duke, North Carolina, Kentucky Top Picks
Despite being a No. 2 seed, Duke is the darling of many oddsmakers. The Westgate LV Superbook has them at 5-1 to win it all, followed by North Carolina at 6-1 and Kentucky, Villanova and Kansas at 8-1.
Blue Devil fans might want to head over to William Hill where they have the team at slightly better odds at 15-2. They are picking the Tar Heels to win at 13-2. The defending champion Wildcats are 7-1. The Jayhawks, Arizona, and Gonzaga join Duke at 15-2.
"(Villanova is) the defending champs and they've had a good year, but those odds show just how wide open the tournament is this year," Nick Bogdanovich, William Hill's director of trading, told USA Today.
This is the first time in more than a decade where the favorite wasn't pegged at 5-1 or less.
"I counted like 18 teams that I gave a real shot to win it," Bogdanovich said. "I think it's usually less than 10. It's going to be all about who gets hot at the right time."
First Round Filled with Value Bets
South Point Casino was the first to put out odds for the first round and unlike years past there are no 30-plus point spreads on any of Thursday or Friday's games.
The largest spread for an opening game is No. 1 seed North Carolina minus 25 No. 16 seed Texas Southern. Gonzaga and Louisville are both 22-point favorites over their opponents.
Thirteen of the 32 contests have point spreads of four or less and two games (No. 8 seed Northwestern vs. No. 9 seed Vanderbilt and No. 7 seed Michigan vs. No. 10 seed Oklahoma State) are pick 'ems.
Second-guessing is common with Selection Sunday, but NCAA Tournament selection committee chairman Mark Hollis said he hadn't seen much criticism this year.
"This is the most competitive bracket I've seen in my five years," he said.
Latest Casino Stocks:
Retrieving stocks data...
Retrieving stocks data...
Retrieving stocks data...
Retrieving stocks data...
Retrieving stocks data...