Political Bettors Backing Trump 'Lies' Make Killing at Offshore Sports Book
Posted on: January 10, 2019, 09:02h.
Last updated on: January 17, 2019, 01:03h.
Political prop bettors have won big by predicting the number of misleading statements US President Donald Trump — locked in a bitter government shutdown showdown and heading to Texas on Thursday  to address border wall issues — would make during his Oval Office address on Tuesday earlier this week.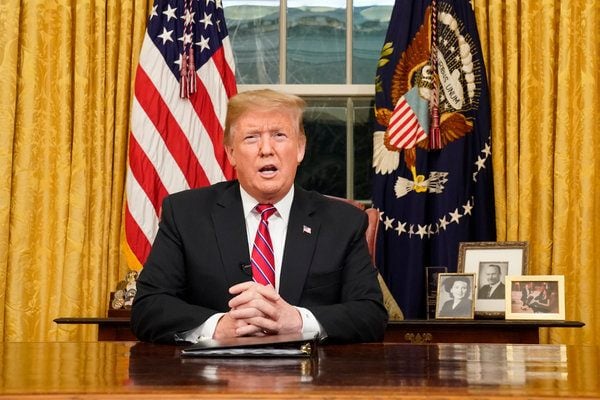 Among a slew of Trump-related bets on offer — ranging from the color of his tie to the length of his speech — Costa Rican-based Bookmaker.eu, which is not licensed for American customers, asked bettors to speculate on how many lies — or "alternative facts," if you prefer – would be told during the course of the speech.
With odds of -145 for more than 3.5 lies (presumably allowing for one half-truth) and +115 for fewer than 3.5, the site reported that 92 percent of bettors took the over.
According to The Washington Post — a news site that has not shown much, if any, love for the sitting president – its Fact Checker found six inaccurate statements Trump during the course of the address.
Moment of Truth
These included the assertion that there is a "growing humanitarian and security crisis at our southern border." The key word here is "growing" – The Post points out that detentions of people trying to cross to the US from Mexico peaked in 2000 at 1.6 million, but have been in decline ever since, according to the Department of Homeland Security.
In fiscal 2018, there were 400,000.
But The Post also notes that while "overall numbers of migrants crossing illegally are down, since 2014 more families from El Salvador, Guatemala and Honduras have begun to trek to the United States in search of safer conditions or economic opportunities, creating a humanitarian crisis."
Trump also claimed that "every day Customs and Border Patrol agents encounter thousands of illegal immigrants trying to enter our country" — the more accurate figure is about 1,000 per day.
There is room for debate as to whether these are truly 'lies' or merely somewhat inaccurate statements based on Trump's own perception of the truth, although his statement that Democrats want a steel barrier rather than a concrete border wall appears to have been conjured from thin air.
But since bookmaker.eu chose The Washington Post as its arbiter of truth, and The Post counted six, it was left with no option but to pay up. A spokesman for the site told Buzzfeed News it had lost $276,424 on the wager.
Best Trump Prop Betting
Paddy Power is the king of proposition wagering on the US President (which is only for non-Americans as well) — to the point that it even has its own Head of Trump Betting. 
Paddy Power novelty bet specials menu currently offers such amusements as Trump to surgically enhance his hands (500/1); Trump to convert to Islam (150/1); and Trump and Putin to take a vacation together during Donald's first presidential term.
The UK bookmaker is even offering a price on whether it will be sued by the president: currently a 50/1 longshot.
Similar Guides On This Topic