Three Surprising Things That Will Change the Way You Las Vegas Forever
There are lots of changes happening in Las Vegas, some of which will change your experience
in a big way.
Here, we'll take a look at three changes that could fundamentally alter how you park, drink
and eat in Las Vegas.
1. Paid Parking at Las Vegas Casinos
Free parking has long been a perk of playing at Las Vegas casinos, but no more. Starting
June 6, 2016, the practice of giving guests free parking will change for good.

MGM Resorts is doing at its Las Vegas destinations what all Las Vegas hotel-casinos have
wanted to do for ages. From here on out, you'll pay for the privilege of visiting their
resorts. Surprise!
Here's how parking fees break out.
Short-Term Visitors
If you're visiting an MGM Resorts hotel for a short period of time, have no fear. Your first hour in self-parking is free.
We should probably list off the hotels in the MGM Resorts family: Monte Carlo, Luxor, Excalibur, Bellagio, Aria, MGM Grand, Mandalay Bay, Delano, Mirage and New York-New York. We tend to blog while drunk, so that may not be a complete list. You always have Google.
Moving on.

Registered Hotel Guests
If you're a registered hotel guest, your parking fee gives you in-and-out privileges across all MGM Resorts in Las Vegas. Your parking fee can be "conveniently charged to your room bill," a phrase which has given us fits of giggles ever since we first read it.
Loyalty Club Members
Certain members of the company's player loyalty club program, M Life Rewards, will get parking gratis. Self-parking is free for Pearl, Gold, Platinum and Noir tier members. Valet is free for Gold, Platinum and Noir members. Players club members can just scan their player's club card to get in and out, you don't need a ticket.

Nevada Residents
Locals gets a sweet deal, at least until the end of 2016. Nevada residents can self-park up to 24 hours free until Dec. 29, 2016.
So, then, how much does parking cost at MGM Resorts hotels? We'll different prices apply to different hotels, actually. Here's a look.
Fees for Parking at Monte Carlo, Luxor, Excalibur
Self-Parking
0-60 minutes, free
1-4 hours, $5
4-24 hours, $8
Valet
0-4 hours, $8
4-24, $13
Fees for Parking at New York-New York, Bellagio, Aria, MGM Grand, Mandalay Bay, Delano, Mirage
Self-Parking
0-60 free
1-4 hours, $7
4-24, $10
Valet
0-4, $13
4-24, $18
The fee for a lost ticket is $30, which could actually end up being a bargain depending upon how long you park.
You can get all this information on the official MGM Resorts parking information page, too.

Other Las Vegas casinos are taking a wait-and-see approach to paid parking, but we have
little doubt that by 2017 everyone else on The Strip will be onboard and paid parking will
be universal. We recently predicted paid parking will be rolled out at Caesars
Entertainment resorts (pretty much the other half of resorts on the Las Vegas Strip) by Jan. 1, 2017.
Remember, change is the only constant in Las Vegas, for better or worse. And speaking of
worse, that leads us to the drinking part.
2. Skinny Pours at Resort Bars
Not to pick on MGM Resorts, but at the moment they're the company most focused on cost-
cutting measures, and this one's a doozy.
It hasn't been reported in any news outlet we're aware of, but MGM Resorts has quietly
begun shrinking the pour in its cocktails.
Specifically, the amount of liquor in a "standard pour" (a shot) in mixed drinks at MGM Resorts casinos has always been 1.5 ounces. Now, a top-down mandate requires pours be 1.25 ounces, or 17% less.
Surprise!
Also of interest, and perhaps not so surprising, is the fact comped drinks have less liquor than cocktails you pay for. Comped mixed drink shots are one ounce, while paid-for drinks get the 1.25-ounce pour.

While that doesn't sound like a lot, when multiplied out by the thousands of drinks served
at casinos across Las Vegas, it adds up to a substantial amount of liquor and, by
extension, cost savings.
This change has gone virtually unnoticed, a fact partially explained by the fact the
company did extensive blind taste testing to see if diminishing the pour quantity would be
noticed by customers. It was decided most people couldn't tell the difference, so the new
guideline was rolled out across all MGM Resorts casinos in the city.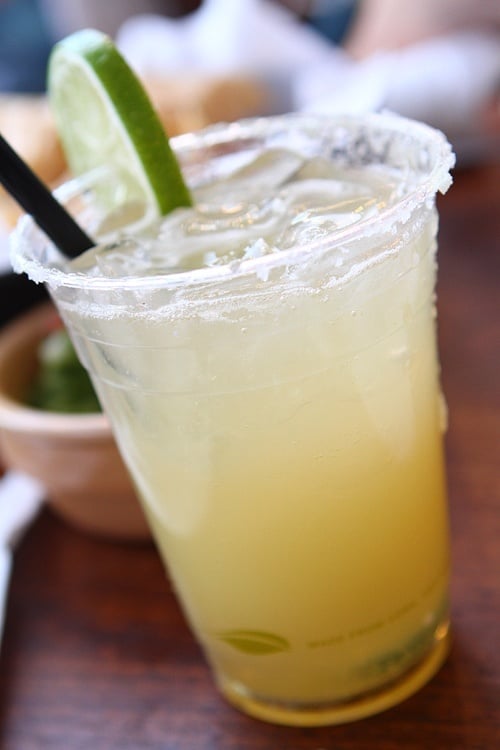 MGM Resorts isn't the only company tightening its grip in the hooch, of course.
We've long chronicled the ways casinos are monitoring gambling in relation to free drinks, including the use of slot machine vouchers and other buzz-killing systems, as well as the insidious practice of substituting liquor brands for comped drinks.
Feel like you're not getting that same buzz when you're in Vegas? There's a very good
reason. Paying for parking is certainly a pain, but cutting back on our inebriation level
gets us downright cranky.
Update (6/7/16): A rep from MGM Resorts sent a response to our story about the smaller pour size, stating:
"We did analysis last year across our resorts and across Las Vegas. We found that bars and restaurants at MGM resorts were not dispensing liquor in mixed drinks at uniform levels. We also did search across Las Vegas and found the standard liquor pour is 1.25 ounces at most Las Vegas resorts. As a result, we took steps in 2015 to standardize the beverage process to assure each customer receives an accurate and consistent measure of liquor in each mixed drink."

"Our view is that universal spirits and pour size among our properties has improved the guest experience by offering a consistent product. Bartenders prepare drinks more efficiently and consistently by maximizing the use of free pour jiggers and bar guns. By also aligning these procedures we also make training and transfers between resorts efficient and more available for employees seeking to advance their careers."
No, really.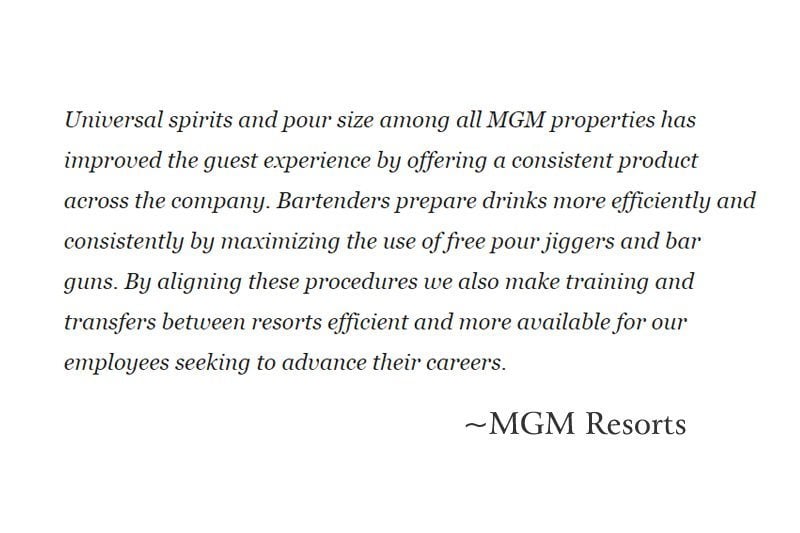 MGM Resorts added: "We expected no negative comments from our customers and have received none."
Here's what we learned: 1) MGM Resorts actually made its pours smaller in 2015, not recently. 2) Less liquor in drinks improves the guest experience. 3) The decision to make pours smaller was made, in part, to help bartenders advance their careers. 4) "Universal Spirits" would make a great band name.
Thanks to Gina Lazara and Channel 13 here in Las Vegas for covering this story. (Note: This blog isn't the one that first reported MGM Resorts would begin charging for parking.)
3. Surge Pricing at Restaurants
Here's a relatively new practice that's equally ingenious and frustrating.
In more and more cases, Las Vegas restaurants post menus online that don't include prices. It's not a huge deal until you understand the reason.
The newest tactic used by restaurants, especially those at large resorts on the Las Vegas
Strip, is to change their prices depending upon demand. Surge pricing, as it's commonly
called in the ridesharing world. Surprise!
That's right. A given restaurant on a Tuesday might charge $14.50 for chicken parm. That
exact same dish, during a busier period, such as on a Saturday, could be priced at $17.50.

Because of the transient nature of a tourist-based clientele, restaurants are relying on
the fact guests will only visit once during any given stay and not notice the inflated pricing. Some Las Vegas bars have used surge pricing for cocktails for some time, and now food is subject to the same WTF.
There are teams of analysts behind the scenes calculating how to adjust pricing to make
the most of fluctuations in demand, and juggling cost and pricing to extract the most profit
possible given a host of variables.
You might say that in some cases, the bean-counters are literally counting beans, then
deciding how much to charge for them given increases and decreases in demand. It's good
business, but doesn't give us a good feeling.

So, knowing such changes are going on, it means we need to stay even more vigilant as
guests of Las Vegas casinos and restaurants. And parking garages.
The more we know about how things work, the better prepared we'll be to protect our
bankrolls and patronize the establishments we feel are giving us a fair shake.
We'd love to hear your reaction to these new trends, as well as any tips and tricks for
getting the biggest bang for your bucks in Las Vegas!
Want to explore more stories? Read about US gambling here:
You can also learn about online gambling in Canada here: