Let's Blow Through What's Going On at Linq Promenade
Change comes fast and furious in Las Vegas, so we thought it time to take another pass at what's new at Linq promenade. That, of course, it code for security breaches!
First up, we poked our nose over the construction wall and In-N-Out, a long-awaited addition to the Linq mall (located between Flamingo and Linq hotels).
Presumably, the Strip outpost of In-N-Out will open by the end of the year, but at this point, there's little to see in the way of progress.

Nearby, there's another restaurant in the works, Canter's Deli. Of Canter's Deli fame.
This establishment, too, is supposed to arrive soon, but at the moment is little more than an empty room with sadness written all over it.

Other parts of the Linq promenade, however, hold a bit more promise.
There's a new restaurant in the works, Jaburrito, a place for sushi burritos, which we understand isn't nearly as gross as it sounds.

Linq promenade is currently decked out in its Halloween finest, including some impressive ghouls and werewolves along the pedestrian mall.

The monsters at Linq are a fun diversion, and lots of visitors seemed to be taking advantage of the free photo op.

In keeping with the Linq's practice of refreshing its public art, there's a new undead-themed mural.

A new addition to the Linq promenade is an exotic vehicle rental stand.

The rates don't seem particularly high, but we are a blog, not a Slingshot expert.

Urban Turban, a popular Vegas restaurant, now has a stand at Linq (sorry, "open-air kitchen"), and it's fully up and running.
The menu is somewhat limited, but what's on it looks tempting.

Here's the Urban Turban menu. What, you thought we were going to leave you hanging?

Nearby, of course, is the High Roller observation wheel. Nothing too new there, but we felt it was a good time to bring up the fact Las Vegas is home to the world's largest Ferris wheel. It continues to struggle to meet ridership targets, but we shouldn't take this engineering wonder for granted.
Thanks to the miracle and curse that is the Internet, there's an easy way to see everything we've ever written about the High Roller wheel, and there's been a metric hell-ton. Warning: Some of it is really weird.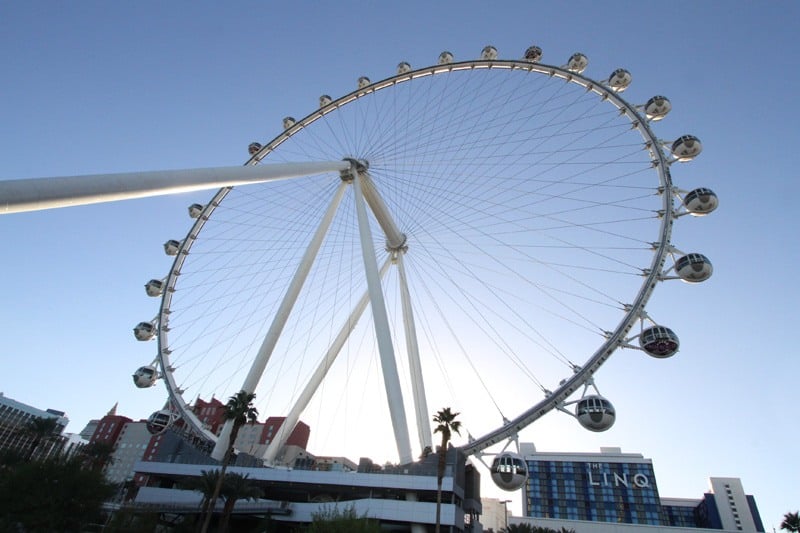 And some final newness, just behind the High Roller wheel is a seasonal attraction, The Zombie Escape. It's a haunted house with zombies. Which we didn't personally confirm, but what the hell else could it be?

The Zombie Escape is $20, with $5 off for Total Rewards members.
That's about all the news that's fit to report, especially in a state of advanced intoxication. Allegedly. Here are more pics of the latest developments at Linq promenade. As always, you can thank us in Captain Morgan.
Linq Promenade Update, Oct. 2016