W Las Vegas Hoists Its Sign at SLS, Plus a Look Inside the Boutique Hotel
The digital marquee outside SLS Las Vegas has a new accessory, a massive letter W. Installation of the sign marks a big step toward the arrival of W Las Vegas, a boutique hotel-within-a-hotel at SLS.
Yes, it's a little complicated.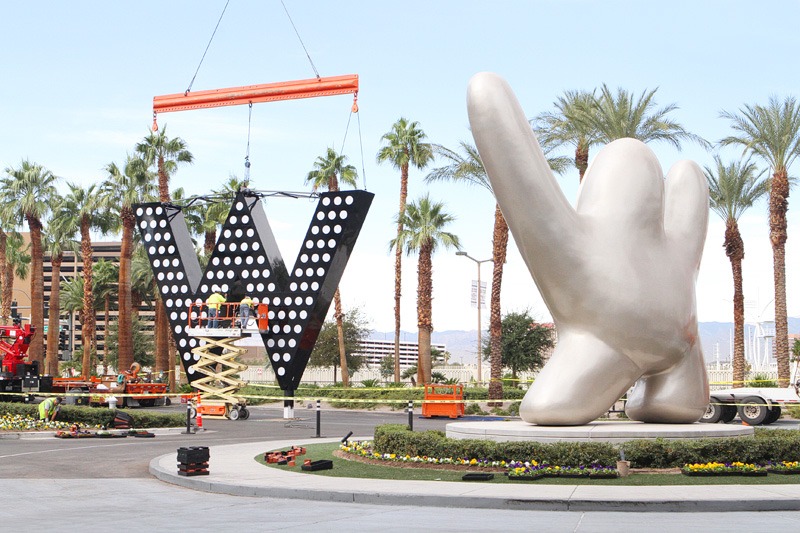 SLS Las Vegas, of course, is the resort that sits on the site that was previously home to the iconic Sahara casino.
W Las Vegas will take over one of the hotel towers at SLS, the 289-room Lux Tower, and will function as its own entity, including a separate entrance, lobby, meeting spaces and pool deck. Think Four Seasons at Mandalay Bay or Nobu at Caesars Palace. But less snooty.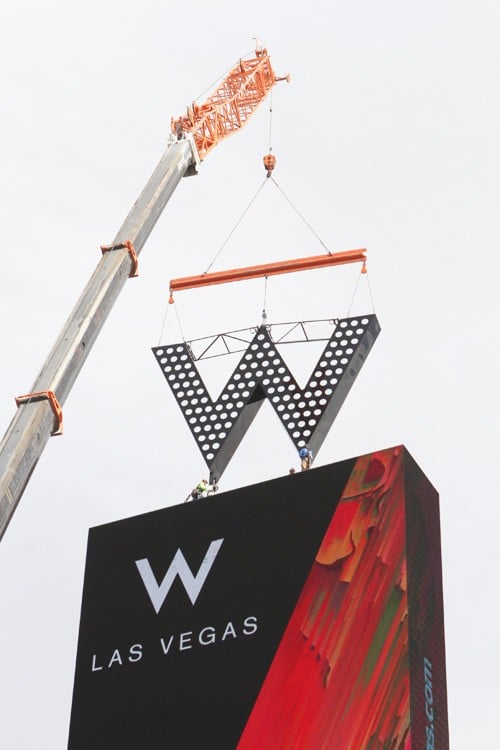 Reservations can already be made for W Las Vegas, with stays starting Dec. 1, 2016. An official Grand Opening will follow in Feb. 2017.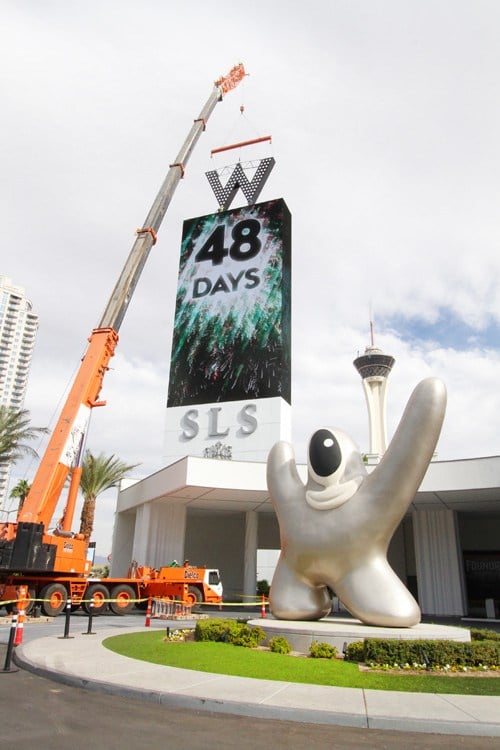 The W Las Vegas sign is 25 feet tall, and hotel reps say its the "world's biggest W sign." With that claim, W Las Vegas is already in the spirit of Las Vegas! Everything in Sin City is the biggest or best or hottest. That's just how we roll.
We have no idea if the W is the world's biggest, but by comparison, the W in the nearby Westgate sign is a measly 20 feet, one inch tall.
In honor of the ceremonial hoisting of the W sign, we got a tour of the under-construction W Las Vegas, and here are few points of interest.
As mentioned, W Las Vegas will have its own porte cochere off of Paradise road, a block east of Las Vegas Boulevard. In the porte cochere area, we hear there will be a another large W, this one fashioned from 20,000 poker chips. That puppy's likely to be a popular photo op.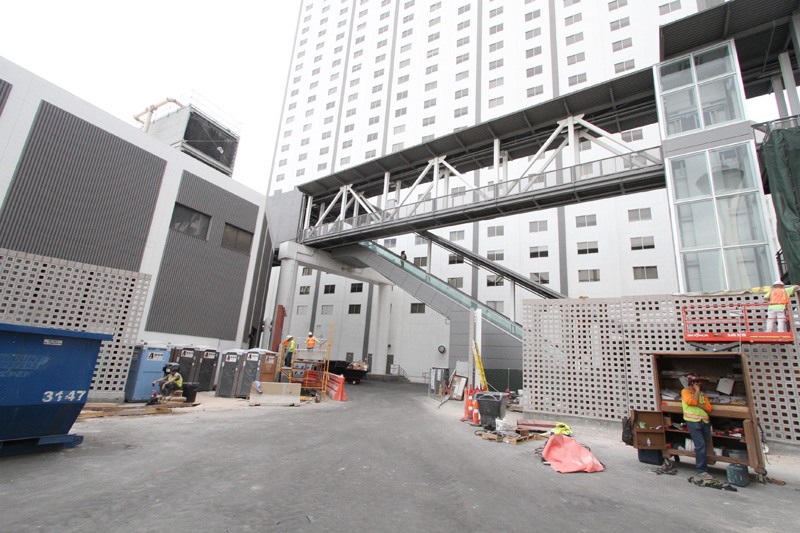 Guests will enter the Living Room, a combination lobby, guest registration, lounge (complete with DJ booth) and VIP hang-out.
It's already starting to take shape, and we appreciate W Las Vegas letting us snap some pics of the Living Room without its make-up on.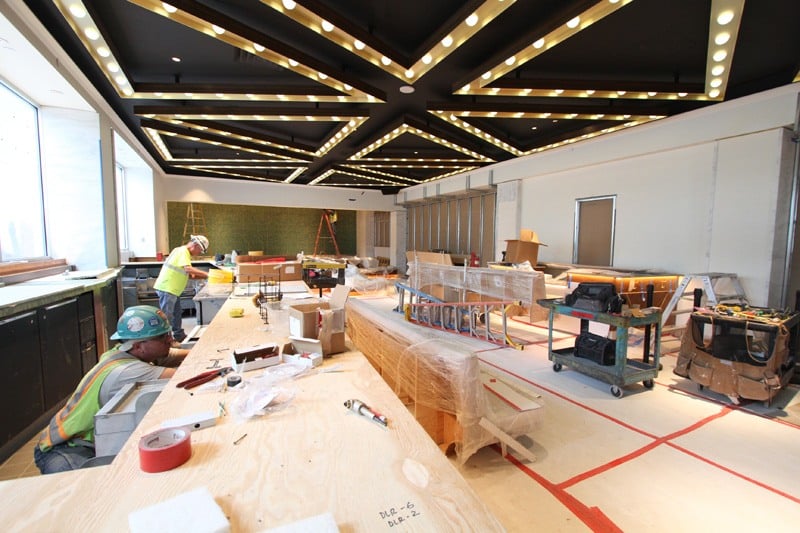 Hotel reps are very excited about the fact the distance from the registration area to the hotel tower elevators is a mere 57 feet. Compare that to the quarter mile stroll required in many Strip casinos, and it could very well be a selling point.
Beyond the existing hotel tower, W Las Vegas will feature a newly-built structure, atop which will be the Wet rooftop pool. The other floors will be meeting and convention space (no additional guest rooms).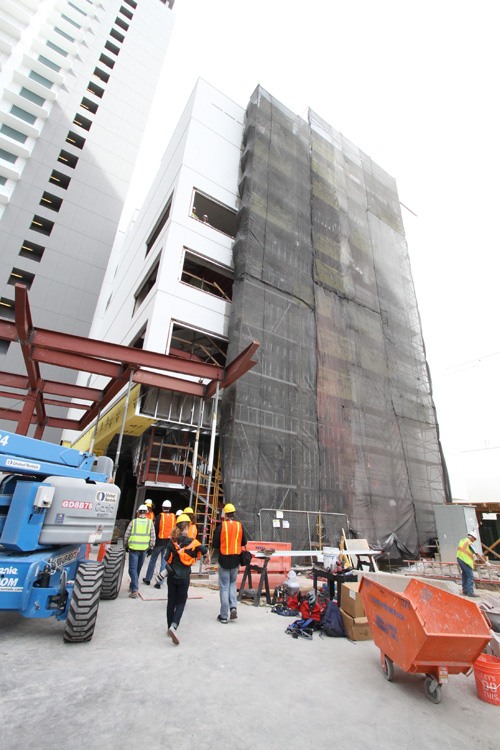 Here's a first peek at the Wet deck at W Las Vegas. They had us at "free-standing bar."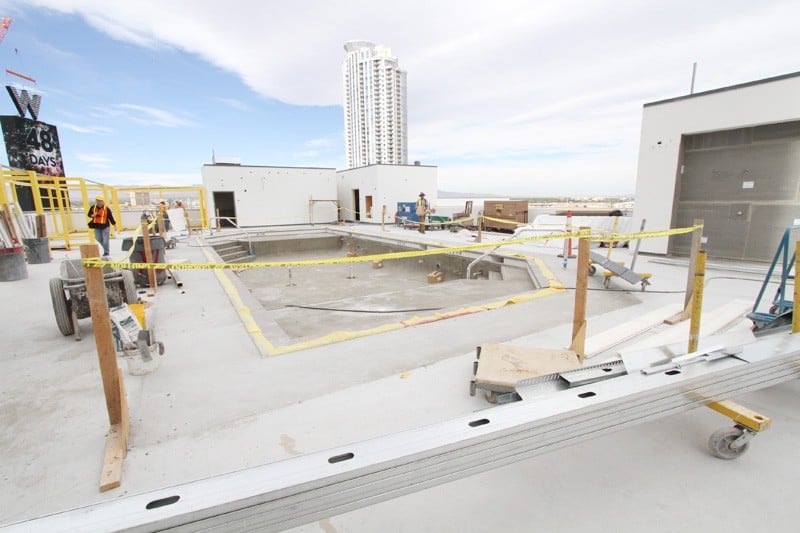 W Las Vegas has big plans in store, and is sure to be a significant boost to the bottom line of SLS Las Vegas. SLS has a lot going on, but the opening of W Las Vegas is going to shake things up in a big, bountiful way.
W Las Vegas is part of the Marriott International family, which recently merged with Starwood Hotels & Resorts.
The sheer girth of the marketing clout of those companies means SLS is likely to experience a windfall. New guests at W Las Vegas, many part of the Marriott Rewards program, means more gamblers in the SLS casino and more business travelers taking advantage of meeting space and catering and food and beverage and retail offerings.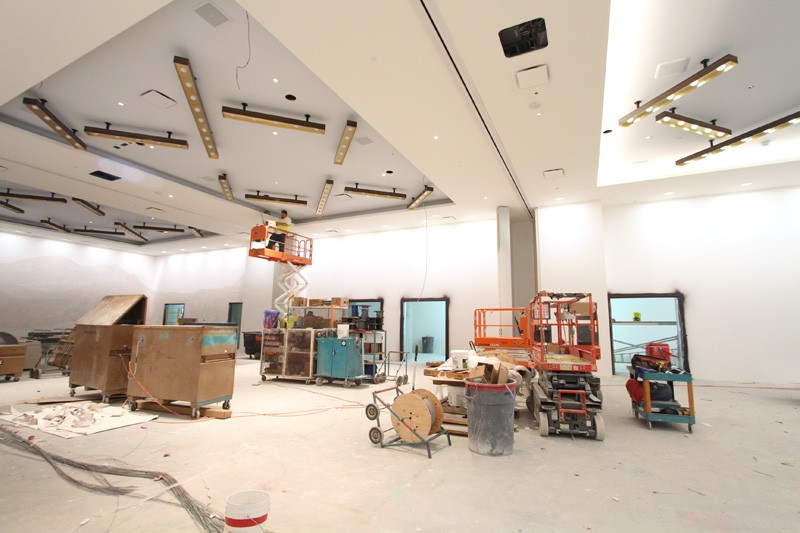 While we don't tend to care all that much about non-gaming hotels, W Las Vegas sits within the footprint of a casino resort, so we care a lot.
It sounds like the Lux rooms will remain essentially the same as they were under SLS Las Vegas management, but they'll be "updated with a W touch," according to a hotel rep.
In a freakish coincidence, the room names at W Las Vegas are an exact match of the words used to describe this blog's lovemaking: Wonderful, Spectacular, Fabulous, Marvelous,
Mega, Wow and Extreme Wow.
We're actually excited about the arrival of W, and not just because it's going to help reverse the fortunes of SLS. They seem to be embracing Las Vegas, and have taken care to integrate Vegas culture into the theme and design of the hotel. We especially love the decorations inspired by the pyramid-shaped bumpers (some times called "alligator bumpers") on craps tables.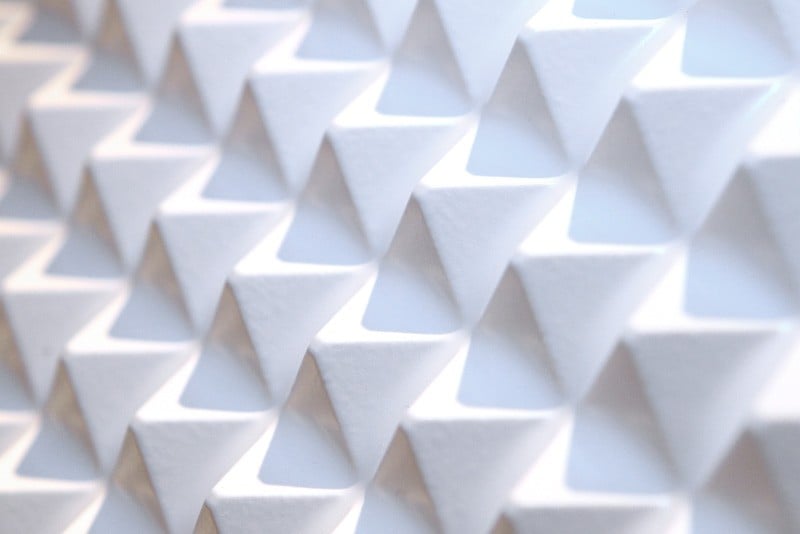 Enjoy more photos of the erecting of the W sign, dudes constructing things and another look inside the W Las Vegas hotel.
W Las Vegas Sign and Construction