Caesars Entertainment Preps to Launch Paid Parking
Paid parking has become the new normal at Las Vegas resorts, and one of the Strip's biggest players, Caesars Entertainment, is ready to expand its paid parking program to include guests who self-park.
We hit The Strip to check on the progress of the paid parking roll-out expected to kick in sometime in March 2017. Caesars Entertainment already charges for valet parking at most of its Strip resorts.

While we were on a quest to visit every Caesars casino that will have paid parking, we did make the occasional stop to imbibe, a word which comes from Latin, meaning "if you can feel your face, you're doing it wrong."
At Flamingo, we had a lovely dinner at Carlos'n Charlie's, including one of our favorite dishes in town, the Parmesan & Swiss Chicken. We played a bit of blackjack, and couldn't help but snap a pic of two newlyweds at a nearby table.

Next, we bopped next door to the Linq hotel, and again, paid parking machines are in place.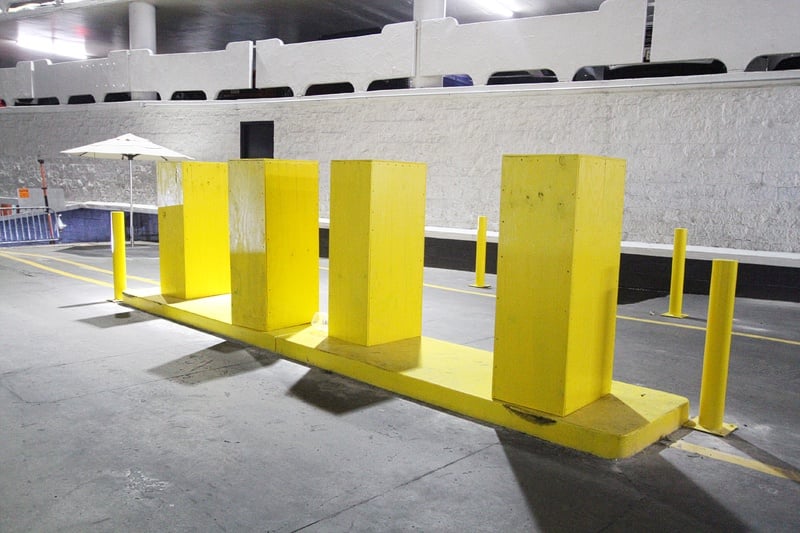 Our Parade of WTF isn't done yet. Right next door is Harrah's Las Vegas, where a familiar theme is beginning to unspool. If you can unspool a theme. Just play along.

Next, we zip across the street to Caesars Palace, recently named "Las Vegas Resort With the Most Topless Women Carved From Marble." We were going to say "David Wang," but not everyone knows there's a replica of Michelangelo's David at Caesars Palace.
Back to the parking thing.

Paris Las Vegas and Bally's share a parking structure, so we got a two-fer.

Part of the pitch with paid parking has been it will help upgrade the various parking garages. That appears to already be happening at Paris and Bally's. The parking structure already has a lighting system to let guests know which spaces are available (green) or not (red, please try and keep up).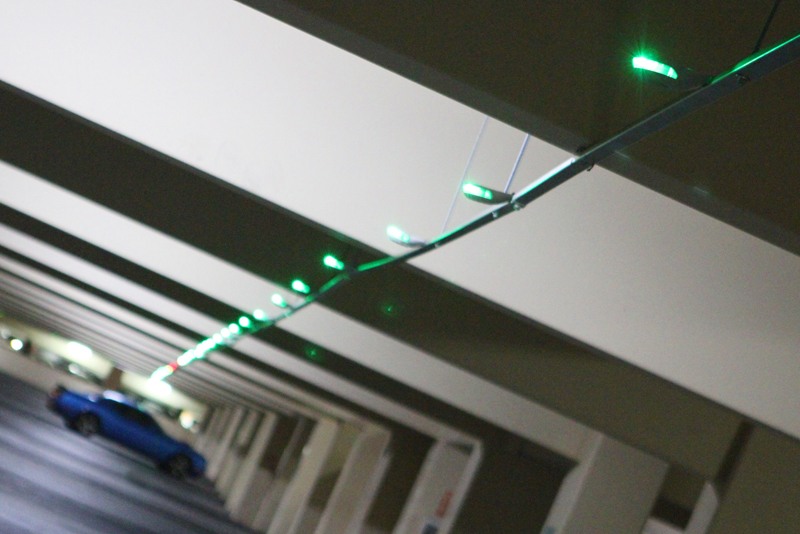 While Caesars Entertainment has said the self-parking at Rio Las Vegas will remain free, we decided to have a look, anyway. And, boy, we're so glad we did. As expected, there were no paid parking machines to be found at Rio. Inside, however, we found gold.

While the car is cool, we found something even cooler. It's so Vegas, it's ridiculous. Apparently, guests have been getting creative with their selfies, so Kiss Mini Golf had to take the necessary actions to deter such behavior.
Wait for it.

Time to swing by Planet Hollywood. There was no trace of parking machines at Planet Hollywood, and presumably the hotel won't be charging for parking because the structure is owned and managed by Miracle Mile Shops, not Caesars Entertainment. We take our good news where we can get it!
That's about it. When Caesars Entertainment rolls out its paid parking program in full, it will mark the end of an era in Las Vegas. MGM Resorts started the trend when it instituted paid parking across its half of The Strip.
Visit Caesars Entertainment's Web site for all the paid parking details.
It's important to note you can still park free at both MGM Resorts and Caesars Entertainment resorts, but you have to get their respective credit cards. Having the card bumps you up to a qualifying tier in their player loyalty clubs. Get details about MGM Resorts' program here.
The big casino companies seem determined to ride out their paid parking plans, despite rumors of fallout inside the casinos. Retail shops at some MGM Resorts casinos have reported drops of as much as 30% in business since paid parking was implemented.
We recently shared an MGM Grand insider's observation that front line employees (from valets to cocktail waitresses and bartenders) have taken a major hit in tips, a decrease of 30% to 50%, according to our source. Read more.
Still, stock prices continue to rise, so it's likely paid parking is here to stay. (Although, given recent bumps in the road, the jury's still out.) Paid parking is also coming to Cosmopolitan, Wynn and Encore. While paid parking may seem to make business sense short-term, there's a growing feeling the decision to charge for parking may have unforeseen consequences, including a change in the perception of Las Vegas itself.
Update (2/11/17): Caesars Entertainment has also announced it will raise resort fees at 10 Strip resorts.
One blog's opinion: This really is the worst possible time to learn we can't sit on the tongue.