UFC Fighter Nick Diaz Attacked at Bellagio's Hyde Nightclub
Posted on: August 27, 2016, 02:30h.
Last updated on: October 12, 2016, 08:38h.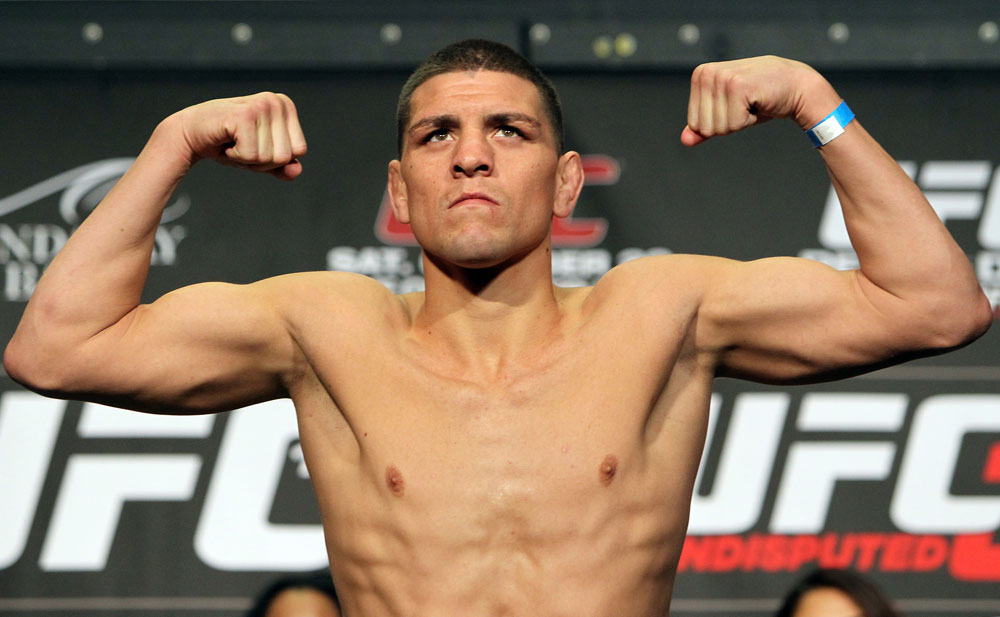 UFC fighter Nick Diaz got into an altercation at the Bellagio's Hyde nightclub this week with three men, and if you know Nick Diaz, you also know who won the fight.
TMZ Sports, the athletics arm of the celebrity media outlet, reports that Diaz was partying around 2:30 am when he went to use the bathroom. That's when Diaz accidentally bumped into a man, and while the UFC star tried to apologize, the unidentified male wasn't accepting the excuse.
Onlookers say three others joined in to fight Diaz, who quickly tried to defend himself. The three against one rumble spilled out onto the Bellagio casino floor as the attackers hurled chairs at Diaz and also began fighting with security guards.
The four were eventually removed, but not before giving Diaz a black eye. Though melee was exchanged, the UFC athlete isn't pressing charges.
"They got the worst of it," Diaz told TMZ. "I didn't start it. They didn't know who I was."
Diaz has spent most of his career fighting at the welterweight level, which requires him to stay under 170 pounds. Though he's yet to win a UFC belt, Diaz is a former welterweight champion in Strikeforce and World Extreme Cagefighting.
UFC's Bad Boy
The Ultimate Fighting Championship is one of the most popular betting lines offered at Nevada sportsbooks and on daily fantasy sports (DFS) platforms.
The sport has gained such a following that the UFC was sold for a whopping $4 billion in July. Station Casinos owners Frank and Lorenzo's $2 million investment in 2001 to buy the UFC paid off handsomely.
Nick Diaz and his younger brother Nate have been mainstays for years on the mixed martial arts scene and are two of the more well-known and popular fighters.
But Nick's career is in jeopardy. Though he's part of the "Skrap Pack," a group of UFC fighters that follow traditional jiu-jitsu, the philosophy's stance against using drugs doesn't seem to be resonating.
In September of last year, the Nevada State Athletic Commission suspended Nick for five years and fined him $165,000 for testing positive for marijuana. It was his third failed test with the drug.
The seemingly harsh penalty was reduced to just 18 months four months later, and the suspension was lifted early on August 1, 2016. But the 13-time UFC fighter faces additional discipline for getting into a fight during the UFC 202 weigh-in for his brother's match against featherweight champ Conor McGregor.
McGregor, who was the favorite in Vegas heading into the fight, won by majority decision in five rounds at the new T-Mobile Arena.
One-Sided Story?
Diaz is known for trash talking in the octagon, which is why his version of accounts at the Bellagio might be justly questioned. Diaz has an uncanny ability to get under the skin of his opponents, so certainly he could aggravate a nightclub partier.
Bellagio staff concluded that wasn't the case. ESPN MMA writer Brett Okamoto says a rep for the Bellagio told him Nick "was very well behaved."
Neither Nick nor Nate currently has a planned fight, but the UFC's new owner, WME-IMG, is currently scheduling numerous events.
The moral of this story: if you're going to pick a fight, make sure it isn't a UFC fighter.