Senator Al Franken's Sexual Misconduct Exposed by Former 'Poker After Dark' Host Leeann Tweeden
Posted on: November 17, 2017, 09:00h.
Last updated on: November 17, 2017, 09:00h.
US Senator Al Franken (D-Minnesota) reportedly sexually harassed Leeann Tweeden, whose former television hosting gigs include NBC's Poker After Dark and the celebrity-filled National Heads-Up Poker Championship.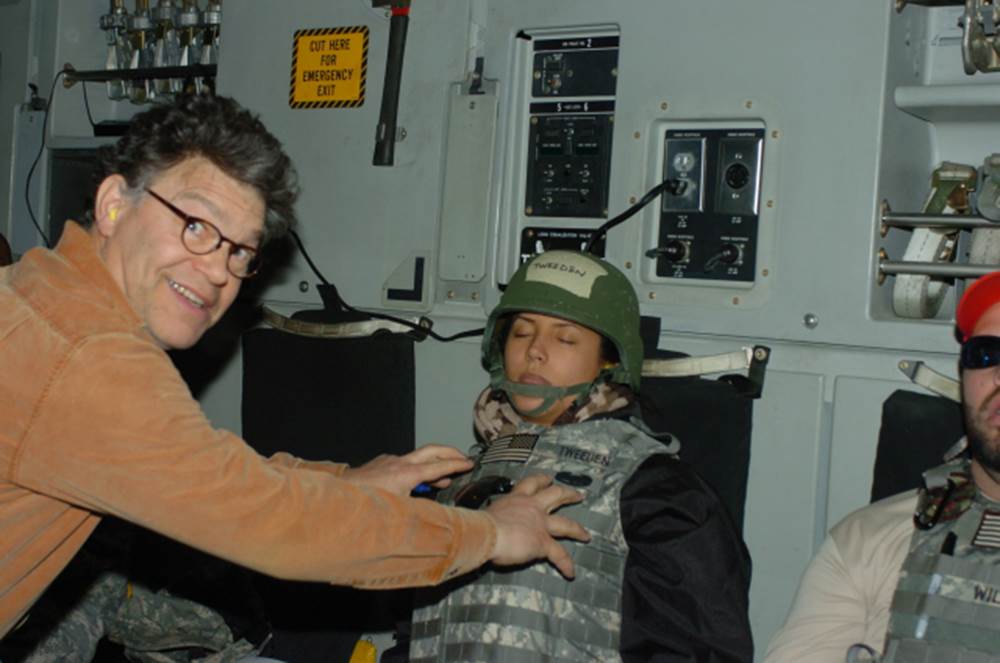 The incidents, according to Tweeden who is now making the TV news rounds to tell her story, occurred more than a decade ago during a 2006 USO trip that spanned Kuwait, Iraq and Afghanistan. Tweeden currently hosts McIntyre in the Morning on LA radio station KABC.
The 44-year-old former Playboy and Maxim model says the two-term senator kissed and groped her without her consent during that tour, saying the former Saturday Night Live headliner who turned to politics in 2009 approached her about doing a skit that involved him kissing her.
"On the day of the show, Franken and I were alone backstage going over our lines one last time. He said to me, 'We need to rehearse the kiss.' I laughed and ignored him … [but] he continued to insist," Tweeden said on a KABC website statement.
"I said 'OK' so he would stop badgering me. We did the line leading up to the kiss and then he came at me, put his hand on the back of my head, mashed his lips against mine and aggressively stuck his tongue in my mouth," Tweeden stated.
Tweeden's report also includes a photo of Franken appearing to grab toward her breasts, which are covered with a bulletproof vest, while she's asleep on a military plane. Franken has apologized for his actions in the photograph, but said he remembers the rehearsal episode itself quite differently.
Doggone It, People Don't Like Me
Perhaps Al Franken's best-known SNL skit was Stuart Smalley's self-help show called Daily Affirmations, in which he would look in a mirror and tell himself, "I'm good enough, I'm smart enough, and doggone it, people like me," in a kind of pseudo-Deepak Chopra self-mantra of fabulosity.
His road to the Senate followed an increasingly failing show business career, and a push to unseat conservatives was at least a partial motivation for his move towards politics as well.
Franken is just the latest politician or celebrity to be exposed. Now known as the "Harvey Weinstein effect," numerous women, as well as some men, are coming forward with various harassment allegations towards actors, comedians, and politicians, after the Hollywood power player's recent fall from grace.
Many, if not most, of these allegations go back decades, making some extremely hard to prove or disprove, and often becoming a case of "she said/he said," or in the recent case of now openly gay actor Kevin Spacey, "he said, he said."
The Hits Keep Coming
The latest bombshell has been directed towards iconic Rocky actor Sylvester Stallone, now 71, who allegedly sexually assaulted a 16-year-old girl during a threesome involving his bodyguard. The incident reportedly took place in 1986 at what was then known as the Las Vegas Hilton (now the Westgate) while Stallone was making a movie, Over the Top, in Sin City. The actor, unlike many of his colleagues who have offered up copious mea culpas on Twitter, has firmly denied the allegations as "ridiculous."
Republican Senatorial candidate Roy Moore, vying to win the Alabama seat previously held by current US Attorney General Jeff Sessions, is also engulfed in a sexual misconduct scandal of his own. The former Alabama Supreme Court justice is being accused of having inappropriate relationships with women and girls as young as 14.
Moore has also been steadfast in his denials of any wrongdoing, saying on Thursday that the allegations against him are "… not only untrue, but … have no evidence to support them." Moore made the comments while speaking to supporters in Birmingham, Alabama.
PredicIt.org, an online political betting market that sells shares of outcomes, thinks Moore now has just a 44 percent chance of becoming a senator. Attorney Doug Jones is the favorite, with his PredictIt shares trading for 52 cents.
Franken 2020 Odds Lengthen
Prior to this week's bombshell, Al Franken was actually emerging as a potential 2020 Democratic nominee to challenge President Trump for a second term. Democratic operatives had believed that the former comedian could appeal to both sides of the political aisle, and that he has the smarts and quick wit to go up against someone as obstreperous as Trump.
But in the wake of this week's 7.0 political earthquake, the senator's chances for that face-off are seemingly growing longer. In the UK and Ireland, where political betting is legal, Paddy Power has Franken at 33-1 to win the presidency in 2020. At Ladbrokes, the bookmaker has lengthened its line since the scandal to 40-1.
Like so many Democratic candidates before him, Franken's rise to political stardom may now be seriously stymied. The Senate has called for an ethics investigation into Franken's behavior, which the senator said he supports.
Similar Guides On This Topic