President Donald Trump Rooting for Patriots in Sunday's Super Bowl LI
Posted on: February 2, 2017, 08:58h.
Last updated on: February 2, 2017, 01:00h.
President Donald Trump is a big fan of the New England Patriots, and is presumably rooting for his pals coach Bill Belichick, owner Robert Kraft, and superstar quarterback Tom Brady when Super Bowl LI kicks off in Houston's NRG Stadium. But when it comes to NFL Commissioner Roger Goodell, the president apparently doesn't have much love for the football boss.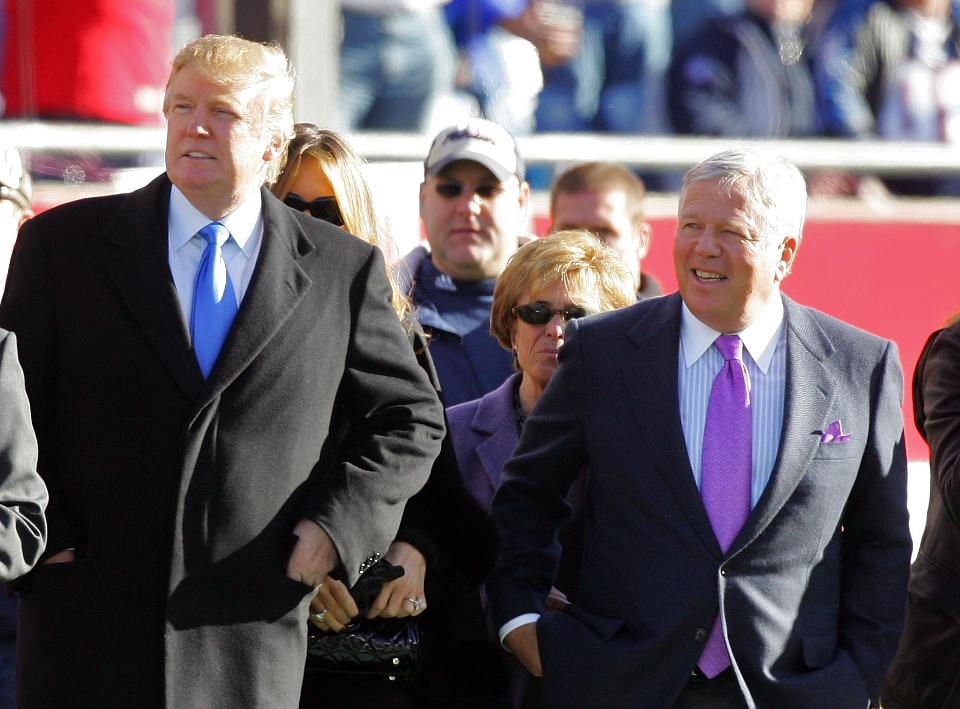 In comments reported by The New York Times in 2015 , Trump allegedly said of Goodell that "The commissioner is a dope. He's a stupid guy," using his now-famous blunt assessment style.
The now-president's remarks were in response to the NFL suspending Brady for the first four games of this year's season. The suspension was the result of the quarterback's apparent involvement in "Deflategate," the January 2015 AFC Championship game in which the inflation of game balls were tampered with.
Show Them the Money
Raiders owner Mark Davis is currently trying to move the storied franchise he inherited from his father from California to Las Vegas. However, this week billionaire Sin City mogul Sheldon Adelson withdrew his $650 million from the proposed 65,000-seat stadium after learning that the Strip project was moving forward without his money.
The $1.9 billion venue was slated to be funded through $750 million in tax revenue generated from hotel occupancy stays, $500 million from Davis, and Adelson's pledge. But according to reports, the NFL, which makes no secret about barring a casino owner from holding an interest in a franchise, at the very least likely encouraged Davis to severe ties with his Vegas cohort.
During his lease presentation to the Clark County Stadium Authority, Davis said the funding was in place with or without Adelson. Once the billionaire caught wind of the proposal, he stepped away. Goldman Sachs, the banking backer of Davis' $500 million, quickly followed suit.
NFL and Politics
Forcing Davis to try and move to Las Vegas without Adelson is the latest misstep in Goodell's NFL reign, at least according to his detractors. Count the occupant of the Oval Office as one such foe.
Trump said of the Brady suspension, "He's going overboard with their star."
Adelson was one of Trump's biggest donors during his presidential campaign. As for fellow billionaire Robert Kraft, the owner of the New England Patriots, his political donations are more mixed.
In 2008, Kraft gave $25,000 to both Sen. John McCain (R-Arizona) and then-Sen. Barack Obama's Oval Office ambitions. However, most NFL owners seem to prefer Republican candidates.
According to InsideGov.com, an online database of political donations, eight years ago more money was given to GOP candidates from NFL owners than to Democrats. Nine owners gave money to McCain-related groups, while five fiscally supported Obama's campaign.
Trump says he's friends with Kraft, Brady, and Belichick. And while the three Patriots have been deflecting questions about their relationship with Trump during Super Bowl week, the president isn't so shy.
In 2015, Trump said, "I go to the Patriots game . . . and Belichick comes over in his Patriots sweatshirt and the hoodie and the whole thing. He hugs me, and he kisses me, and he said, 'I love you. You're the greatest.'"
On Sunday, the coach will try to become the NFL's greatest coach by winning a record fifth Super Bowl.