Prediction Markets Tilt in President Donald Trump's Favor, Following Congressional Speech
Posted on: March 2, 2017, 06:57h.
Last updated on: March 2, 2017, 08:04h.
Prediction markets are no longer under the impression that President Donald Trump's first term will be a failure.
Following his first address to a joint session of Congress this week (which even his foes have largely praised), political bettors are moving towards putting their money on a more successful four years for the 45th President of the United States.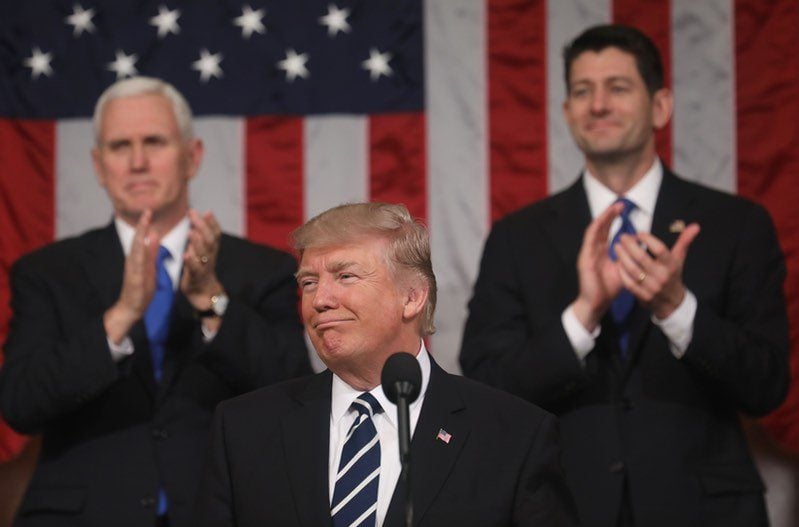 PredictIt, the online political betting platform that sells outcomes of events to bettors, has a series of Donald Trump specials. While there hasn't been much enthusiasm for supporting a possible impeachment, those who are putting money on his White House performance believe Americans are finally getting behind their new Commander-in-Chief.
Prior to his speech on February 28, PredictIt bettors believed Trump's Real Clear Politics job approval polling numbers at the end of March 3 would be 43.4 percent or less. After his policy deliverance, the "43.4 or less" category plummeted 28 cents and is now the least likeliest threshold.
"43.9-44.2" is now selling at the highest value (30 cents per share), followed by "43.5-43.8″ at 23 cents and 44.3-44.6" at 11 cents.
"Donald Trump did indeed become presidential tonight, and I think we'll see that reflected in a higher approval rating," Senate Majority Leader Mitch McConnell (R-Kentucky) told CNN after Tuesday's speech. Wall Street is also encouraged, as the DOW soared over 300 points yesterday.
So Far, So Good For Republicans
PredictIt's market on asking which party will be in control of the White House come 2020 has also moved in the GOP's favor, following Trump's address. Democrats were favored earlier this week with their shares priced at 52 cents to Republicans at 48 cents, but today it's even money at 50-50.
While political betting is illegal in the US, overseas it's commonplace. And the books across the pond, which lost "bigly" on Trump's win, are beginning to show faith in his Oval Office longevity.
Betfair has the incumbent at 2-1 to win in 2020, the best odds of any potential candidate. Vice President Mike Pence is second at 9-1, followed by Democratic Senators Elizabeth Warren (Massachusetts) at 12-1 and Tim Kaine (Virginia) at 13-1. Former First Lady Michelle Obama rounds out the top five at 13-1.
Funny Business
Paddy Power is the most famed bookmaker for taking wagers on American politics, and it has sometimes landed them in a bit of hot water.
Always ready for the seemingly absurd bet, Paddy asked bettors during President Obama's first term whether he would be assassinated. The betting company is staying away from such controversy with Trump, but still has a series of specials on the president, and yes, some are certainly off-beat.
"What will Trump ban during his first term?" is one line at the Irish bookie. Among the choices offered to bettors, "burka or hijab" (12-1), "the Quran" (20-1), "black or women's voting rights" (300-1), "Irish people" (500-1), and "stairs" (500-1).
Stairs?
Paddy also asks if the president will "announce that alien lifeforms exist." That's going for 20-1, while Trump opening up Area 51 outside of Las Vegas (currently a heavily guarded federal area) to the general public is 33-1.