Pennsylvania Joins the US Online Gaming Fray in 2017, as We Look Back on the Highs and Lows of the Internet Push
Posted on: January 1, 2018, 02:00h.
Last updated on: December 15, 2017, 10:16h.
On October 30, 2017, Pennsylvania became the fourth US state to legalize online gambling and the first since 2013, when New Jersey, Nevada, and Delaware took that unprecedented leap.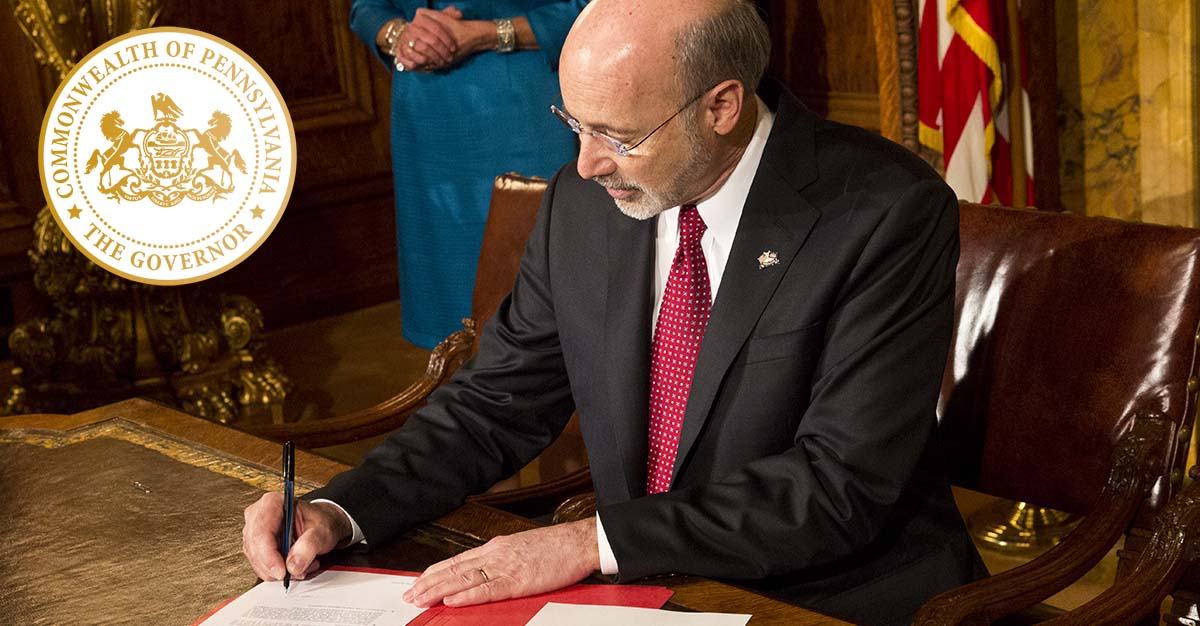 Pennsylvania's push to make internet gambling legal had been in the cards for some time and there had been lots of pressure in Harrisburg to get the job done. In fact, gambling expansion was one of the few issues Republicans and Democrats of either chamber could agree on, as they scrambled for ideas to fix the state's somewhat depressing nine-figure budget deficit.
Timing Was Everything
Republicans, particularly the House GOP, were determined to plug that hole without raising taxes. Instead, they suggested plundering special state cash reserves that had been set aside for future investment in transport, infrastructure and environmental clean-ups.
When Governor Tom Wolf pointed out that some of this money didn't actually exist yet, gambling, as the only viable recurring revenue stream House GOPs found palatable, became even more of a shoo-in.
There's still a lot of work to be done, of course, and the licensing process will take some time, but it's very possible that the first online gambling sites in the Keystone State could be up and running before the end of 2018.
The Downer Down Under
While the State of Pennsylvania took a step forward, the entire nation of Australia leapt backwards in 2017, like a dingo bitten by a snake, by criminalizing all forms of online gambling that were not sports betting.
This was achieved almost by accident. Prohibiting online poker and casino gaming was not the main aim of the Interactive Gambling Amendment Bill. It sought to hinder unlicensed sports betting operators from targeting Australian customers by clarifying that any company taking Australian bets had to have an active Australian license.
Fair dinkum, but, because Australia only licenses sports betting, the Act drove all the respectable and licensed (in other jurisdictions) online poker and casino operators from Aussie shores.
That means that Australian gamblers are now forced to take their chances with rogue operators that care nothing for Australian laws, rather than globally respected and stock-market-listed former Aussie favorites like PokerStars and 888.
Liquid Gold
In October, the news that New Jersey Governor Chris Christie had signed a bill that would facilitate online poker liquidity-sharing between his state and Nevada and Delaware offered a much-needed shot in the arm for the regulated US online poker market and another reason to be optimistic in 2018.
The addition of New Jersey, with a population of nine million, will boost the potential player pool in the US online poker market to that of a small European country, roughly on a par with Belgium.
To put that into perspective, several larger European countries sabotaged their own online own poker markets by opting to ring-fence them when they regulated internet play earlier in the decade. But these countries saw the error of their ways in 2017. France, Italy, and Spain finally woke up and smelled the coffee (or café, or caffè) and in October entered into an online poker liquidity-sharing agreement, along with Portugal, which is roughly the size, population-wise, of Pennsylvania.
Politicians, at least in the online gaming arena, largely got it right in 2017. Now it's down to the regulators to seal these deals in the coming year.
Similar Guides On This Topic
Latest Casino Stocks:
Retrieving stocks data...
Retrieving stocks data...
Retrieving stocks data...
Retrieving stocks data...
Retrieving stocks data...