MGM Resorts Ramps Up Fight Against No-Bid Connecticut Tribal Gaming Expansion
Posted on: April 18, 2017, 11:00h.
Last updated on: April 18, 2017, 11:07h.
MGM Resorts is in Connecticut this week trying to make its case against the state giving the Mashantucket Pequot and Mohegan Native American tribes permission to build a satellite casino in East Windsor.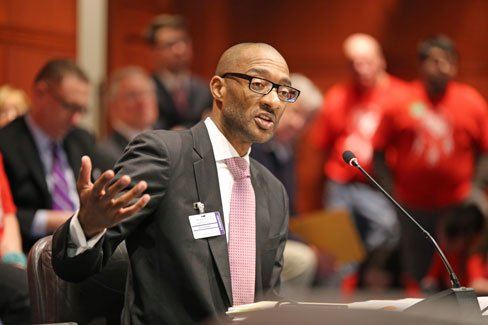 The tribal partnership is justifiably concerned that MGM's $950 million resort in Springfield, Massachusetts, will siphon gaming dollars from Connecticut's two casinos. Springfield is only miles across the Connecticut border in southern Massachusetts.
The proposed site of the joint tribal expansion project in East Windsor would be just 13 miles from MGM Springfield. The Foxwoods and Mohegan Sun owners say Connecticut should authorize the satellite facility in order to protect jobs and tax revenue.
But in the Hartford capital this week, MGM argued the state needs to be "fair and transparent," and insists that if Connecticut wants to permit a third gaming venue, the process should be open to outside bidders.
During a meeting of the state's Finance, Revenue and Bonding Committee, MGM revealed it is interested in building in the southwestern part of Connecticut. The company also said the state should consider all of its options, and not just the one being pitched by the tribes.
"In a competitive environment people put their best foot forward. Not the foot that saves them the most money or benefits them," MGM executive Uri Clinton told the committee.
MGM has launched a lobbying website to support its cause, and has produced a 30-second marketing spot that highlights the alleged drawbacks of the tribal gaming expansion effort.
Big Bluff
Not everyone is sold that MGM is truly interested in building a casino in Connecticut. Instead, some feel the Nevada-based conglomerate is trying to delay the authorization of the East Windsor satellite casino so its Springfield resort can open in 2018 free of any neighboring competition.
"I am not fully confident that MGM is interested in building a casino here in Connecticut," Rep. Chris Davis (R-Ellington) explained.
Allowing a competitive bidding process for a third casino in Connecticut would be no easy task.
The state would essentially be forced to rewrite its commercial gaming laws, which might require voter approval through a constitutional referendum. Connecticut's gaming compact with the two tribes, which mandates they share 25 percent of their slot and table game revenue with the state, would also be in jeopardy.
That's why Rep. John Fonfara (D-Hartford) believes its best bet is to go with the tribes' proposal.
"Much of the testimony so far is about if you've had a bird in the hand and you've had a bird in the hand for many years and benefited from that bird and now we're being dazzled by the potential of something else," Fonfara said, as reported by theHartford Courant. "That doesn't leave a lot of people comfortable in that we should grab for something shinier and end up with something worse."
Empirical Decision
MGM says Connecticut, if it wants to protect gaming revenue, should strongly consider authorizing a casino in the southwestern part of the start near the New York border. Lawmakers, however, don't think it would work.
A ban on New York City having a casino is scheduled to expire in 2020, and when it does, many believe the state will motion to allow some form of gaming to come to the Big Apple.
The committee tasked with deciding the path forward for a third Connecticut casino will continue its discussions next month.
Similar Guides On This Topic
Latest Casino Stocks:
Retrieving stocks data...
Retrieving stocks data...
Retrieving stocks data...
Retrieving stocks data...
Retrieving stocks data...