Martin Jacobson's Past Led Him to Make WSOP Main Event History
Posted on: November 12, 2014, 01:50h.
Last updated on: November 12, 2014, 02:13h.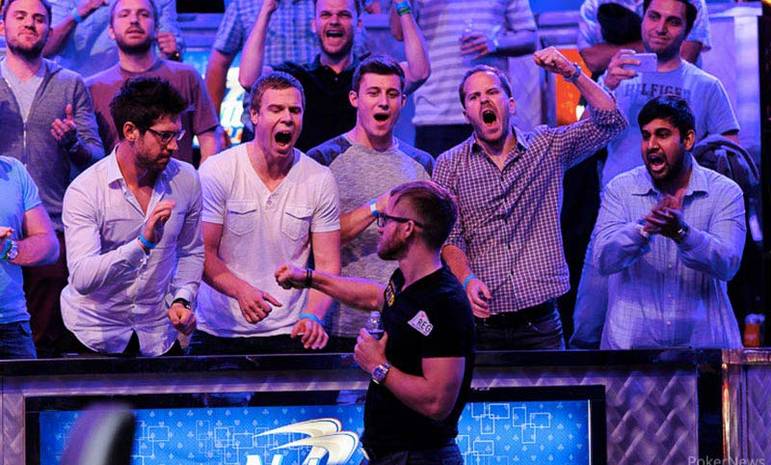 Martin Jacobson is your 2014 World Series of Poker (WSOP) Main Event champion, which, if you didn't know by now, our sincere apologies for the spoiler. Before this year's $10,000 No-Limit Hold'em Championship, few had heard of the 27-year-old from Stockholm, Sweden.
Some 6,683 players from 87 countries entered poker's biggest tournament, but in the end, it was the Swede holding the gold bracelet and taking the $10 million prize.
So how did the man with the second-shortest stack entering the November Nine make such an incredible run? While oddsmakers labeled him a long shot, Jacobson perhaps shouldn't have been. He had more career WSOP earnings than any other player at the table, and while he had never won a live event, he had been close.
Improbable Feat?
When you start in the eighth position out of nine, winning may be a far-fetched concept, but Jacobson's resume suggests otherwise. The now-champ discovered poker at 18 after watching it on television, and quickly began playing with friends and online. After realizing he had a knack for success with satellite qualifiers in 2008, he focused his attention on playing cheaper live events.
Over the next six years, Martin became a globetrotter, as he traveled to EPT and WSOP events, collecting $5.5 million in the process. Before winning on Tuesday, he ranked second all-time on Sweden's money list, behind only Chris Bjorin. Last year at the Big One for One Drop $111,111 buy-in, Jacobson scored his largest payout for finishing 6th with $807,427. With momentum on his side, he somehow managed to largely fly under the radar heading into poker's signature tournament.
WSOP Main Event
Although he's a seasoned pro when it comes to World Series of Poker tournaments, 2014 marked the Swede's first entry into the Main Event. The $10,000 buy-in is something you work up to, and his game was without question ready to go. He took part in the Day 1A action, where he ended the session as the chip leader. He remained in command during the July play until the final table, where he finished 8th heading into the break.
Fast-forward to November and Dutchman Jorryt van Hoof was dominating the field. Jacobson was never really in contention to overtake the leaders until late Monday night when he eliminated both Billy Pappas and William Tonking. Going to Tuesday, only three players remained, all Europeans: van Hoof, Jacobson, and Norway's Felix Stephensen.
With just under 90 million chips, van Hoof had nearly 25 million more than Martin, but he seemed to lose his swagger and leaked hands one after another. Following a series of losses, Jacobson eliminated the leader for the past two days and moved to head-to-head play with Stephensen. On the 328th hand of the final table, Jacobson took the title with pocket tens and another ten on the flop to give him a set and the winning hand.
Cool, Calm, Collected
While van Hoof attempted to scare his opponents away from the table, and Stephensen attempted to cover any clues by sporting sunglasses and a hoody, Jacobson did neither. He folded quickly, called swiftly, and overall seemed 100 percent relaxed. At times van Hoof could be seen sweating and even shaking. Stephensen was visually frustrated at times. Jacobson seemed refreshed, and in total control, which, clearly, he was.