Genting to Take Las Vegas Strip to Next Echelon with Resorts World
Posted on: May 16, 2014, 05:30h.
Last updated on: May 17, 2014, 04:39h.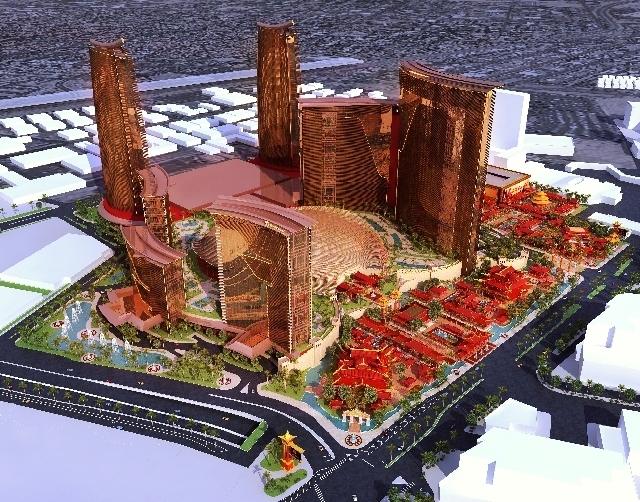 Representatives from Malaysia-based casino giant Genting met with the Las Vegas Gaming Control Board last week to answer questions about the suitability of their proposed $4 billion project for the Las Vegas Strip, Resorts World Las Vegas.  That meeting resulted in the preliminary approval of a gaming license.
Genting acquired the abandoned Echelon project 14 months ago for $350 million, and is now one step closer to realizing its ambitious new mega-resort, the first on the Strip for nearly a decade, to be built on the half-vacant pocket of land that was once home to the legendary Stardust Casino. The suitability finding is the penultimate stage before actual licensing.
It's understood that the Gaming Control Board has spent the past year looking into Genting's operations throughout Malaysia, Singapore, London and New York in a rigorous assessment of the company's suitability, but Genting's chances of approval were always rumored to be high.
As Howard Stutz, gaming reporter at the Las Vegas Review-Journal, wrote on the eve of the meeting: "Short of Genting's entire board of directors being found to have ties to the Yakuza or Chinese organized crime triads, the company and its representatives will be found suitable by both the Control Board and the Nevada Gaming Commission, which will review the recommendation May 22."
$40 Billion Capitalization
It's being wildly hailed as the next phase in the development of Las Vegas. Genting now hopes to begin building the Asian-themed resort – which would incorporate part of the ill-fated Echelon – later this year, with completion expected sometime in 2016 or 2017. The first phase will cost $2 billion, and will include a 3,500-room hotel and a 175,000-square-foot casino, as well a possible studio tour-type theme park and indoor waterpark, although the previously proposed panda habitat now appears to have been ruled out.
Phase Two would see the completion of four towers with a total of 6,583 hotel rooms. In all, the project would create between 2,000 and 3,000 jobs for construction workers.
Genting is headed by Malaysian billionaire Lim Kok Thay. It operates several luxurious Resorts World properties across the Far East and is currently the largest operator of land-based casinos in the UK, with 47 properties. It has a market capitalization of more than $40 billion, with more than five different publicly traded companies forming the Genting Group.
Panda-ring to the Politicians
Genting has been also in the hunt for an upstate New York casino license, having paid the $1 million application fee to vie for the right to build a resort in Orange County. No stranger to forking out in America, two years ago the group spent over $400 million for a plot of land in Miami where it planned to build Resorts World Miami, a $3.8 billion project that was scrapped when the Miami legislature rejected a proposal to expand casino gambling in the state.
Nevada politicians are far more receptive, it seems. Governor Brian Sandoval has long courted Genting and is fully behind the project.
"This is a very successful and historic company," he said when the project was first announced this time last year. "I wanted to let them know we were very interested in having them come here."
It's clear that Sandoval sees Resorts World Las Vegas as the first major post-recession development in Las Vegas, one that he hopes will revitalize the Strip and bring thousands of jobs. Pandas or no pandas.
Similar Guides On This Topic
Latest Casino Stocks:
Retrieving stocks data...
Retrieving stocks data...
Retrieving stocks data...
Retrieving stocks data...
Retrieving stocks data...