Fourth Upstate New York Casino Changes Name to Resorts World Catskills
Posted on: May 24, 2017, 02:00h.
Last updated on: May 24, 2017, 02:27h.
Upstate New York's fourth and soon to be biggest casino will be known as Resorts World Catskills. The project, currently under construction in the Catskill Mountains just outside the town of Monticello.
It was previously known under the working title of Montreign Resort Casino, until the recent change in name.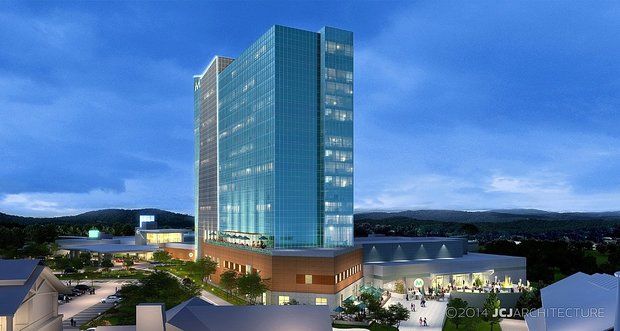 The $1 billion project is a joint venture between Empire Resorts and Malaysian casino giant Genting, which owns casinos under the Resorts World brand from Kuala Lumpar to the Bahamas.
Empire is the owner-operator of the nearby Monticello Raceway, although Genting acquired a controlling stake of the company in 2009.
Economic Regeneration
Empire Resorts Chairman Emanuel Pearlman said in an official statement that the company is eager to emphasize the new resort's connection to the Catskills.
All of the four new upstate casinos are part of an economic regeneration program for their respective areas and it's hoped the Monticello project will help the Catskills rediscover some of its former glory as a resort destination.         
"The name Resorts World Catskills melds the allure of the Catskills region with the prestige of the Resorts World family," said Pearlman, who added he expected the casino to "provide regional, national and international exposure for the Catskills region."
Faded Glamour
The Catskills' heyday as a summer vacation resort for New Yorkers stretched from the 1920's to the 1970's. The region was particularly popular with the Jewish population, earning it the nickname "the Borscht Belt."
But by the time Patrick Swayze and Jenifer Grey were Dirty Dancing there in the 1980's, its popularity had long dwindled, thanks to the rise of cheaper air travel and package vacations to more exotic destinations.
Today, many of the resorts are abandoned and derelict. Resorts World Catskills is being built on the site of the of the demolished Concord Hotel, which was the region's largest from the 1950's until its closure in 1998.            
Casino Vote
In 2013, state residents said yes to "Proposition One," approving the authorization of up to seven private commercial casinos licenses.
In 2014 four licenses were created in four separate regions. The first casino, Tioga Downs, opened in early December, close to the border with Pennsylvania.
It was followed swiftly by the Del Lago Resort in Seneca County and the Rivers Casino in Schenectady, both of which opened in February, within days of one another. Resorts World Catskills is expected to open its doors sometime next year.
According to the developers, it will include an 18-story casino hotel, with 391 hotel rooms, multiple restaurants, an indoor water park, and an "entertainment village," with dining and retail and a golf course.
Similar Guides On This Topic