Bettors Roll With Favorite Alabama Over Michigan in Citrus Bowl Wednesday
Posted on: December 31, 2019, 03:50h.
Last updated on: December 31, 2019, 04:16h.
It's not often that a New Year's Day bowl is a disappointment for both teams. But that's what we have with Wednesday's Florida Citrus Bowl. When the season began, both the Alabama Crimson Tide and Michigan Wolverines had designs on being in the College Football Playoff.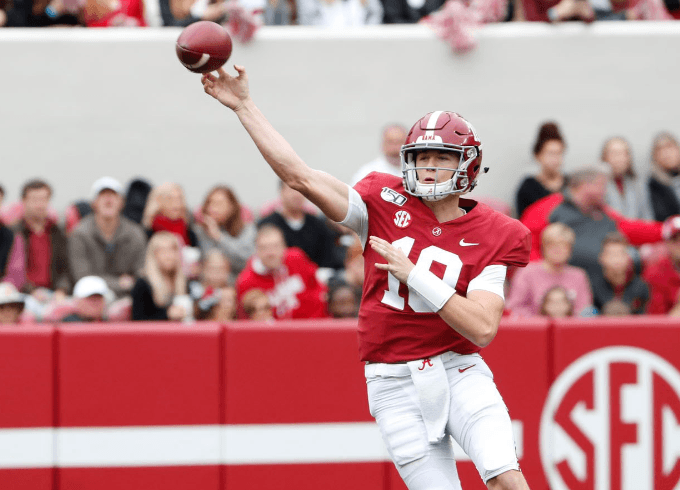 Instead, they find themselves in Orlando to ring in 2020.
Alabama (10-2), which had played in the four previous College Football Playoff Championship games, had its hopes dashed by losses to LSU and Auburn in November. Michigan stumbled early, falling to Wisconsin and Penn State by the middle of the season.
Still, getting a chance to play an "iconic" opponent like the Crimson Tide is a huge opportunity for the Wolverines to end the season on a high note, coach Jim Harbaugh said.
Alabama coach Nick Saban used the same term to describe the Wolverines (9-3).
"I think it'll be a well-watched game," Harbaugh told reporters Tuesday. "I would predict that. And so I think it's really good. To us, the way we look at it, this is a first-class bowl game against a great opponent, and that's pretty darn good. So we're going to go out and play our best."
The game is scheduled to kick off at 1 pm ET Wednesday. ABC will broadcast the game nationally.
Life After Tua
Alabama is still reeling from the injury to superstar quarterback Tua Tagovailoa, who was lost for the season after suffering a dislocated right hip against Mississippi State on Nov. 16. His presence was missed in the Auburn game two weeks later, as the Tigers returned two interceptions for touchdowns in a 48-45 win.
Saban told reporters Tuesday that the coaching staff has been working since the Auburn loss with Mac Jones, the redshirt sophomore who replaced Tagovailoa, to not force passes.
I think you can't really coach experience," Saban said. "You know, you have to kind of get that. And he's got some good experience, and a lot of it has been very good, and he's made a couple plays I'm sure he wishes that he could have back. But I think he'll learn and grow from those things."
The coach said his team is disappointed in how the regular season ended, with the Auburn loss likely knocking them from playoff consideration. Still, he's pleased with the approach his team has taken in preparing for Michigan, and doesn't expect that disappointment to linger into the Citrus Bowl.
Bettors Solidly Behind Bama
Even without Tagovailoa, the Crimson Tide enter the Citrus Bowl as seven-point favorites at William Hill and 7.5-point favorites at FanDuel.
According to those sportsbooks, the betting public is entrenched in their support of Alabama.
As of Monday night, 89 percent of the tickets written at William Hill were on Alabama, and those bets equal 93 percent of the handle on the game. The numbers are similar over at FanDuel. There, 91 percent of the bets and 86 percent of the money are on the favorites giving the points.
And despite FanDuel offering -300 odds on the straight-up moneyline, FanDuel has written 78 percent of the moneyline bets on the Tide, with those bets representing 80 percent of the handle. Michigan's moneyline odds at FanDuel are +235.
With the total points set at 58, FanDuel bettors expect the game to be an offensive affair as 78 percent of the tickets and 86 percent of the handle are on the over.