W Hotel Shown the Door at SLS Las Vegas
It took longer than expected, but W Hotel is no longer a hotel-within-a-hotel at SLS Las Vegas.

We were the first to share that SLS would discontinue its relationship with W Las Vegas.
Initially, the plan was to integrate W back into the SLS resort in May 2018, but talks between the two entities hit a snag.
Soon after, it was announced W would be "reincorporated back into SLS Las Vegas as the SLS Grand, a Starwood hotel" on July 20, 2018. Nope.

At one point, W Las Vegas employees were let go, rooms were redecorated to remove W branding and a crane showed up to take down the W sign. Because a deal couldn't be finalized, employees were invited back, all the rooms in the tower were reverted to the W branding and the crane was asked to turn around.
Finally, the deal between the new owners of SLS (Meruelo Group) and W Las Vegas was done and W is officially out as of Aug. 17, 2018.
Our eagle-eyed reader Michael A. captured the removal of the W sign from the SLS marquee.

The W sign went up in Oct. 2016. Yep, less than two years ago, making it one of the weirder Las Vegas casino stories in quite some time. (We're looking at you, The Quad.)
Here's a shot of the W sign as it was being foisted into place with much fanfare back in 2016. Or maybe it was hoopla. We always get those mixed up.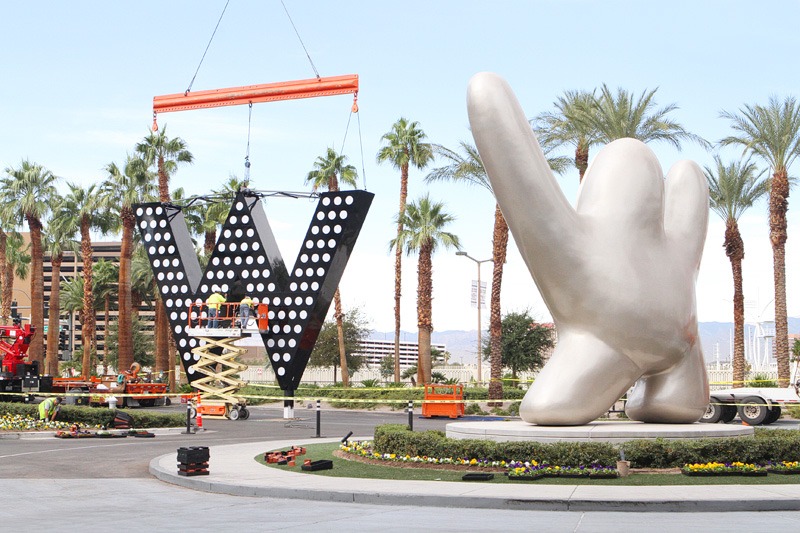 So, W is out. Bygones.
All visible signs of W Las Vegas branding have been removed at SLS, and the W tower has been renamed The Grand Tower.
A news release explains, "SLS Las Vegas will assume full operational control of the resort's reservations system from Starwood Hotels & Resorts Worldwide and the SLS Las Vegas brand will discontinue membership as a Starwood Tribute Portfolio Hotel & Resort."
We have only the most superficial understanding of what that means, so you're on your own.
One of the more distinctive design touches at the W Hotel valet entrance was a wall fashioned from 20,000 poker chips.

Now, SLS has taken a page from Park MGM playbook and replaced the chips with greenery.

Otherwise, the W Las Vegas lobby and bar area remain largely untouched.

Just in case SLS decides to overhaul the former W Las Vegas lobby area, we would like to call dibs on three decorative items.
First, this dice display.

Second, this textured wall accent, inspired by the bumps on a craps table. Glorious.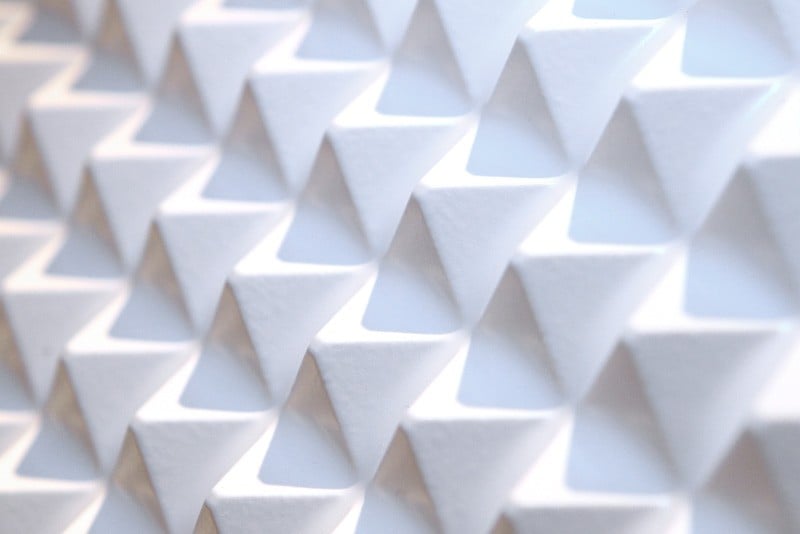 Third, Belvis.

Wresting back operational control of the W Hotel is just one of many changes happening at SLS.
Owner Alex Meruelo and his team have been aggressive at cost-cutting measures so far, and a $100 million "re-imagining" is planned.
How about this? Imagine being profitable for the first time in four years!
Fun fact: SLS opened on Aug. 23, 2014, so the hotel's fourth anniversary is the very same day we're publishing this story. You go, synchronicity.
Part of the resort's re-imagining will undoubtedly involve a name change, most likely to Grand Sahara Resort. The new name plays off the Reno resort owned by Meruelo, Grand Sierra Resort.
Plans for the hotel's venues haven't been announced, but we've heard Bazaar Meat and the Northside Cafe are likely to be the only restaurants to survive the transition. It's rumored Bazaar Meat will not only stay, but will get an expansion.

Since SLS opened, it's been rumored the resort's restaurants generate more revenue than its casino.
Cleo is not only our favorite restaurant at SLS, it's one of our favorites in Las Vegas. Sadly, our "Save Cleo" campaign hasn't gained much traction, but only because you probably haven't dined there yet. Ahem.
We've long been a cheerleader for SLS, as the quirky spawn of the classic Sahara has a lot to like, despite its challenging location.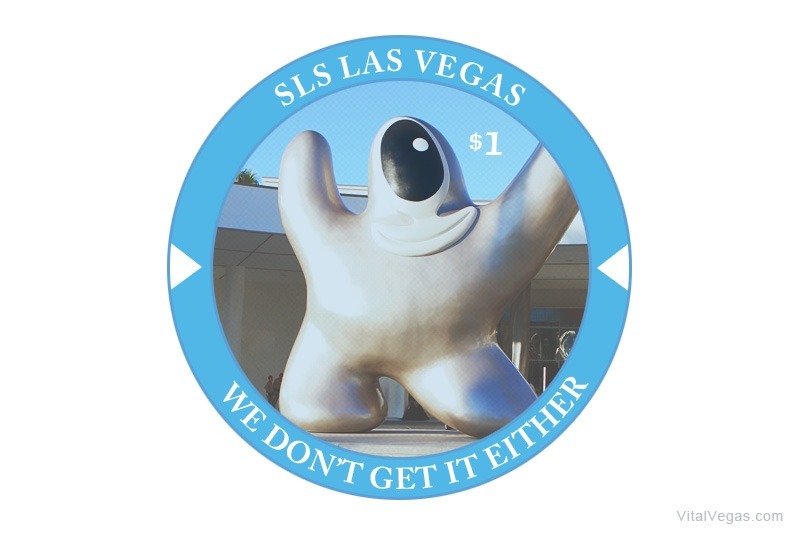 Here's hoping the new owners and management can defy the odds, turn plans for a turnaround into action and make the north Strip resort a success.
Including keeping Cleo. Yes, we're saying it again. Traction doesn't just magically happen, you know.