Vegas Casinos Invent New Way to Nickel-and-Dime Guests, Literally
While we're an unabashed cheerleader for Las Vegas, we also take great joy in calling out horseshittery, especially when it hurts our town. This is that.
Caesars Entertainment, which owns nine casino resorts in Las Vegas, is now screwing guests out of their change. Yes, that's the technical term.
This annoying practice happens at casino ticket redemption machines, and it's not the screwing you might suspect. It's worse.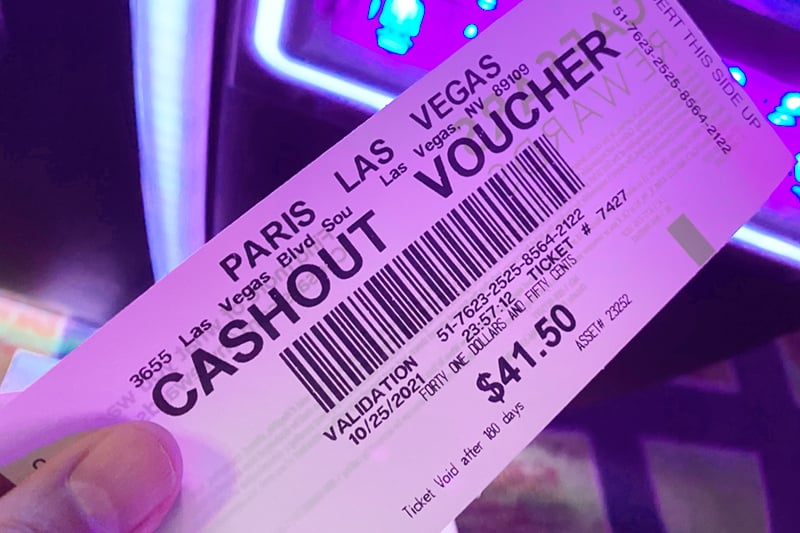 It's not headline news many casino ticket redemption machines no longer give coins. This change happened swiftly once casinos had an excuse to do so. Specificially, a national coin shortage.
Lots of things in Las Vegas casinos have changed under cover of the pandemic (so long Laurel Lounges and buffets and daily housekeeping and human beings checking in hotel guests).
In most casinos, if redemption machines don't dispense coins, you get a TITO (ticket in, ticket out) voucher for your change. It's the same one used in the slot machines.
Here's one at Bellagio, part of the MGM Resorts family.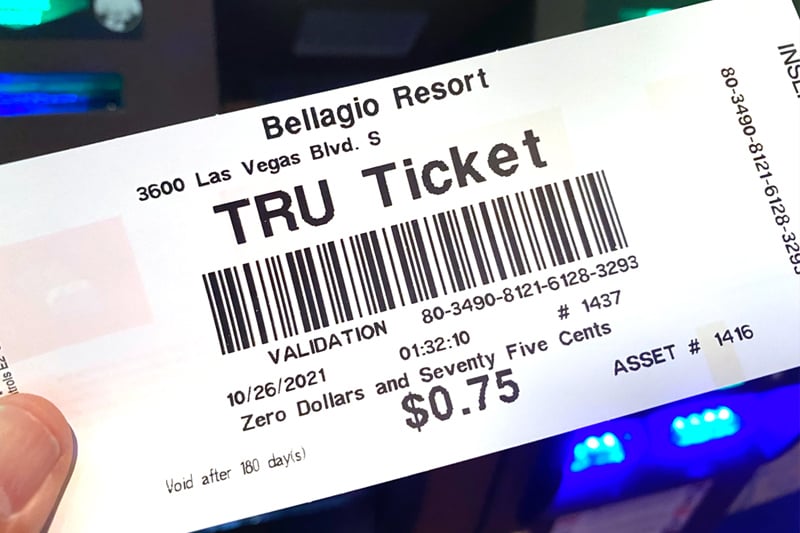 You can use that ticket in slot machines, or you can insert several tickets into the redemption machine and combine the amounts and, again, get paper currency and yet another voucher for the change.
It's all incredibly annoying, but not particularly shady.
In fact, in some casinos, the kiosks offer the option to donate your change to charity rather than receiving a voucher to bring to the cage.
MGM Resorts, Cosmopolian and Wynn all have the option to donate change to charity when cashing out.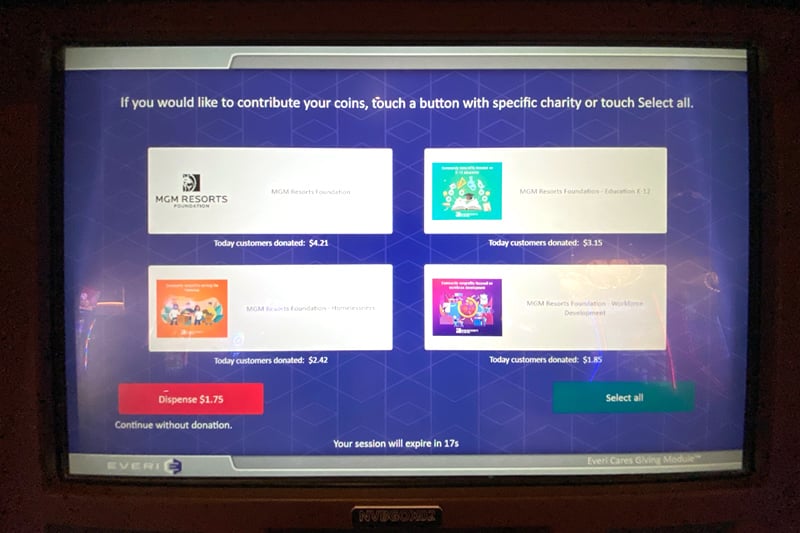 Here's where the Caesars Entertainment system veers in the realm of WTF.
At Caesars Entertainment casinos, you don't get a TITO ticket for your change. You get a receipt of your transaction.
The receipt doesn't allow you to put the money back into a slot machine (really dumb move on the part of a casino, by the way), nor can you put the slips back into the redemption kiosk to combine your change for paper currency.
The only option is to schlep to the casino cage to get your 45 cents.
In other words, your nickels and dimes.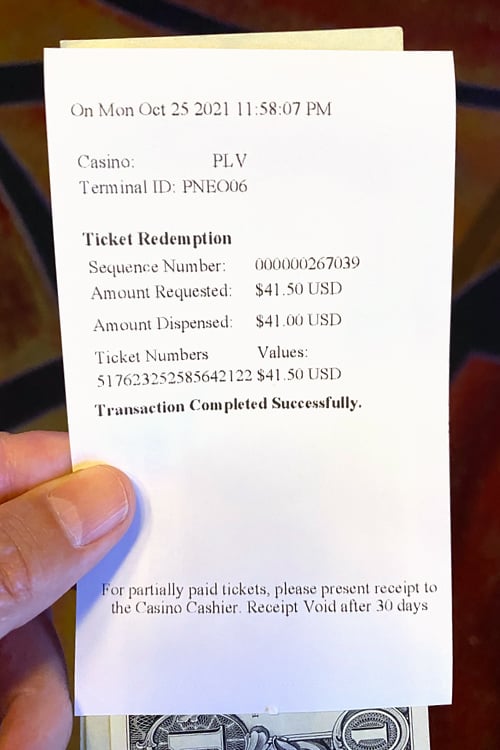 You'll never guess what happens when people are faced with this annoyance. They dump their tickets.
On our most recent visit to Paris Las Vegas, we found a mound of unredeemed change receipts at the base of the redemption machine.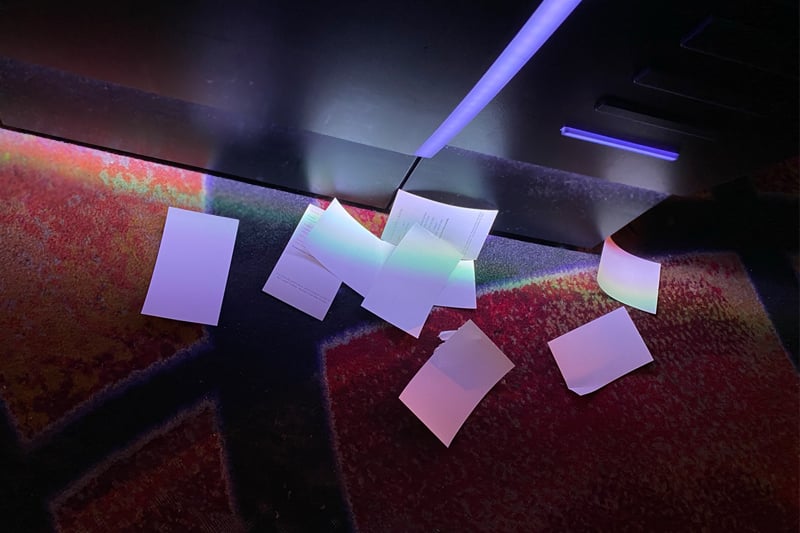 Seriously, people throw vouchers (and paper currency) into fountains just as they do coins. It's a thing.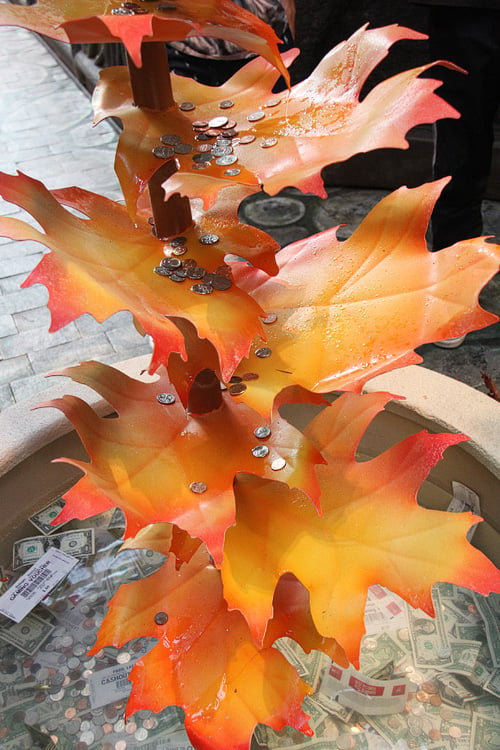 Unredeemed money is "breakage," and there are regulations for how these funds are collected and used.
As is the case with unredeemed (or "unclaimed") slot tickets, 25% of the funds stay with the casino, 75% goes to the Nevada State general fund.
Comparatively, the funds collected by casinos from unredeemed tickets aren't vast. They basically cover administrative costs.
Given what we're seeing at Caesars Entertainment, however, the funds collected (and given to the general fund) are going to dramatically spike when they're next reported.
We took several tickets to the cage during our visit and asked the attendant if there's limit on how many tickets a customer can cash in at once? The attandant said, "No, but they have to be yours."
Which caused our WTF meter to implode.
How would a cashier know if someone had gotten the tickets themselves or picked up receipts discarded by other customers?
The answer, of course, is they wouldn't.
The "policy" is to prevent the modern day version of what was once called "silver mining."
Those were the folks, often vagrants, who would walk through casinos looking for credits left behind by players. They'd cash out the coins (the "silver"), despite rules against doing so.
While some might consider this new policy a minor annoyance, we think it's just another item on the list of irksome practices eroding the Las Vegas experience.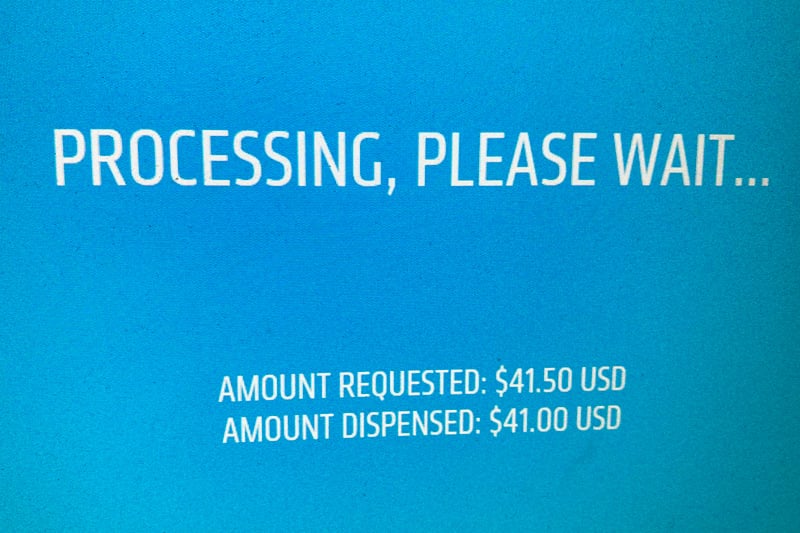 It's on the same list as CNF charges, service fees, venue fees, resort fees and myriad other barriers to fun.
It's not just "stealing" pocket change, such practices are damaging the perception of Las Vegas as a value destination, and that change in perception is hurting tourism (not now, but that's temporary, pent-up demand).
These policies may not be Earth-shattering individually, but Las Vegas casinos don't need to make it easier for travelers to decide their local casino might not be Vegas, but it's also not kicking them in the beanbags.
In layperson's terms, this bullshit needs to stop, already.
It's bad enough the ATM fee at Caesars Entertainment casinos is $9.99.
For the record, in Las Vegas, Caesars Entertainment owns Bally's, Caesars Palace, Cromwell, Flamingo, Harrah's, Linq, Paris, Planet Hollywood and Rio.
It appears all of these resorts now have their ticket redemption kiosks set to not provide change or TITO vouchers.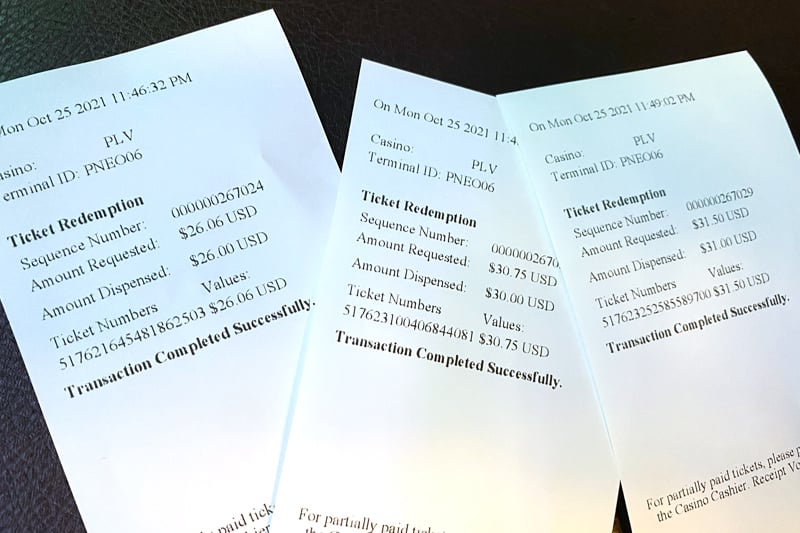 It's also worth mentioning there's no coin shortage in Las Vegas, so that excuse, however valid it may have been for a minute, is moot and insulting.
The decision to not give change is a cost-saving measure, plain and simple.
Coins are a pain in the ass, and involve additional labor, machine maintenance and other costs. It's the same reason coins went away in slot machines. In this context, however, it's unnecessary, short-sighted and ultimately detrimental to the guest experience, Caesars Entertainment casinos and Las Vegas overall.
Caesars Entertainment should either change the policy (give vouchers for change) or provide the option to donate the change to charity.
Big casino companies need to remove their earnings blinders and consider the bigger picture.
If people stop visiting, or visit less often, casinos will have been stepping over dollars to save pennies.
Want to explore more stories? Read about US gambling here:
You can also learn about online gambling in Canada here: