Unicoaster Roulette Is a "Game You Can Ride" and It's Glorious
A company called U.S. Thrill Rides has designed an amusement park ride based upon a roulette wheel and it's absolutely glorious.
The ride is "Unicoaster Roulette," billed as "The Game You Can Ride."
This thrill ride is presumably being pitched to Las Vegas casinos, as all the renderings have the Unicoaster smack dab in the middle of casino floors, surrounded by table games and slot machines.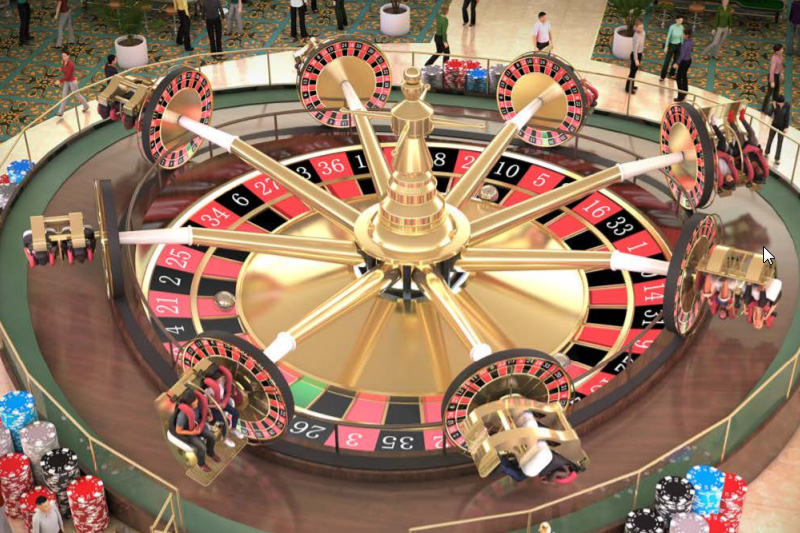 Isn't it interesting how we use a phrase like "smack dab" all the time and never really think about what it actually means? Apparently, "dab" is a British term meaning skilled. "Smack" means to slap." So, "smack dab" could be taken to mean "a skilled slap." Which is awkward.
Moving on.
Here's a sweet video of the roulette-themed Unicoaster in action, a skilled slap on a casino floor. Or something.
Thanks to our pal
Marc Meltzer
for passing along this gem.
Unicoaster is sort of the umbrella term for this ride, as it can be "skinned" or themed in any number of ways. That means it could also be craps-themed or blackjack-themed. Or even thong-themed. Just a personal preference.
While it seems wild to imagine a thrill ride on a casino floor, it does address a major challenge for casinos, namely, "How do you get the young people into casinos?"
Fewer people are gambling in Las Vegas casinos in recent years overall, and the youths are being especially difficult because for some reason they don't find sitting in front of a slot machine for hours mindlessly pushing a button "entertaining."
Rude.
Thrill rides make a ton of money in Las Vegas. The rides atop Strat are a huge revenue driver, and the SlotZilla zipline has changed the economic landscape of downtown forever.
A few years ago, casinos would never have considered giving up precious floor space for a thrill ride, but this one's fairly compact and casinos have given up large swaths of space for much less lucrative ventures. (Rio devoted a large portion of its casino floor to timeshare sales.)
The ride is 57 feet wide and 18 feet tall.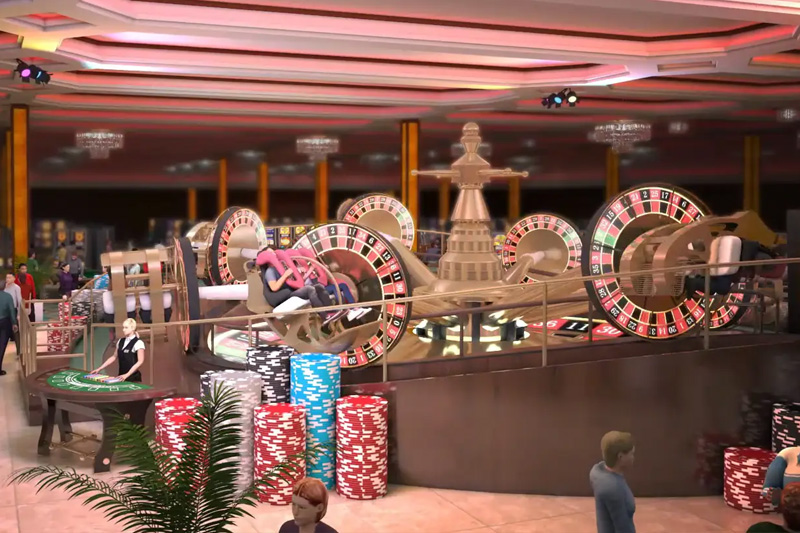 The ride can accommodate 16-24 people (it's configurable), several of them not nauseated. (Note: We are not a thrill ride person.) The ride can handle up to 240 riders an hour.
The ride lasts about two minutes, or about the same period of time involved in making love to this blog.
The Unicoaster Roulette machine is touted as having a "$900 per square foot revenue potential." Not too shabby. The last time we looked, the average slot machine makes about $400.
The roulette thrill ride would cost a casino $1.6 million, and the manufacturer says it would "return $930,000 in the first year at only 35 percent utilization."
Those are some juicy numbers for casino executives. So, never say never.