Tiesto Light Show Debuts at Fremont Street Experience
Bigtime DJ Tiesto recently got his own fountain show at Bellagio, and now the Dutch import has a show featuring his hits on the Viva Vision screen at Fremont Street Experience.
The Tiesto light show debuts at downtown's Fremont Street Experience on Feb. 3, 2016. As if we were going to wait. If you can't do a security breach at your own job, where can you do one?
The new light show features three of Tiesto's songs, "Secrets," "Red Lights" and "Wasted." The show is called "Tiesto – A Town Called Paradise," after his 2014 album of the same name.
"Red Lights" and "Wasted" were Tiesto's first two gold singles in the U.S., which we knew off the top of our head immediately after reading Tiesto's page on Wikipedia.
That's also where we learned his name uses two dots over the "e." Which we thought was an umlaut, but the ä in bär is an umlaut, but the ë in Tiësto is a diaeresis. There are surprisingly many things to be learned from electric dance music. That doesn't mean we're going back and adding a diaeresis to Tiesto's name in this story, but at least now we know the name of the thing we're not doing properly.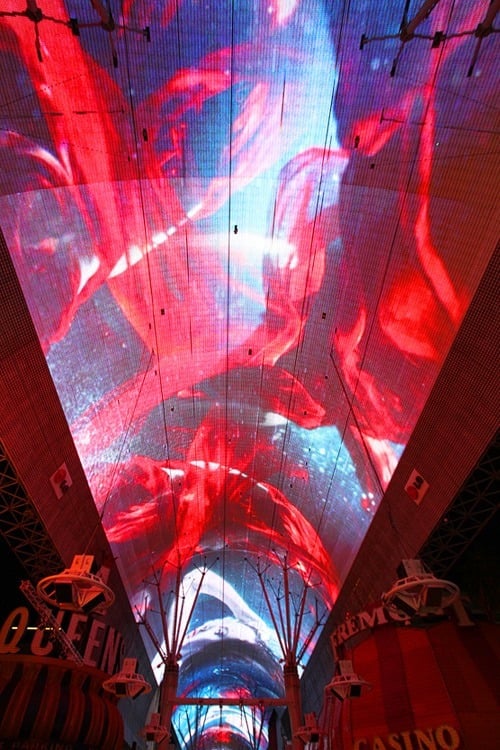 The three Tiesto songs in the new Viva Vision show have a combined 212 million views on YouTube.
Among Tiesto's accomplishments, he was the first DJ to play live onstage at the Olympics (in 2004) and was among the first celebrity DJs to earn what would later be dubbed a "metric ass-ton of money" doing gigs at nightclubs like Hakkasan and Omnia in Las Vegas.
Here's a little "Secrets" action.
Tiesto's new Viva Vision light show joins Imagine Dragons as a recent addition to the line-up at Fremont Street Experience (where this blog works in marketing as our day job). And about time. All due respect, Bon Jovi.
The Tiesto light show was created by the same Montreal-based multimedia company as the Imagine Dragons show, Moment Factory.
At five football fields long, the Viva Vision screen at Fremont Street Experience is the largest in the U.S. and second largest in the world after Harmony Times Square in Suzhou, China. Thanks for ruining everything, China.
The new Tiesto show will run nightly at 11:00 p.m. Check the official Fremont Street Experience calendar for seasonal time changes. Otherwise, come on down and dance like nobody's watching. Believe us, everyone else is.
In other Fremont Street Experience news, we were the first to report (hey, we work there) Patrick Hughes has been named the new President of Fremont Street Experience, replacing former President Jeff Victor. Hughes is currently Vice President and General Manager of Cannery Casino & Hotel in North Las Vegas. Hughes formerly worked at Boulder Station, New York-New York, Desert Inn and The Resort at Summerlin (Rampart Casino).