This Was Easily Our Weirdest Vegas Celebrity Sighting, Ever
We've bumped into tons of celebrities in Las Vegas, but this two-fer was a doozy. (Or, for the Millennials, a "humdinger.")
We were doing lunch at Triple George, downtown, and saw an odd couple enter the restaurant.
The more diminutive of the two caught our eye first, but his companion looked very familiar as well.
The pair of diners were none other than two TV legends: Felix Silla and Gil Gerard, both featured in TV's "Buck Rogers in the 25th Century."

"Buck Rogers in the 25th Century," a sci-fi TV series that ran from 1979 to 1981. The pilot for the show was released as a feature film as well.
Gerard, now 75, starred as "Buck" Rogers and also appeared in nearly 400 TV commercials.
Depending upon your level of nerd, you may also be impressed to learn Gil Gerard voiced the character of Megatronus in 2015's "Transformers: Robots in Disguise."
Felix Silla, 81, co-starred with Gerard in "Buck Rogers in the 25th Century," as a robot named Twiki.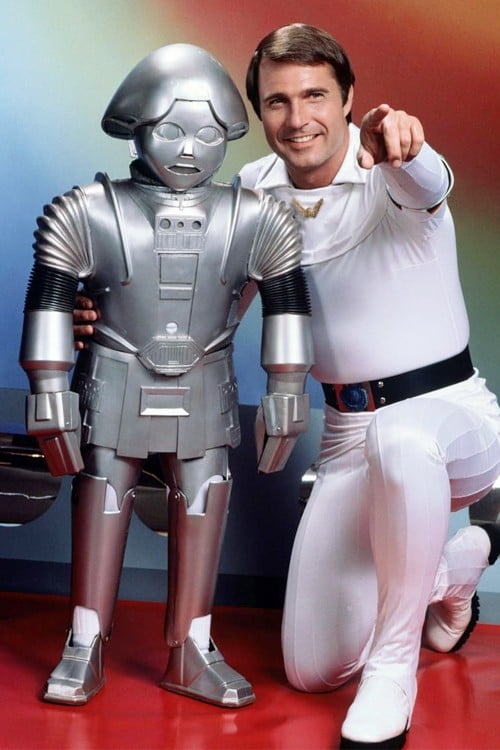 Silla was even better known for playing the character of Cousin Itt on the original "The Addams Family."
Silla has at various times played Las Vegas venues with his group, The Original Harmonica Band.
Just in case you haven't hit your maximum nerd yet, bask in the fact Felix Silla not only did the voice of Mortimer Goth in the videogame "The Sims 2," he also played an Ewok in "Return of the Jedi."
Both Gerard and Silla were gracious about having their photo taken, and when we mentioned they seem to have a lot of fans, Silla said, "Yes we do."
We didn't get to ask why the men were in Las Vegas, or why they were having lunch at Triple George that day. We just enjoyed our brush with TV history. Only in Vegas!