You Could Soon Bungee Jump Off Stratosphere
We hate to spoil the surprise, but we're hearing Stratosphere will soon add bungee jumping to its list of adrenaline-pumping thrill attractions.
Guests of the Strat can already do one of the most harrowing experiences in Las Vegas, the SkyJump.
SkyJump involves an open-air leap from 829 feet above The Strip.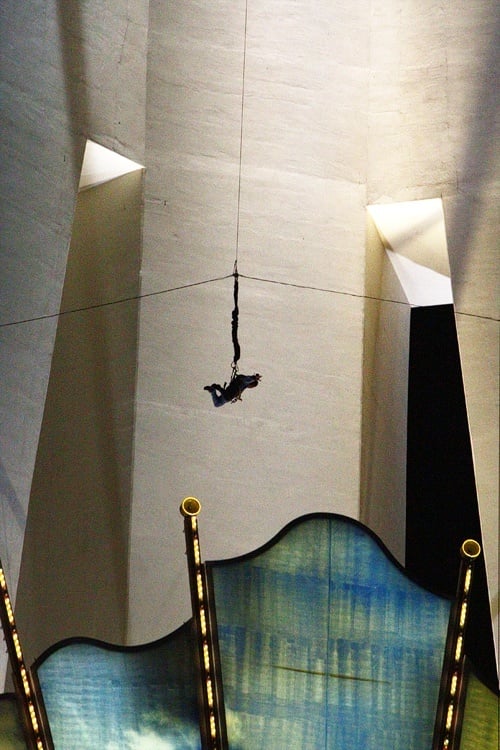 Still, legions of Vegas visitors make their way to the Stratosphere's collection of thrill rides.
Aside from SkyJump, there's X-Scream (the gliding over the edge one), Insanity (the spinning over the edge one) and Big Shot (the straight up and down one).
These attractions are wildly successful and profitable, and Stratosphere wisely adds new rides to the mix to keep things fresh for repeat customers.
Next up, according to rumors, Stratosphere will offer a bungee jump!
To get an idea of what the experience could be like, if the rumor pans out, one need look no further than Macau Tower.
People be kray.
We hear the ticket price for the Strat's bungee attraction could be as much as $300. The Macau Tower bungee jump costs more than $400 U.S.
From our four minutes of research on the topic, it seems Macau Tower holds the record for being the highest commercial bungee jump at 764 feet. That record-holding bungee jump opened in 2006.
Another is planned for the Zhangjiajie Grand Canyon Glass Bridge. When that opens in August 2018, it will be the highest at 853 feet.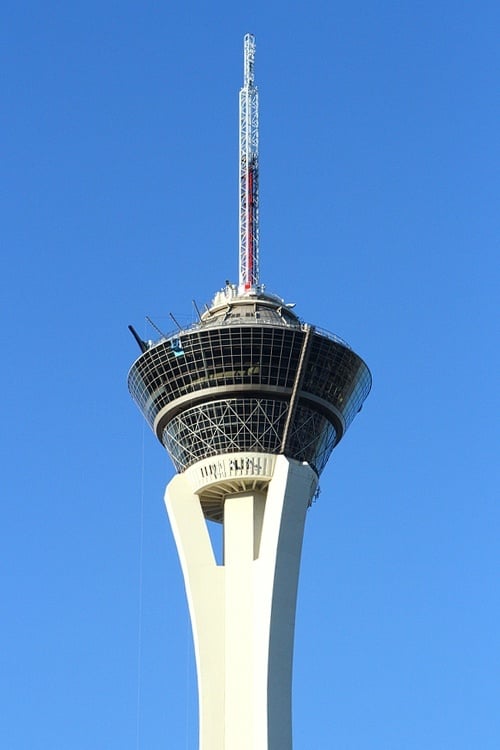 Should Stratosphere's attraction jump from 829 feet, it'll be the highest in the world. Because Vegas, baby.
Bungee (sometimes spelled "bungy") jumping from a tower comes with some technical and safety challenges. "Guide cables" are used to keep the jumper from bouncing into the hotel tower, for example.
The SkyJump at Stratosphere uses a "fan descender" to slow the rate of descent, and we trust a similar device will be used with the bungee attraction. Read more.
It's unknown if the bungee jump will replace or augment SkyJump, but Macau Tower boasts both a SkyJump and bungee jump.
A new attraction wouldn't be the first time anyone's bungee jumped off the Stratosphere. During taping of the "Real World/Road Rules Challenge 2000" reality series, contestants bungee jumped off the Strat from a height of 660 feet. On the show, the bungee jump challenge was dubbed "Stratos-Fear," which wouldn't be a bad name for the attraction.
Everything's bigger and bouncier in Las Vegas, so don't be surprised if Stratosphere announces a new bungee jump attraction soon.