Saltgrass Steakhouse Opens at Golden Nugget With Casual Vibe, Strong Value
Saltgrass Steakhouse took a minute to open (thanks a lot, pandemic), but delivers on its promise to be a casual alternative to fine dining without skimping on quality.
Yes, the addition of Saltgrass means Golden Nugget is one of the rare Las Vegas resorts that boasts two steakhouses. The other is Vic & Anthony's, one of our favorites in Las Vegas.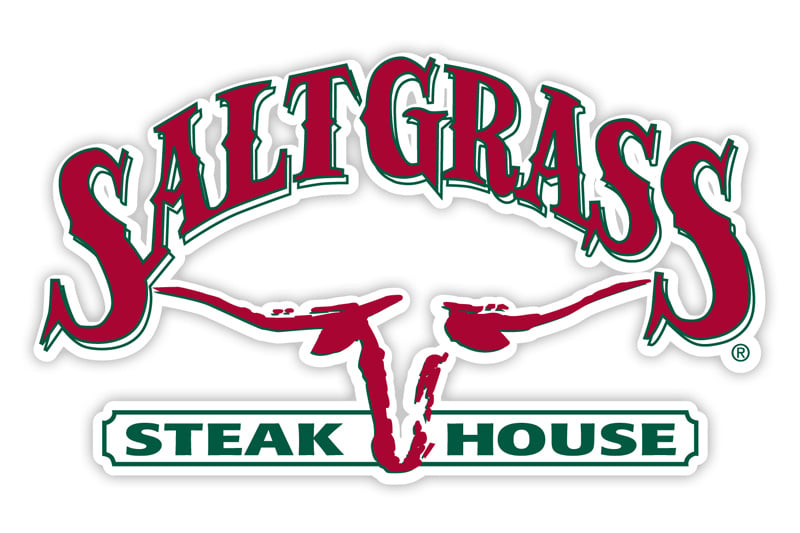 While it may seem counter-intuitive to add a second steakhouse at Golden Nugget, it actually makes smart business sense (Golden Nugget is owned by bajillionaire Tilman Fertitta, owner of Landry's, so they know something about restaurants), and customers are eating it up.
Vic & Anthony's has a fine dining vibe, while Saltgrass is decidedly much more casual.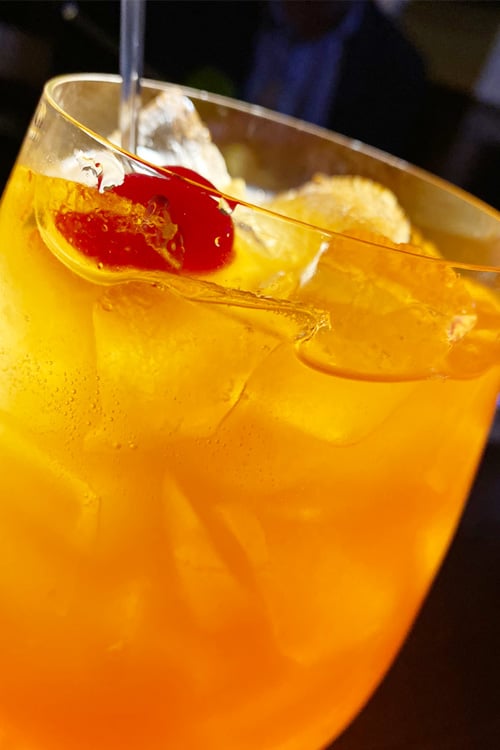 One of the most appealing aspects of Saltgrass is the value. Prices are a third, or even a half, what a typical Las Vegas steakhouse costs (and downtown steakhouses already provide a good deal of value), without sacrificing anything in the realm of food or service.
For example, the nine ounce filet is $34.49. In most Las Vegas steakhouses, filet's (typically eight ounces) run $50-60 and more.
In this price range, it's almost like getting a two-for-one coupon every time you dine at Saltgrass. We're in.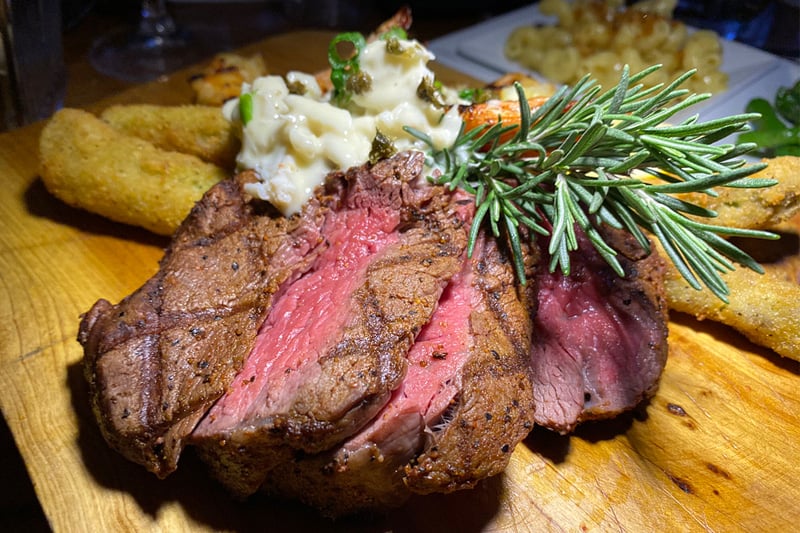 The benefits of being able to wear jeans and T-shirts to a steakhouse can't be overstated, of course.
Let's just say we are not a collared shirt person. Restaurants are lucky we even wear pants.
Good luck trying to unsee that.
What we're trying to say is Saltgrass has whipped up the perfect recipe for a successful restaurant in Las Vegas. Unpretentious atmosphere, less cheddar for your cheddar. Or something.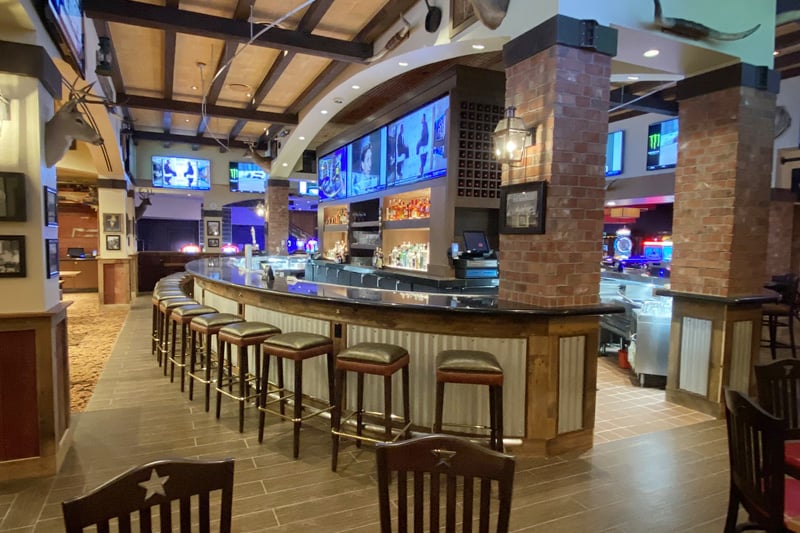 A big thanks to Saltgrass for inviting us in for a media tasting, so we could check out a greater variety of dishes than we normally would.
For starters, we are a bread person, and the bread at Saltgrass was one of the highlights of the meal.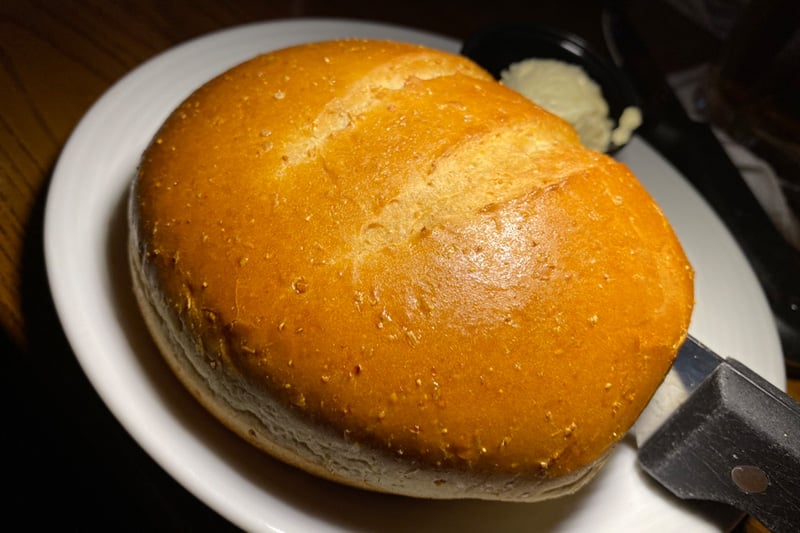 We got to sample a bunch of sides along with our entree, and all were delicious, including one or two vegetables we may have accidentally eaten.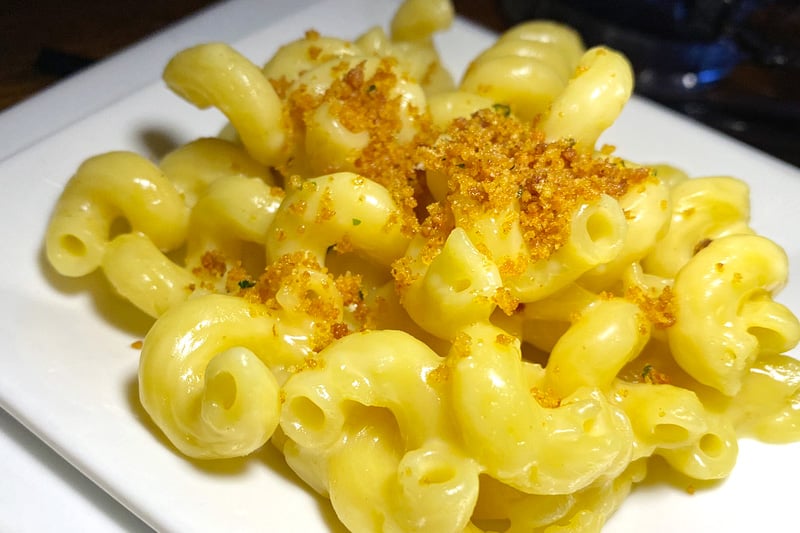 We did not try the mushrooms. How is that even considered a food? Weird.
We even tried the Range Rattler (shrimp stuffed inside a giant jalapeno), one of the most popular appetizers according to staff. We don't usually venture into the jalapeno world, but these had just the right amount of kick without causing sterility, so that's a win.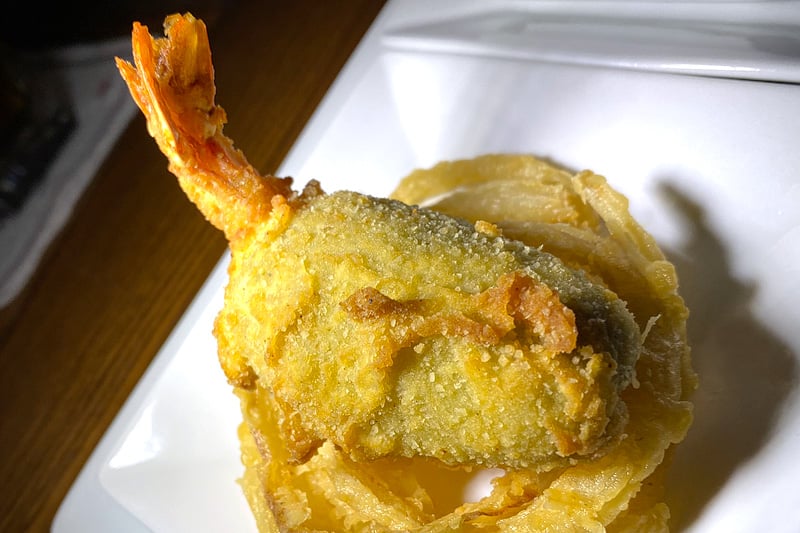 The filet was prepared to perfection, served on big slabs of wood rather than plates. We are happy to report there were no splinters.
Guests can order a dinner or Caesar salad with their steak for just $2.99. Find another Las Vegas steakhouse with prices like that. We'll wait.
The menu also features salads, sandwiches, Country Fried Chicken and Steak and other meat-based options. Seafood includes fried shrimp, Atlantic Salmon and Salmon Oscar.
Desserts options aren't expansive, but you won't have room for them, anyway. It can't hurt to get an order of carrot cake and cheesecake to share with the rest of your table, however.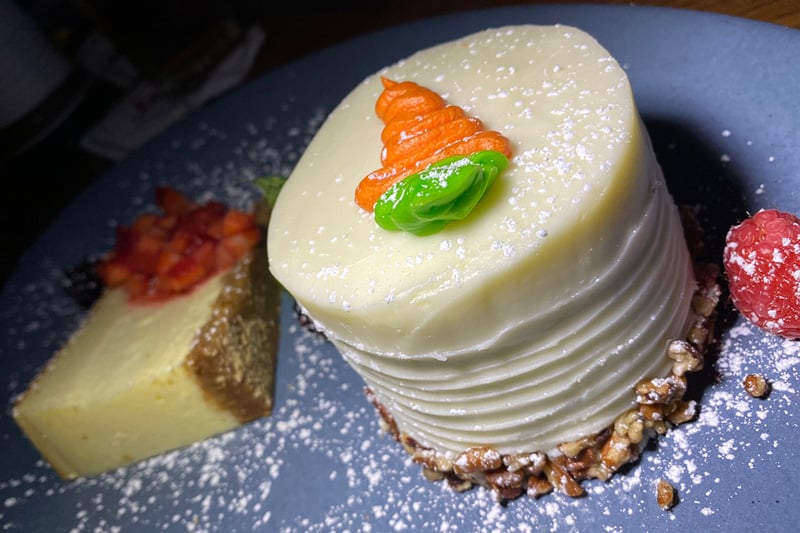 Saltgrass has put together an impressive roster of specialty cocktails. Many have a sort of "It's time to party in Vegas" feel, but the restaurant has covered all the bases on your favorites.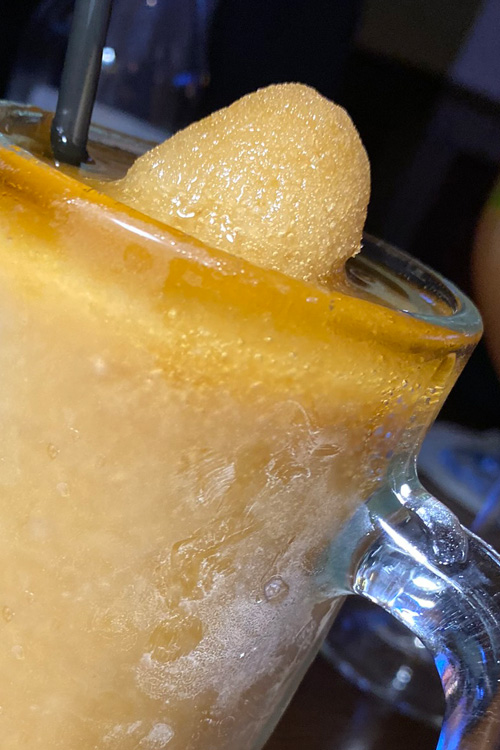 Saltgrass sits in the former home of the Grotto Italian restaurant. Grotto has been relocated closer to the hotel's Carson Tower (near Chick-fil-A) and what was previously Lillie's Asian Cuisine.
Saltgrass fills a niche, and will definitely be in our rotation of favorite downtown steakhouses, a list that includes the aforementioned Vic & Anthony's, Andiamo at The D, Barry's at Circa, Triple George at Downtown Grand, Hugo's at Four Queens and Oscar's at Plaza.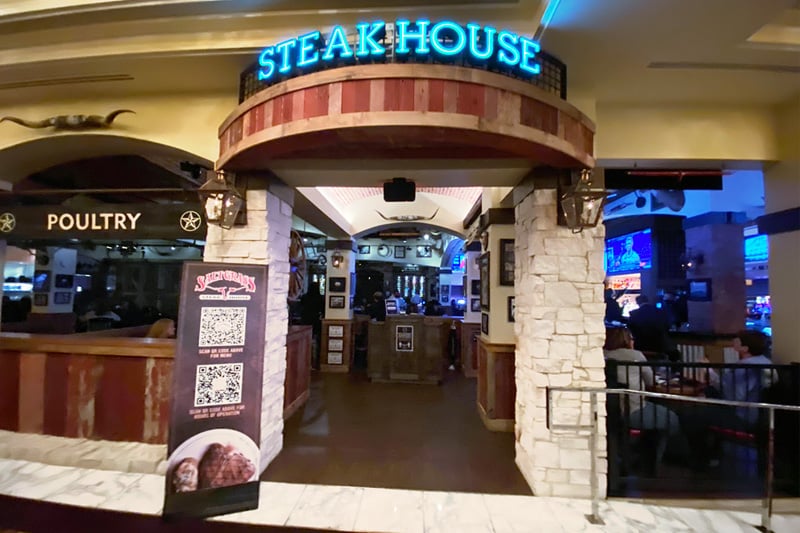 With the prices Saltgrass, in addition to dining credits from our play at Golden Nugget, it's likely we'll dine there even more frequently than our usual go-to places, and the cravings for the bread have been relentless since our visit.
Visit the Golden Nugget Web site for more details about Saltgrass Steakhouse, a winning new downtown steakhouse for those times when you're not in the mood to dress up, and want to save some bucks for Top Dollar and Wheel of Fortune.