Las Vegas Rally and March Planned for International Whores Day 2018
We are not making this up.
On, June 2, 2018, Las Vegas sex worker advocacy groups plan to march in honor of International Whores Day.
The day is in commemoration of the occupation of Saint-Nizier Church in Lyon, France, by more than 100 sex workers in 1975 to protest police brutality and exploited working conditions.
According to the Las Vegas groups, International Whores Day is celebrated internationally and is "a day to assert collective power and make demands."
One of the demands is for sex work to be decriminalized.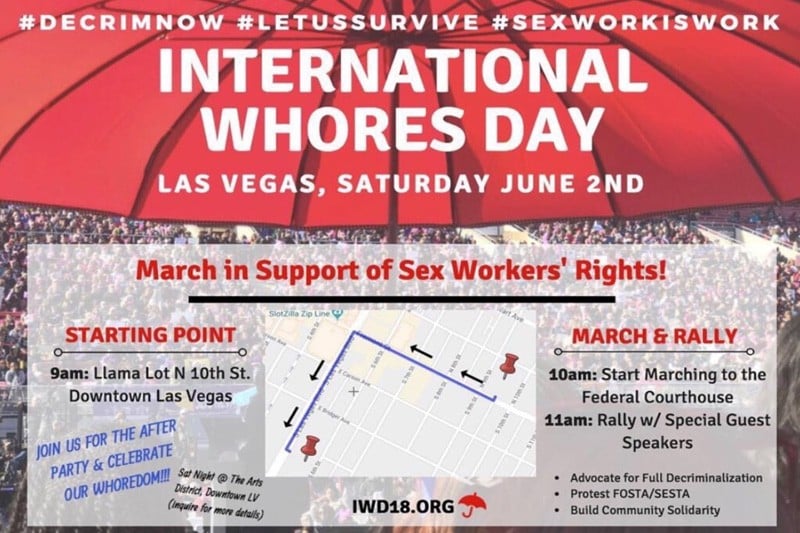 The march will also protest the Fight Online Sex Trafficking Act (FOSTA) and Stop Enabling Sex Traffickers Act (SESTA) which became law on April 11, 2018.
Sex worker advocates assert that while these laws were originally framed as anti-trafficking, they are harming consensual sex workers and chilling free speech on the Internet.
The rally and march on June 2 will be preceded by workshops, including a protest safety workshop as well as "Know Your Rights" and "Political Outreach" workshops.
Also taking part is Sex Workers Outreach Project (SWOP) Behind Bars, a group whose mission is to "create community for incarcerated sex workers."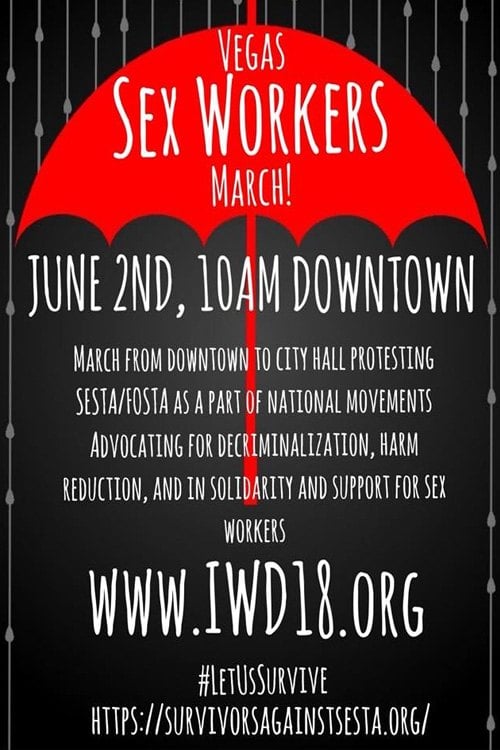 From the artwork above, you may have noticed the red umbrella is an important symbol for sex worker rights. The International Committee on the Rights of Sex Workers in Europe (ICRSE) adopted the red umbrella as a symbol of resistance to discrimination in 2005.
On a completely unrelated note, another large event is happening in Las Vegas on June 2. Specifically, the world's largest orgy.
Hey, they don't call it Sin City for nothing.
Fan of sex workers? You'll love our story about the Moonline BunnyRanch brothel.
Find out more about International Whores Day at the official Web site, a sentence we never imagined we'd be writing when we started this Las Vegas blog.