Guy Fieri's El Burro Borracho to Open at Rio Las Vegas, Buzio's Seafood to Close
TV host and restaurateur Guy Fieri has announced he'll open a new restaurant, El Burro Borracho, at Rio Las Vegas in early 2016.
The new El Burro Borracho will be near the hotel's VooDoo Beach pool in the under-performing Buzio's Seafood restaurant space, which will close by the end of 2015.

El Burro Borracho is Fieri's second effort in Las Vegas, following on the success of Guy Fieri's Vegas Kitchen & Bar at the Linq Hotel. There's also an El Burro Borracho at Harrah's Laughlin.
We had a great experience at Guy Fieri's Vegas Kitchen & Bar, so we're optimistic El Burro Borracho (Spanish for "drunken donkey") will have the same indulgent fare and festive atmosphere.

The menu at El Burro Borracho, as you might suspect, will feature Mexican-inspired dishes including: Crispy Mahi Mahi Juan Tacos, Flaming Queso Fundido, Acapulco Gold Salad, Drunken Fish Tacos, Lava Rock Shrimp, tortas, enchiladas, burritos and house-made salsas.
See the Harrah's Laughlin El Burro Borracho menu here.

Expect a robust selection of hooch, including imported beers, tequilas, margaritas and cocktails at Guy Fieri's new Las Vegas restaurant.
Given the imminent closure of Buzio's Seafood, it's also worth mentioning the hotel's Village Seafood Buffet also closed, as reported by our friends at Vegas Bright.

There are lots of other restaurant options at Rio, of course, including Hash House A Go Go, Voodoo Steak, KJ Dim Sum & Seafood and an exceptional Indian restaurant conspicuously absent from the hotel's news release for whatever reason, Royal India Bistro.
Also missing from the roster of Rio restaurants in the El Burro Borracho news release was Martorano's. We've long suspected the opening of a Martorano's at Paris Las Vegas signaled the beginning of the end for the Rio location, but no word on that to-date. (Update: A testament to this blog's otherworldly prescience, Martorano's closed at Rio Las Vegas on Nov. 1, 2015.)
We're looking forward to El Burro Borracho opening at Rio, although the name is going to be challenging. There's a chance guests will end up calling it the "Drunken Donkey," or another variation like the "Hammered Ass," but if the food and drinks are memorable, the name of the place shouldn't hinder its success.
The Rio could use a little attention, and perhaps a new restaurant with a celebrity tie-in will help. We'd especially like to see the neglected Rio sign brought back to its true neon glory.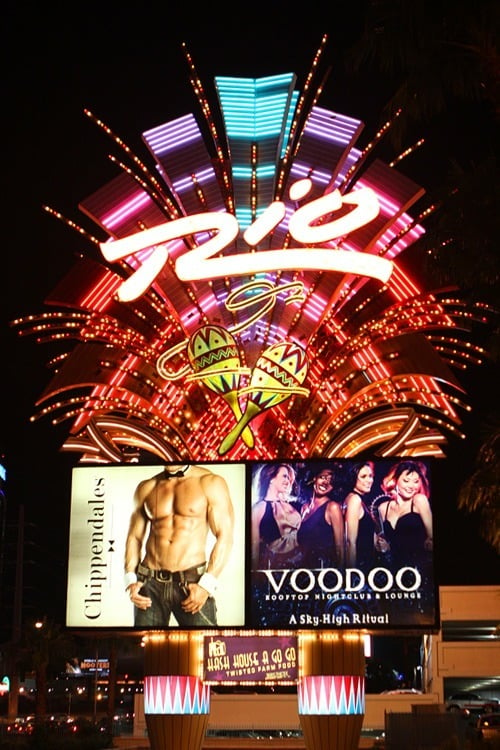 Guy Fieri keeps busy with his gig at the Food Network, so it's unlikely you'll see him a lot at El Burro Borracho.
Still, Caesars Entertainment (the company that owns Rio Las Vegas) has a history of successful collaborations with the likes of Fieri, Gordon Ramsay (we see a "donkey" cross-promotion down the road), Giada De Laurentiis, Bobby Flay and others, so El Burro Borracho will be a welcome addition to the Rio's restaurant line-up.