Gird Your Bank Account: Cashless Slot Machine Systems Are Here
Casino technology company IGT announced its cashless gambling system, Resort Wallet, has been approved by Nevada gaming authorities. Hello, mixed feelings.
The system allows gamblers to access money directly from a slot machine, rather than having to insert cash or trek to an ATM.
A player simply uses their casino loyalty club card to transfer cash into a secure digital wallet, either at the casino "cage" or via a Resort Wallet-enabled slot machine. Then, the player can use their PIN to apply funds to any game, as well as being able to cash out to their digital wallet at any time. Which is definitely going to happen. Definitely.

As with everything in life, there are two sides to this story.
On one hand, the technology makes it convenient for players to gain access to their money.
On the other hand, the technology makes it convenient for players to gain access to their money.
Specifically, easy access to money raises a number of concerns, and not just for those with a gambling problem.
The main benefit of cashless systems (convenience, or the removal of obstacles between a gambler and their money) is also the main reason such systems tend to receive some blowback.
Cashless systems remove many of the barriers to accessing and gambling one's funds. You know, barriers like standing up, stretching your legs, meandering to an ATM, paying an ATM fee, walking back to the machine, loading it up with actual cash money, all that.
Those "barriers" are considered by many to be important safeguards for players.
In the heat of the moment during a losing session, you're forced to stop and look around and take part in the aforementioned meandering.
You may go to the restroom. You may grab a coffee. You may unsuccessfully hit on a complete stranger. You may even reconsider whether you want to gamble more.
Let's face it: Las Vegas was not built on people reconsidering whether they want to gamble more.

Recently, advocates of cashless systems, typically casinos or providers like IGT, promote these systems as "reduced-contact" and "safer," using the pandemic as a marketing angle, but those selling points are obviously self-serving.
These systems are about making it easier for players to get and gamble money, plain and simple.
They're also about making money seem as little like money as possible. (Remember, these are the same folks who insist upon calling it "gaming" rather than "gambling." There's a reason.)
Why do casinos use chips rather than cash? Because when a gambler uses chips, it doesn't feel like money they're gambling. It's just chips.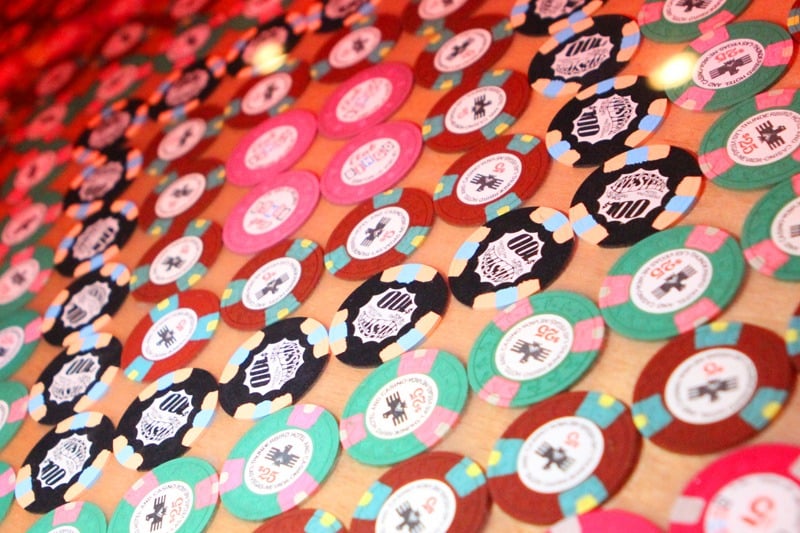 Cashless systems take that even further. In a moment of decision, sometimes fueled by alcohol, players don't touch anything at all but their loyalty club card.
Still, we're a big fan of individual choice and personal responsibility, so we're solidly on the fence about such cashless systems.
We actually like the option of having access to our money at the tables, either through a marker (casino credit) or a tabletop device.
We wrote about such "tabletop ATMs" back in January 2020. These machines let players access money without ever leaving the table. They've already been used at Palms, The D and Strat. If the world had ended, we'd have heard about it.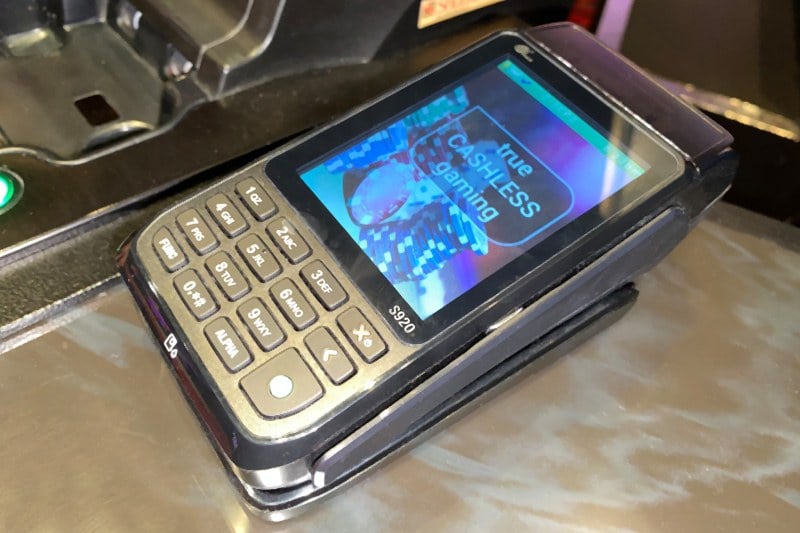 Another cashless slot machine credit system, Marker Trax, is being tested at Ellis Island, just off The Strip.
Looking ahead, IGT got a patent for slot machines to accept Bitcoin and other "crypto," as the kids call it. The mind reels.
We'd love to hear your thoughts about cashless gambling systems. Player's friend or enabler?
Coincidentally, in IGT's news release, a spokesperson for the company said, "We're grateful to the Nevada Gaming Control Board for enabling this momentous debut in the state."
Hey, we don't make up the news, we just report it. Share your thoughts in the comments.
Update (2/2/21): Golden Gaming announced it will use the Marker Trax cashless system, branded as "Quick Play."
Update (2/15/21): Boyd announced it will use a digital wallet called BoydPay.