What Elvis Presley Would Look Like If He Were Still Playing Las Vegas
Wherever else some performers might have played, they'll forever be associated with Las Vegas. The Rat Pack. Liberace. Phyllis Diller and Don Rickles. Wayne Newton.
Sadly, one of those performers left the building too soon, Elvis Presley. Who knows what might have been. Had Elvis lived, he could still be packing them in on the Las Vegas Strip. Here's what Elvis might look like today.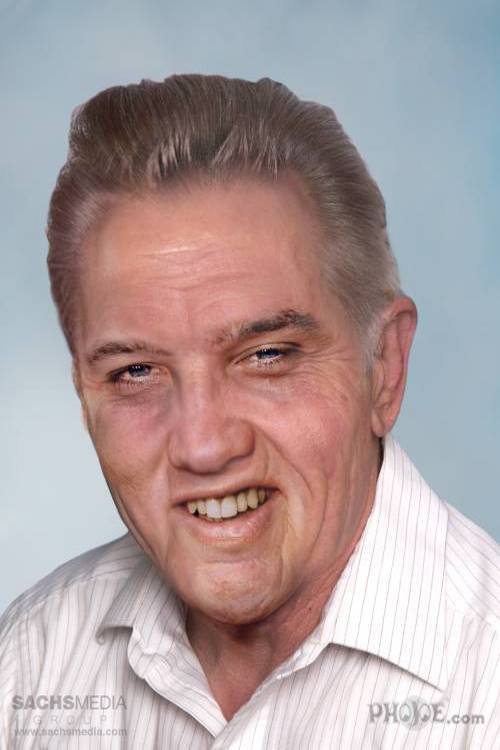 Check out a cool gallery of rock and roll superstars as they'd look today. And Las Vegas Weekly did a great article about the 25 Greatest Headliners in Las Vegas History that's worth a look.
We'll say it. Like many legends, Elvis' legacy actually benefits from having passed when he did (1977).
If Elvis were playing Las Vegas now, he'd be taking hits for trying to reclaim his former glory without the voice to back it up. Audiences would wonder if he's doing his own singing or lip-syncing. (He'd be lip-syncing, or at least be using vocal backing tracks, because just about every big star in Las Vegas does, even the great singers like Celine.)
His show would be an over-the-top spectacle, though, with an ample supply of showgirls and visual references to his amazing music and movie career. Mostly the music part.
People would note what an amazing head of hair The King still has.
Elvis would be rolled out for public appearances around Las Vegas. He'd tap a keg at Hofbräuhaus during Oktoberfest and make the rounds at red carpets whenever a new show opened on The Strip, pretending to know who "Murray the Celebrity Magician" is. He'd get a Proclamation from the mayor every time his show hit an anniversary year with a "5" or "0" at the end.
Even when Elvis was killing it, it was already getting a little awkward.
His Las Vegas show would open and close with "Viva Las Vegas" today, of course, and that would've been a genuine thrill.
Agree? We'd love to hear what you think Elvis would be doing in Vegas were he still alive. Would there be tours of Graceland Las Vegas? Would there be an Elvis-themed Heartbreak Hotel, in his honor? Would there be more Elvis impersonators in Las Vegas, or fewer?
We can almost hear him saying what he said at a news conference in 1972, "Man, I was tame compared to what they do now. Are you kidding? I didn't do anything but just jiggle."