Five Fun Things to Do in Las Vegas During the Holidays, Plus One That Sucks Hard
Las Vegas is flush with things to do during the holidays, but you can't do them all (probably).
Here are five must-do Las Vegas holiday activities you'll want to experience, and one you should avoid at all cost, unless you're the kind of person who enjoys having a friend poke you in the eye with a sharpened candy cane.
1. Bellagio Conservatory & Botanical Gardens Holiday Display
The Bellagio's conservatory is a great free thing to do any time of year, but it's especially magical during the holidays. The seasonal display typically features giant bells, penguins and polar bears, and pretty much all the poinsettia plants in the western hemisphere.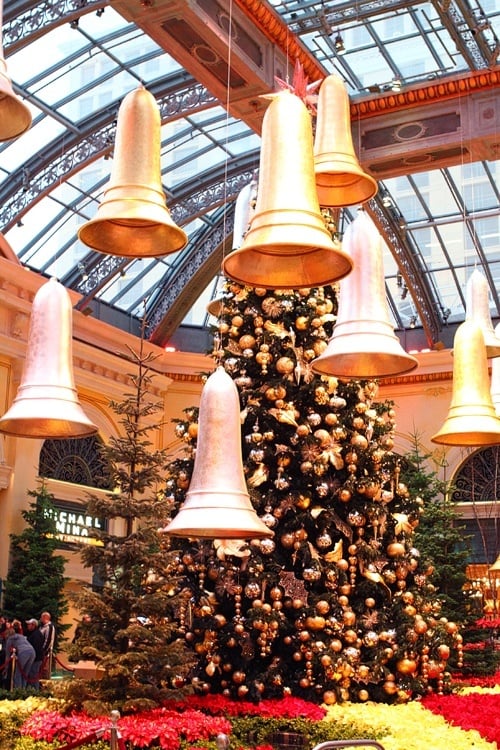 2. Caesars Palace Decks Its Halls (and Lobby)
Caesars Palace does it up right for the holidays, especially in its main lobby. In years past, the holiday decorations at Caesars have cost about $50,000 (as opposed to the decorations at, say, The Quad, which run in the $30 range, and we're not exaggerating).
The lobby at Caesars Palace provides one of the best photo ops of the holiday season in Las Vegas.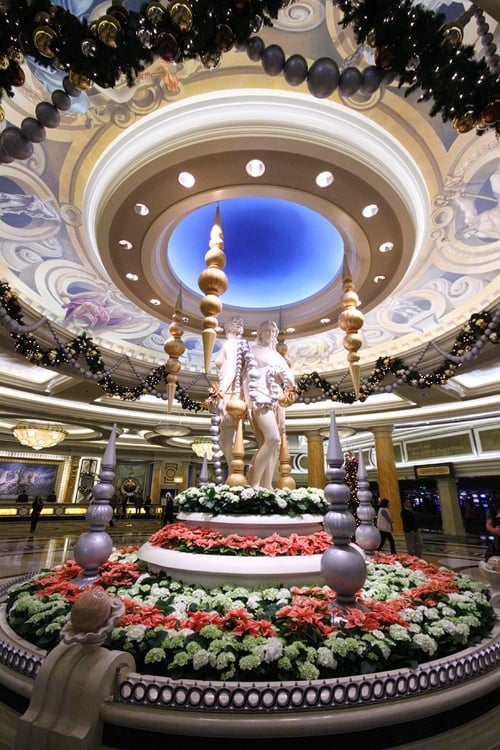 3. Ethel M Chocolate Factory Cactus Garden

As we wrote about recently, the Ethel M chocolate factory's holiday cactus garden is a great, family-friendly free thing to do in Las Vegas. The attraction is celebrating its 20th anniversary this year, and features 300 species of plants decked out in 500,000 lights.
The Ethel M Cactus Garden hours during the holidays are 5:00 p.m. to 10:00 p.m. daily.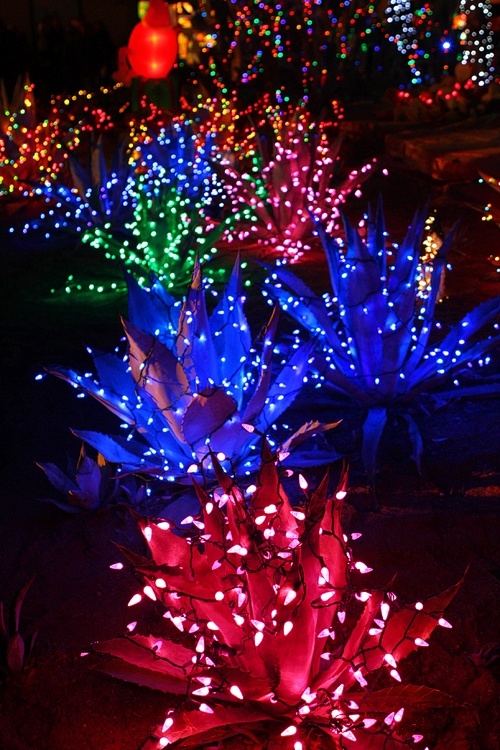 4. Skating Rink at The Cosmopolitan
Yes, Las Vegas is in a desert, but that doesn't mean we can't have a little wintertime fun. The Cosmopolitan is bringing back its popular skating rink.
The Cosmo goes all out for the holidays, with fire pits, s'mores, warm cocktails skating on real ice. The Venetian has a skating rink, too, but its ice is synthetic and we didn't have a photo, so we're lumping it in with the Cosmo.
Learn more about how to get a groin injury at The Cosmo skating rink.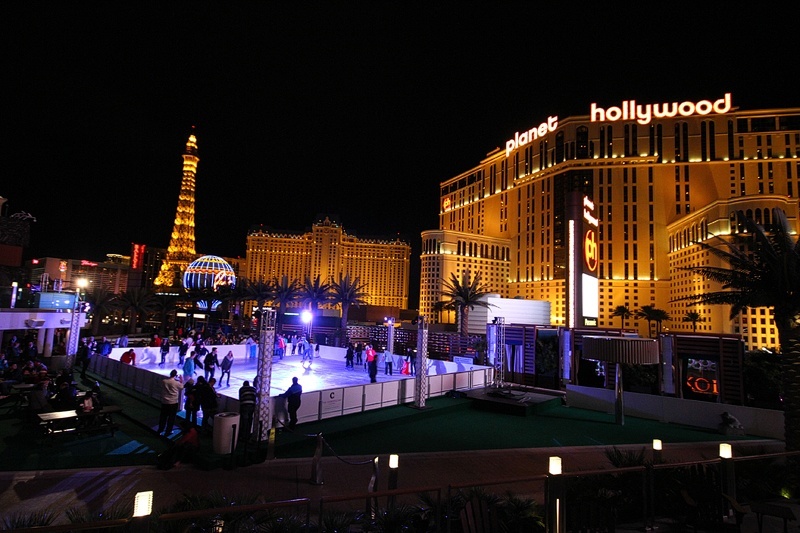 Please note two locations that previously had skating rinks, Venetian and Gold Spike, won't in 2014.
5. Fremont Street Experience
Each year, the Fremont Street Experience pulls out all the stops for the holidays, including special Christmas-themed stage shows (free), a big-ass Christmas tree (free, see below) and even a special holiday show on its giant Viva Vision screen (also free).
The holiday light show joins the Fremont Street Experience's rotation in late November. Check the official Fremont Street Experience site for Viva Vision show times and dates. While you're there, don't miss the new light show featuring The Who.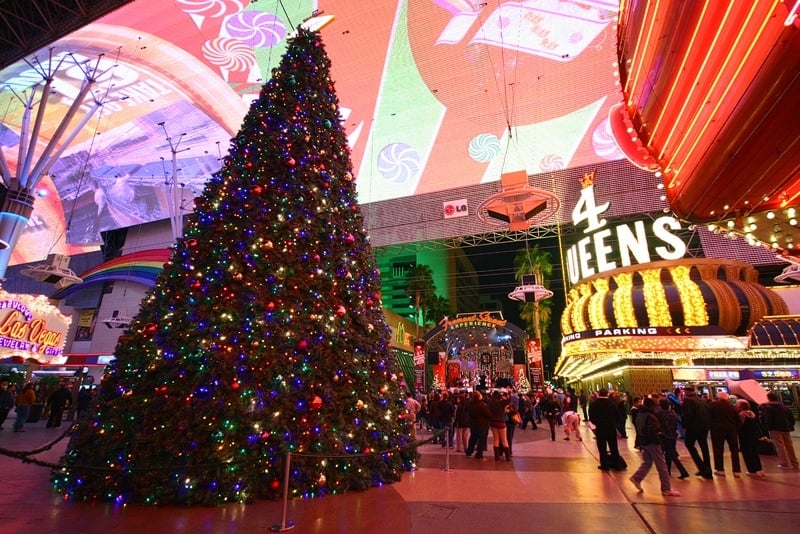 Bonus things to do in Las Vegas during the holidays: The Las Vegas Great Santa Run to benefit Opportunity Village and the nonprofit's Magical Forest. (We haven't been, but we hear they're a hoot.)
So, those are some of the cool things to do in Las Vegas during the holidays. Now, for the thing that sucks, bigtime.
1. Glittering Lights at the Las Vegas Motor Speedway
It's taken us years to get to the Glittering Lights drive-through cluster at the Las Vegas Motor Speedway, and we wish it had taken us many, many more. This "attraction," and we use the term loosely, was truly painful to visit, and we recommend skipping it.
It costs $15 a car to drive through the feeble displays billed as "2.5 miles of lights." We'd describe it as 2.5 miles of lame.

The cringing reaches epic proportions when your ears are assaulted by revving race car engines nearby, and don't even get us started about the savior births being awkwardly re-enacted during your visit. We are not making this up.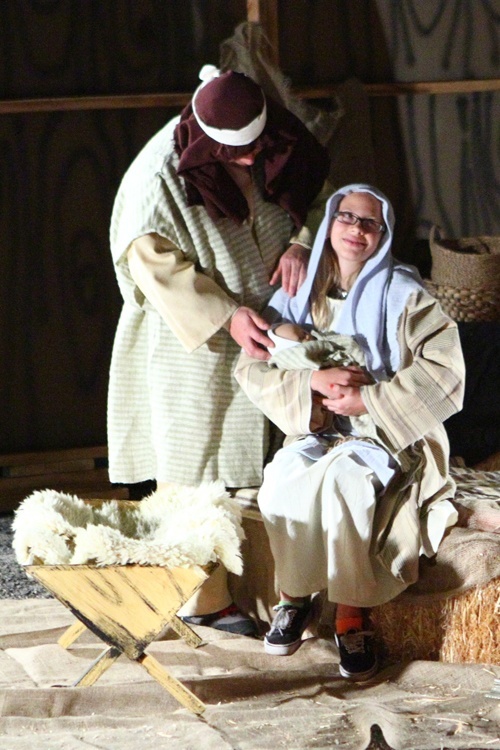 It also doesn't help that half the holiday lights in the Glittering Lights attraction spell out the names of advertisers.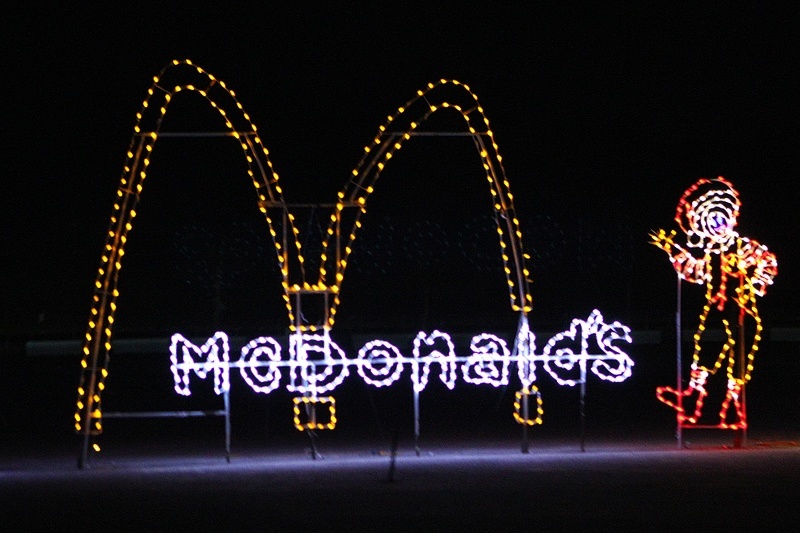 So, yeah, hard pass on the amateur hour schlockfest that is the Glittering Lights extravaganza at the Las Vegas Motor Speedway.
Glaring exceptions aside, there are lots of great things to do in Las Vegas during the holidays. There are special holiday menus and Christmas-themed events all around town, and lots of bartenders serve up cocktails with crushed holiday candies around the rim.
Don't worry, Las Vegas casinos also find ways to slip in perfunctory mentions of Hanukkah and Kwanzaa with their holiday marketing messages, so as to avoid offending anyone.
One of the great things about Las Vegas, of course, is everything is open on Christmas, including casinos, restaurants and bars. Some Las Vegas shows do go dark during the holidays, though, so make sure you check their individual schedules before you get your heart set on something.
How's this for a little Las Vegas awesome for the holidays?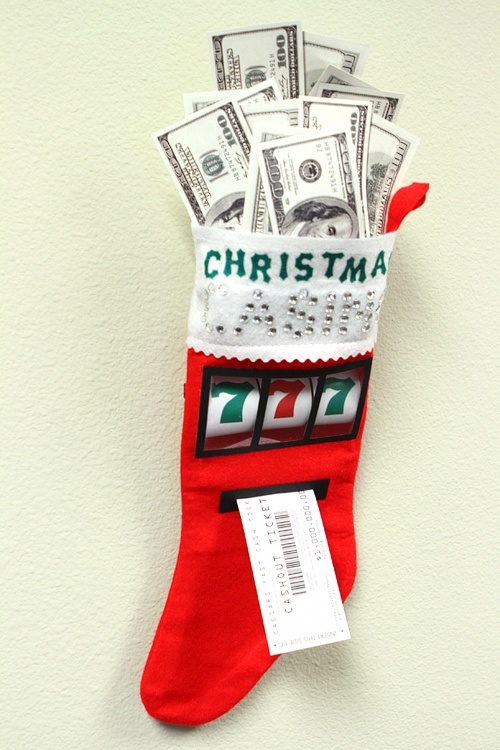 Here's to getting into the holiday spirits! Yes, with an "s." Trust us, we know what we're doing.