Downtown Grand's Stewart + Odgen to Get Renovation and Rebrand as Freedom Beat
Fresh from the relaunch of its Citrus pool deck, Downtown Grand is set to rebrand its restaurant offering, Stewart + Odgen, as Freedom Beat.
It's expected Stewart + Odgen will close for the do-over, but no specifics or timeline have been announced.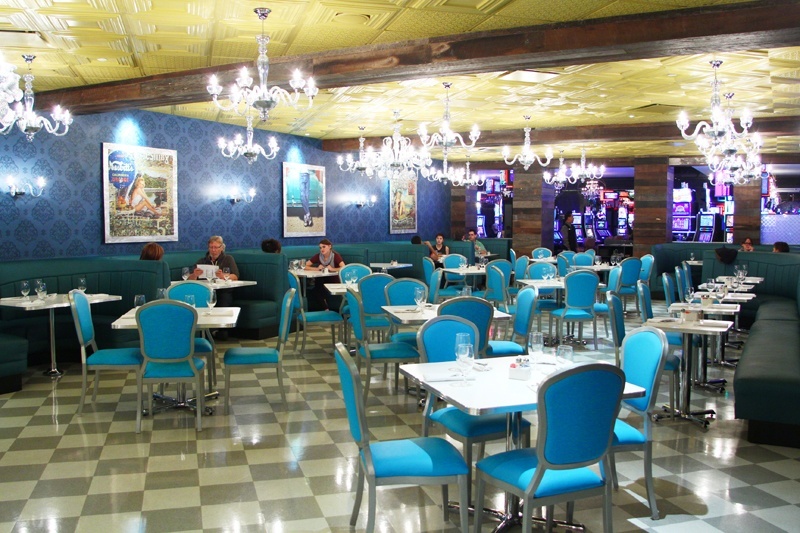 Freedom Beat will be a collaboration with 34th Floor Hospitality, the company responsible for the Citrus rebrand.
34th Floor Hospitality is the same company behind Inna Gotta di Pizza and Pawn Donut & Coffee at downtown's Pawn Plaza, and one of the partners, Ralph Cautela, was involved in The Pizzeria (also known as "Secret Pizza") at Cosmopolitan.
The new restaurant at Downtown Grand will feature American fare, but other details about the menu and interior design aren't available yet.
Design services will be provided by Bunnyfish Studio, a company that's been involved with a number of downtown Las Vegas projects including Nacho Daddy, Wayfarer Bar and Inspire Theater, Carson Kitchen, Perch at Downtown Container Park (pictured below) and Eat restaurant.
Aside from Bunnyfish's seeming obsession with infuriatingly hard chairs, they make nice things.

Staff at Stewart + Ogden aren't sure of the scope of the new Freedom Beat restaurant (or what the name is intended to convey), but some suspect the former Red Mansion restaurant space may be integrated into the new space.
Stewart + Odgen has gotten mixed reviews in the past. Our first visit, just after it opened, was fairly awful, but the menu and quality of food improved significantly after a revamp by former Central (formerly at Caesars Palace) chef Todd Harrington.
Downtown Grand remains one of the underappreciated gems of downtown Las Vegas, and a new restaurant offering could be another reason to stop by.
More news about Freedom Beat as it become edible.