Coronavirus Hysteria Hits Las Vegas and Everything is Ruined
We haven't been posting to our blog much lately, and it's because we're shell-shocked.
Why? Right now in Las Vegas, the message on those responsible gaming brochures in casinos has never been more relevant: "When the fun stops."
In case you've been living under a rock, Las Vegas is in the throes of a full-fledged crisis: Coronavirus, and its associated hysteria, have caused major conventions to cancel and many leisure travelers to bail on visits, sending hotel occupancy into a tailspin, and it's likely to get worse before it gets better.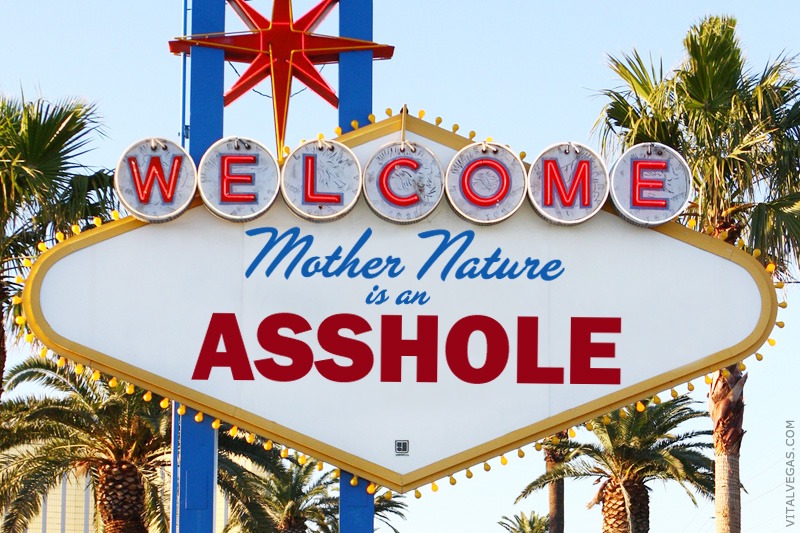 While there have been just 18 confirmed ("presumptive positive") cases of coronavirus in Las Vegas, it's hard to adequately describe the impact that news has had on casinos, casino employees and innumerable related businesses.
In a word, devastating.
Many Strip resorts have closed (or plan to close) restaurants (buffets were the first to go), spas, nightclubs and pools. As mentioned, conventions have cancelled to the tune of tens of thousands of room nights.
Cirque du Soleil has temporarily suspended all its Vegas shows, and Caesars Entertainment is expected to announce the same for its shows.
The avalanche of bad news has come fast and furious, online and off.
We've tried to keep it light to provide some levity and perspective, but there are few bright spots at the moment.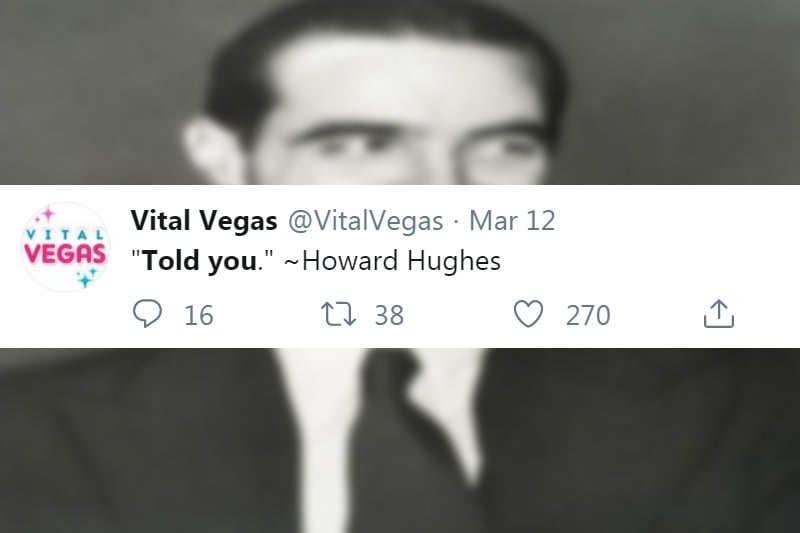 There's too much news, changing too quickly, to keep up with it all or chronicle it here. You're better off hitting Twitter for the rapidly-changing news.
Opinions vary widely about whether the response to the coronavirus is commensurate with the threat (we lean strongly toward no), but there can be no disagreement this is a Las Vegas we've never seen before, nor did anyone imagine we'd ever see.
Las Vegas has proven itself to be resilient following tragedies like 9/11, the mass shooting of Oct. 1, 2017 and 2008 financial crisis.
Knowing Vegas will bounce back doesn't make what's happening any less startling or distressing, though. When you love something as much as we love Las Vegas, the heartbreak is all the more devastating.
Our crystal ball is typically pretty reliable, but at the moment, even we can't foresee what's next for Sin City. Literally nobody could've predicted hotels on the Las Vegas Strip would have occupancy rates of 10% and less. The unimaginable has become reality.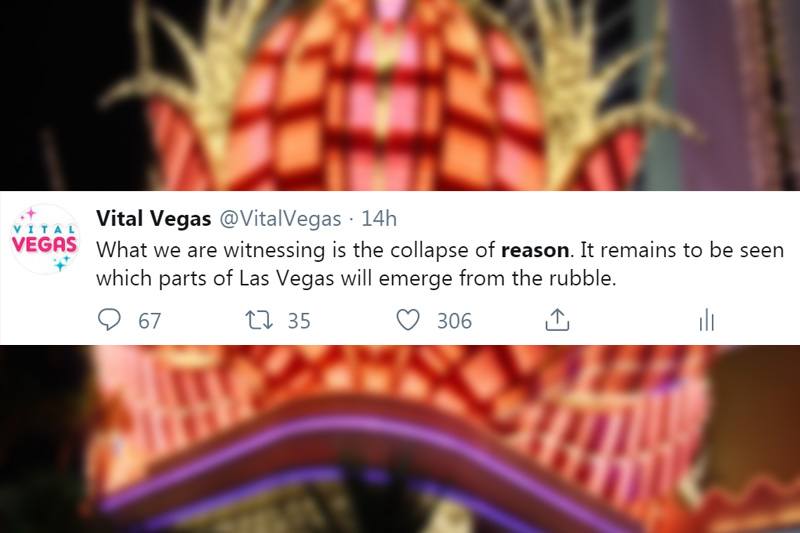 Optimism demands we believe the coronavirus will pass as the flu season always does, but the affect of the scare will linger much longer, financially and otherwise.
The most recent and alarming specter in this saga is the potential for Las Vegas casinos to close entirely. Which is a sentence we never thought we'd type, even after seeing the casinos in Macau, China and elsewhere shuttered. (Update below.)
Our best goes out to those affected by this confounding, surreal mess, and they are legion.
Here's to Vegas weathering this storm as it has so many others, and let's hope the dramatic steps being taken are worth the cost and achieve the desired results.
Update (3/15/20): Wynn and Encore have announced they'll close temporarily. The resorts will close April 17 at 6:00 p.m. The closure is expected to last two weeks.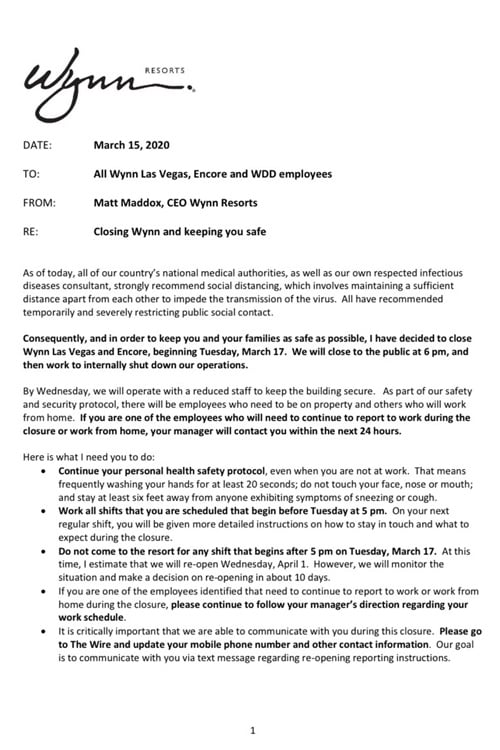 We're hearing these won't be the only casino closures, so check back for updates.
Update (3/15/20): MGM Resorts has announced it will close its Las Vegas resorts as of midnight, March 16, 2020.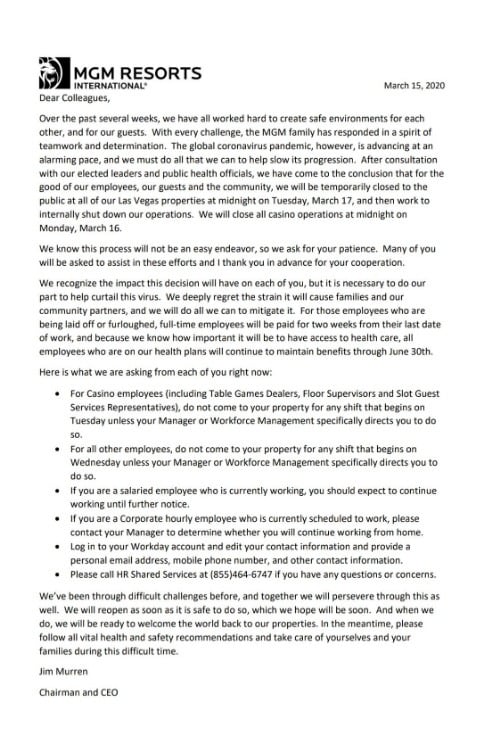 Update (3/16/20): The Cosmopolitan will be temporarily closed through March 31, 2020.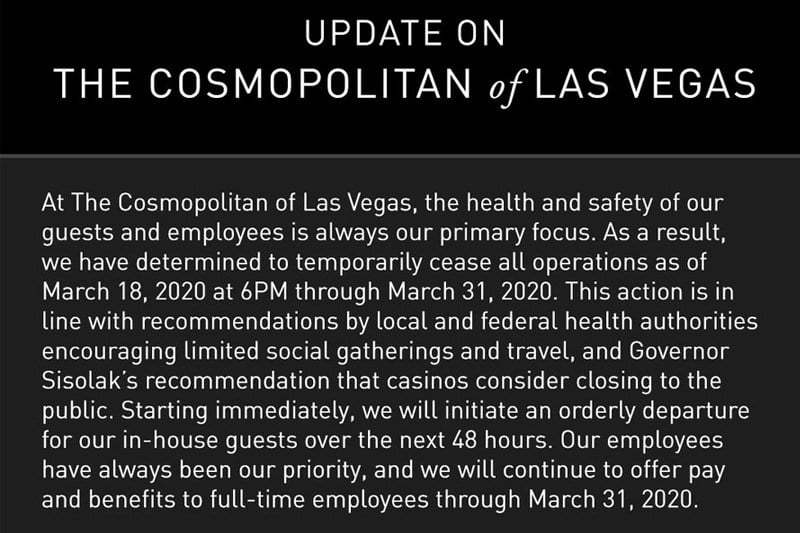 Update (3/17/20): The Venetian and Palazzo are closing until at least April 1, 2020.