Virginia Favored Over Texas Tech in NCAA National Championship, Regional Sportsbooks Adjust Odds Accordingly
Posted on: April 8, 2019, 07:55h.
Last updated on: April 8, 2019, 07:55h.
The No. 1 Virginia Cavaliers (34-3) are slim one-point favorites against the No. 3 Texas Tech Red Raiders (31-6) in tonight's NCAA men's basketball National Championship.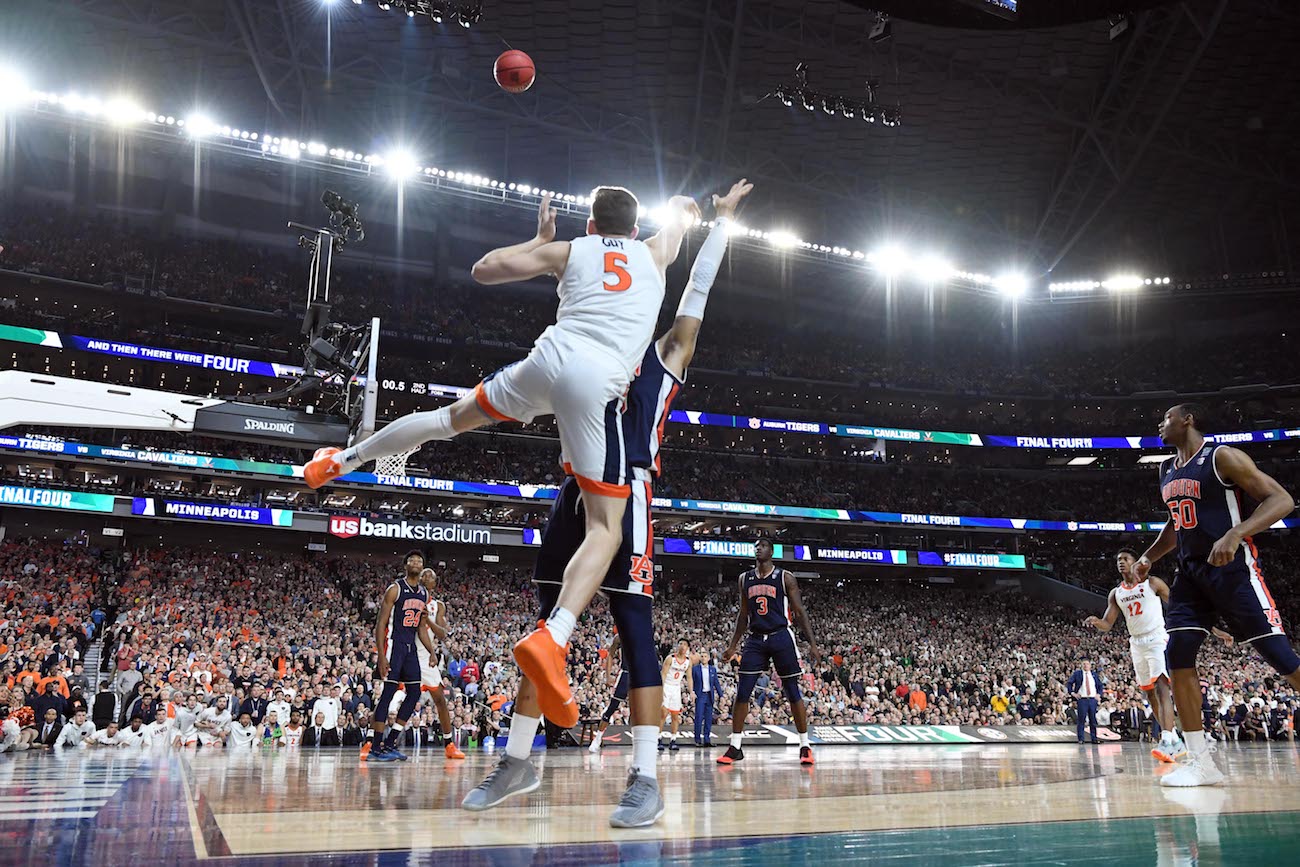 The Cavaliers emerged in their Final Four win over No. 5 Auburn in controversy. Virginia got away with a double dribble in the final seconds, and then officials called a foul on Auburn at the buzzer that sent Virginia guard Kyle Guy to the line for three shots. The junior nailed them all to win 63-62.
Many believe those few seconds will overshadow tonight's finale in Minneapolis, Minnesota, as analysts are predicting a rather boring finish to March Madness.
I think many are anticipating an ugly game," ESPN senior college basketball writer Myron Medcalf opined. "If we get the measured matchup we expect to see, I think the lasting memory from this tournament, for many, will be Saturday's controversy. And this season's NCAA tournament deserves better."
The majority of Las Vegas sportsbooks have the Cavaliers spotting the underdogs a point. The over/under is at 118 points. As of Monday morning, those searching to print tickets on the Red Raiders will find slightly better odds (1.5 points) at the Mirage.
Regional Odds
For the first time in American history, legal sports bets will be placed on the NCAA National Championship basketball game not only in Nevada. Since the May repeal of the longstanding federal ban by the Supreme Court, seven states – Delaware, New Jersey, Rhode Island, West Virginia, Pennsylvania, Mississippi, and New Mexico – have opted into the liberalized gambling activity.
Las Vegas oddsmakers have perfected the art of setting lines. Since Nevada gaming regulators began tracking the Super Bowl in 1991, state sportsbooks have only lost on the big game twice (New York Giants' 17-14 upset of the New England Patriots in 2008, San Francisco 49ers' 49-26 blowout of the San Diego Chargers in 1995).
However, there's a learning curve in other states. Rhode Island sportsbooks lost $890,000 on the Patriots' win in February over the Los Angeles Chargers. The state is the only jurisdiction in New England where legal sports wagering is operational.
Sportsbooks are hoping to avoid a similar outcome on tonight's basketball game. Expecting more money on Virginia, DraftKings in New Jersey has the spread at two points allocated to Texas Tech.
Title Predictions
ESPN asked five of its college basketball experts to give their expectations for tonight's championship. Four said Virginia will win.
The network's "Basketball Power Index" – a computerized simulation that runs 10,000 theoretical games between the two teams – says Virginia has a 69.8 percent chance of cutting down the nets. Nate Silver's ThreeSixtyFive has it more competitive, with the Cavaliers given a 55 percent chance of winning the university's first men's basketball title.
Virginia entered March Madness at 6/1. Bettors who put $100 on the Cavaliers will net $600 should the team outscore Texas Tech. Tipoff is scheduled for 9:20 pm ET.