Super Bowl 50 Betting Odds: Carolina Panthers Favored Over Denver Broncos
Posted on: January 26, 2016, 01:53h.
Last updated on: January 26, 2016, 02:05h.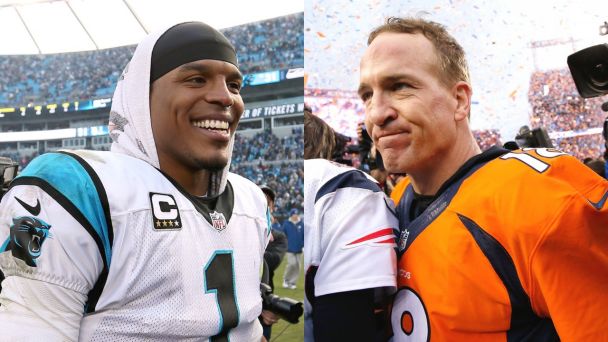 Super Bowl 50 is shaping up to feature the longest odds since the 2010 game. Ironically, Peyton Manning also participated in that Super Bowl, XLVIII, but was on the favored side of the spread as compared to being the underdog in 2016.
The current line consensus in Las Vegas has Cam Newton and the Carolina Panthers (16-1) as a 4.5-point favorite over Manning's Denver Broncos (14-4) when the two meet on February 7 at Levi's Stadium in Santa Clara, California.
Several bookmakers have the Panthers in even more of a preferred role, with the MGM Mirage and Stations both giving the Broncos five points. The over/under for the game is 45.5, meaning the bettor needs to decide whether the two teams combined will score more or less than that number.
The Panthers' high-powered offense scored 49 points on its own last Sunday against the Arizona Cardinals in the NFC Championship game, but the Broncos come to California with the best defense in the NFL. The matchup could be one for the ages.
According to ESPN's Power Football Index, a prediction tool that uses a team's performance and 10,000 simulations, the Panthers will win by 1.8 points and claim their first Vince Lombardi Trophy. "Get ready for a classic, with the Panthers squeaking past the Broncos," ESPN's Scott Miller wrote.
Super Bowl, Super Betting
More money has been wagered in America on the Super Bowl than any other single sporting event outside of horse racing. Exactly just how much has been bet over the 50 years during the unofficial holiday is impossible to tell because no one is keeping tabs on those Super Bowl squares you're playing among friends.
But certainly, since the first Super Bowl in 1967, many billions of dollars have been risked on the outcome of the NFL title game. Last year's matchup between the New England Patriots and Seattle Seahawks received $115.9 million in legal bets at Nevada sports books.
Horse racing, which is widely legal throughout much of the United States, routinely eclipses the Super Bowl with the Kentucky Derby. However, thanks to the excitement and hysteria of a potential Triple Crown winner, the other two legs have now come close to surpassing football's biggest game in recent years as well.
In 2014, California Chrome's potential history-making run at the Belmont Stakes garnered $90 million in bets. 12 months later, Americans were a little less enthused, but still wagered $81.6 million as American Pharoah made history in Long Island.
Football Still King
While on paper horse racing annually attracts more legal bets, the reality is that football dominates the black and illegal wagering markets. The American Gaming Association (AGA) estimates that $95 billion has been bet on the 2015 college and NFL football seasons.
$3.8 billion was wagered illicitly on last year's Super Bowl according to the gaming advocacy organization, 38 times more than legal bets. "It's clear that a federal ban on traditional sports betting outside of Nevada is failing," AGA CEO Geoff Freeman said last fall.
Legalizing such a robust market would provide an untold amount of millions for states wishing to provide a regulated, sports betting market. Unfortunately for sports fans that want to put a few dollars with their favorite team, that won't happen without the consent of Congress.
Latest Casino Stocks:
Retrieving stocks data...
Retrieving stocks data...
Retrieving stocks data...
Retrieving stocks data...
Retrieving stocks data...