PokerStars APPT Nanjing Millions Shut Down in Dramatic Chinese Police Raid
Posted on: April 17, 2015, 10:58h.
Last updated on: April 17, 2015, 11:01h.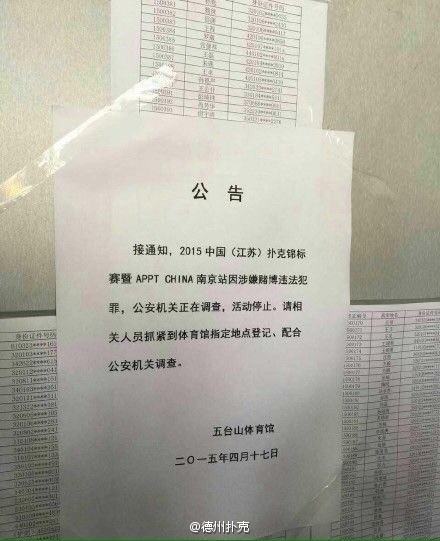 The PokerStars Asian Pacific Poker Tour (APPT) event, the Nanjing Millions, has been shut down following a raid earlier today by the Chinese National Police, according to Macau-based World Gaming Magazine (WGM).
The event, the first APPT event in Nanjing, has been running since Tuesday, and hoped to emulate the huge success and record fields of the APPT Beijing last year; however, the events today would appear to throw the future of poker tournaments on the Chinese mainland into doubt.
Reports are currently thin on the ground, due to restrictions on live media and bloggers on the Chinese mainland, but according to WGM, which took photos of police blocking the entrance to the venue Wutaishan Sports Center earlier today, a notice on the door reads:
"Due to the APPT Nanjing Millions tournament being suspected of illegal gambling, the police are now investigating and the event is being ceased. All related staff should go and register at the designated location and co-operate with the police for the investigation."
Staff Can't be Reached
"The Nanjing Millions was being run by the team from PokerStars Macau at City of Dreams," said WGM. "[We] tried contacting several PokerStars Macau staff, including APPT President Danny McDonagh, who is in Nanjing, without success, and there is still no word on what this means for either staff or players involved. At this stage there is no word of any arrests."
PokerStars and the APPT broke new ground when it held the first APPT event in mainland China, in Beijing, just last year. The appetite for the game on the mainland is huge, with 2,732 turning out for that event. The disrupted main event in Nanjing, meanwhile, had attracted over 2,300 players.
While gambling is illegal outside the semi-autonomous enclaves of Macau and Hong Kong, a law that is rigorously enforced and harshly punished, poker tournaments are promoted by their organizers as "mind sports."
In 2012, the General Administration of Sport of China permitted the holding of poker tournaments in Hubei Province, which surrounds Beijing. Poker clubs in Hubei thus operate under the management of the sporting governing body.
Tolerance Dried Up
However, the government in Beijing is becoming increasingly authoritarian in its attitude to all forms of gambling. It has recently put the squeeze on Macau as part of an anti-corruption crackdown, restricting the movement of money from the mainland and warning the gambling hub to diversify its entertainment offerings.
It seems its relative tolerance towards poker tournaments may also have dried up.
"WGM has long been concerned about live poker events in mainland China but have been reluctant to voice our concerns for fear of possibly contributing to a situation such as this," said the magazine. "Our suspicion has always been that one of these events would be raided, especially given the current political climate in China. Now that it has happened maybe it's time to have a genuine rethink of the whole concept of live poker tournaments in mainland China."