Patrick Mahomes Injury Lengthens MVP Odds, Kansas City Chiefs Super Bowl Chances
Posted on: October 18, 2019, 08:37h.
Last updated on: October 18, 2019, 10:51h.
Patrick Mahomes suffered a kneecap injury in the second quarter of Thursday night's road win over the Denver Broncos. His early exit and uncertainty moving forward has lengthened his Kansas City Chiefs' playoff and Super Bowl odds, and his chances of defending his MVP award.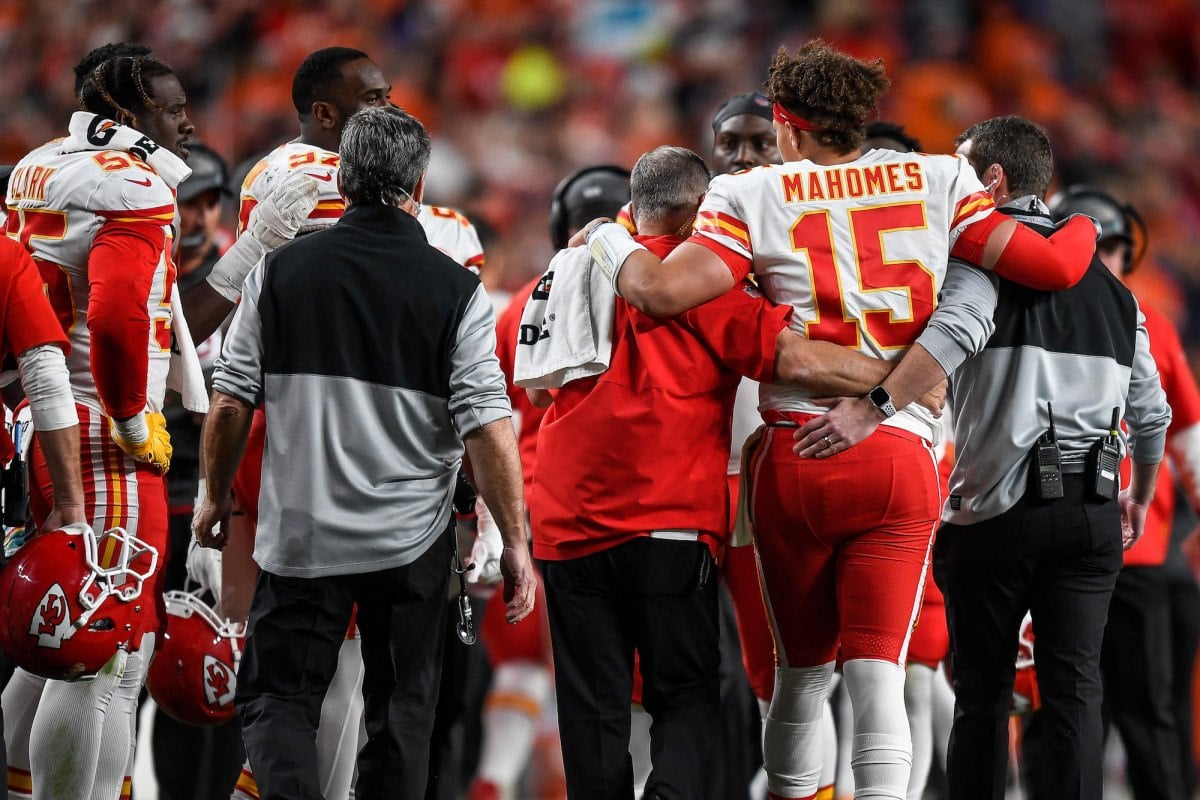 Sources say the 24-year-old Mahomes suffered a patella dislocation (kneecap). The reigning regular season MVP will undergo an MRI today back in Kansas City. "Not too many people get hurt on a sneak," coach Andy Reid said after the team's 30-6 win. "It's a freak thing, and it happens."
Sports injury experts were quick to opine on Twitter their diagnosis.
Dr. Brian Cole, the team physician for the Chicago Bulls and White Sox, said, "If patella dislocation with no loose piece of cartilage, could be 2-3 weeks soonest. If loose piece knocked off the femur or patella would need 6-8 weeks."
Backup Matt Moore played well in relief, throwing 10 completions on 19 attempts for 117 yards and a 57-yard touchdown pass.
The Chiefs easily covered the three points they were spotting the Broncos. The outcome was a bust for oddsmakers, as most reported heavy action on Kansas City. One exception was William Hill, which said it took a $110,000 bet on the Broncos.
Super Bowl Audible
Prior to Thursday night's game and Mahomes' injury, the FanDuel sportsbook had the Kansas City Chiefs at +850 to win Super Bowl 54. That was third behind only the New England Patriots (+260) and New Orleans Saints (+700).
With Mahomes' future uncertain, the Chiefs' title odds have lengthened to +1200. The change diminishes Kansas City's implied odds of winning the Vince Lombardi Trophy from 10.53 percent to 7.69 percent.
"His knee didn't even look like a knee. It was all out of whack. I couldn't even describe it," Chiefs tight end Travis Kelce said.
The injury also shortened the Pats' Super Bowl odds to +250. The San Francisco 49ers at +1100 now have shorter odds than the Chiefs, and the Green Bay Packers share the +1200 line.
Speaking of the Packers, Aaron Rodgers and company will travel to Arrowhead next Sunday to play the Chiefs – likely without Mahomes in the game. The game is NBC's Sunday Night Football broadcast.
Playoff Picture
The Chiefs were practically being guaranteed a spot in the playoffs by oddsmakers. FanDuel had the line at -700 – implied odds of 87.5 percent – to reach the postseason. A $100 bet and the team doing so would net just $14.29.
Despite their win over the Broncos, the Mahomes loss is weighing heavily on Kansas City's postseason outlook. FanDuel has halted betting on the Chiefs' playoff chances until the Mahomes injury is detailed.
Mahomes' MVP odds are also lengthening. Prior to Thursday, he was the heavy favorite at (+230) to win his second consecutive MVP. Now, that line is at +1400. Russell Wilson is the favorite at +150, followed by Deshaun Watson (+300), Christian McCaffrey (+900), and Aaron Rodgers (+1000).