Offshore Company Out of Line in Urging College Students to Become Bookies – Opinion
Posted on: March 2, 2023, 06:48h.
Last updated on: March 2, 2023, 09:39h.
Getting unsolicited emails is an occupational hazard in this profession. In most cases, they're easy to ignore.
It's not as easy to ignore when your dog wakes you up at 3 am by licking your face so she can go outside. It just so happened I got an email notification as I shut the back door.
There on my phone was a message titled "How To Make An Extra Income With Sports Betting."
"Go on," a little voice in my head, partly intrigued and mostly tired, said.
As it turns out, it wasn't a flack from a tout service trying to tell me about its outstanding record in college basketball over the past three weeks. No, it was from a company called BossAction, which said, "It's possible for any individual to make an extra income on the side of their day job by becoming a sports bookie without any particular training or skills required."
Using BossAction's software to run your new sportsbook enterprise, the email continued, could generate as much as $10K a week in income for you.
That's some side gig, right there.
'Beneficial for College Students'
But wait! There's more! While BossAction says anyone can be a bookie, the company claims it's an especially appealing venture for college students.
The email even included this jaw-dropper of a quote from an unnamed spokesperson for the company:
The start-up costs are minimal which makes it easily accessible to those that are looking for something quick and easy to get their teeth into," the BossAction spokesperson said. "This income stream can also be beneficial for college students who want to make some cash to fund their studies. On campus, it's super common for people to place bets on college football, so these students have a huge range of potential customers that they interact with on a daily basis."
With my mind running on fumes, I had to re-read the email and check out the website several times to ensure I wasn't getting pranked or reading something from The Onion.
BossAction, per its website, is a Costa Rica-based company that provides "legitimate data processing services" for its bookmaking clients. The company does say that it's up to each individual bookie to know what the laws are where they live.
Now, there are countries and jurisdictions where services like BossAction are perfectly legal. However, if, like me, you live in the US, then it's off-limits.
Despite that, BossAction's blog certainly seems to target US bookies. A post (screencap, right) last month selling its services asked, "What do the big European Sportsbooks have that individual US bookies don't have?"
Federal prosecutors have gone after bookies who have used offshore services to run sports betting websites. That includes the Uncle Mick gaming enterprise in suburban Chicago. The leader of that ring received an 18-month prison sentence last year, and the judge ordered him to forfeit $3.6 million.
Difference Between Bettor and Bookie
Beyond that, it's marketing the allure of being a bookie to get through college also rubs me the wrong way.
Personally, I have no problem with 18-year-olds betting. I did it at that age, and if you can fight for your country or vote for president, you should be able to make a wager or two. Responsibly, of course.
But placing a bet and running a bookmaking operation are two totally different things, and it seems like Boss Action is really interested (see screencap, below) in getting college kids to become bookies. The company's blog even dedicated an article to attracting college kids to go "from betting to booking."
Thanks to recent reporting on the subject, sports betting on college campuses is a hot topic. Ohio banned sportsbook advertising and promotions on college campuses, and now New York wants to do the same. That's all good, but a college kid with a few friends or frat brothers doesn't need a billboard or stadium signage to get clients or take bets.
And regardless of whether the betting age is 18 or 21, and regardless of whether legal sportsbooks can advertise on campuses, sports betting will still occur on them. The NCAA has fairly strict guidelines about promoting alcoholic beverages during college games. It hasn't stopped 19-year-olds from drinking bad beer, though.
While gambling will still occur on college campuses, even without Boss Action's sales pitch, urging college kids to become bookies doesn't promote responsible practices. Neither does the allure of making easy money to pay for their education. That's predatory behavior.
And, of course, it's not just US college students at risk here. Becoming a bookie is not something I'd suggest to any college student, even if Boss Action's services are legal in their jurisdiction.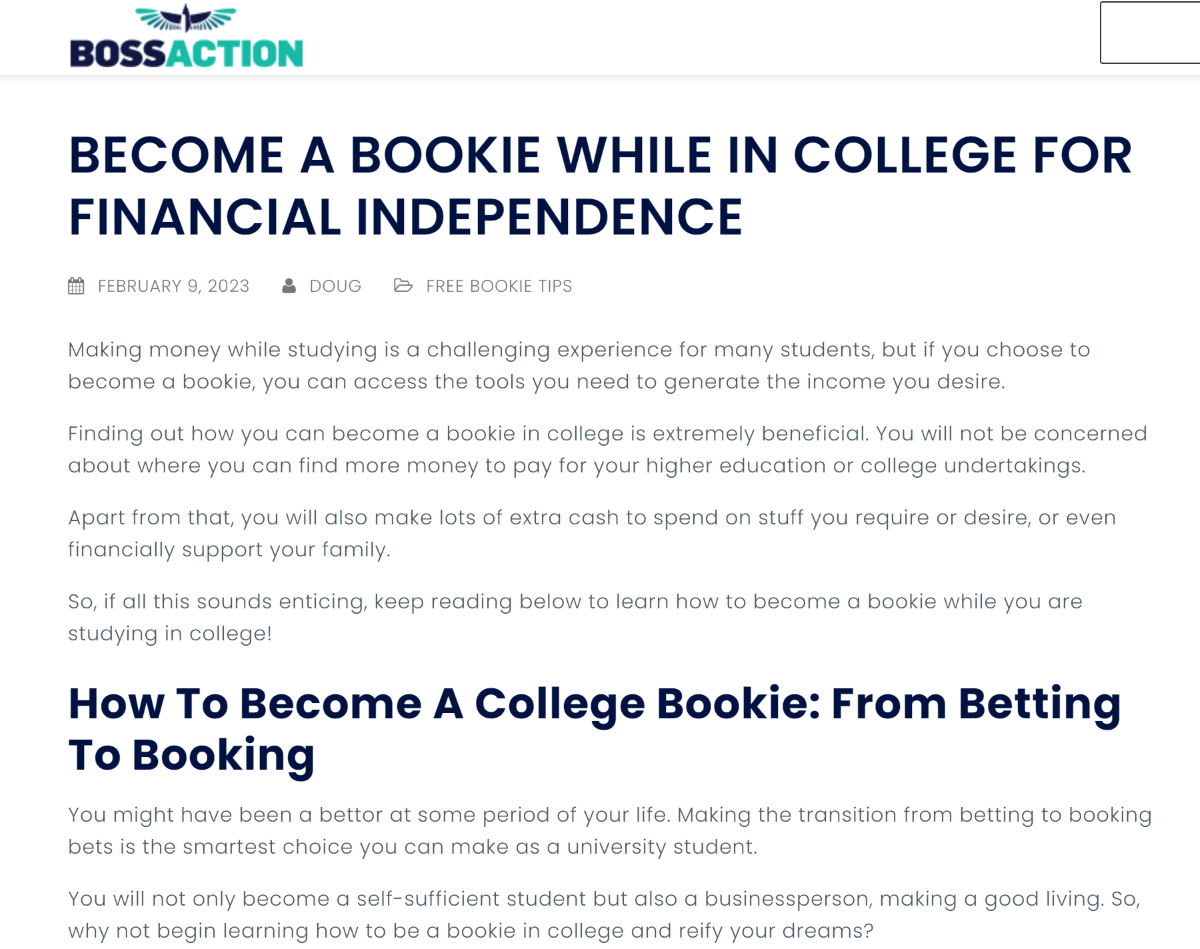 Invites More Scrutiny on Sports Betting
I write this not because I'm an evangelist for regulated sportsbooks. Some of their practices, such as limiting bettors and promoting awful same-game parlays, also need addressing in some fashion.
But what companies like Boss Action are doing will inspire more US lawmakers to crusade against sports betting, legal or otherwise. If, or perhaps when, those legislators end up succeeding, it will ultimately be to the benefit of the offshore sites and companies like Boss Action.
And that's where, I believe, the greatest risk for harm occurs. Say what you want about the current state of legal sports betting here in the US, but the more it's out in the open and the more it's regulated, the better the chances are that the risks can be mitigated.
So, thank you, Boss Action flack, for the email, if not for a now sleepless night. I would have never known your client was marketing to US college kids otherwise. Please ask them to stop.
Now, if you'll excuse me, I'm going back to bed and keeping the dog out of the bedroom.