MGM Springfield Lays Final Steel Beam, Suffolk Downs to be Pulled Down
Posted on: March 31, 2017, 11:00h.
Last updated on: March 30, 2017, 02:32h.
In Springfield, Massachusetts this week, the final piece of steel in the superstructure of MGM Resorts' $950 million casino development was laid in place, as hundreds gathered at a "topping off" ceremony to mark the milestone.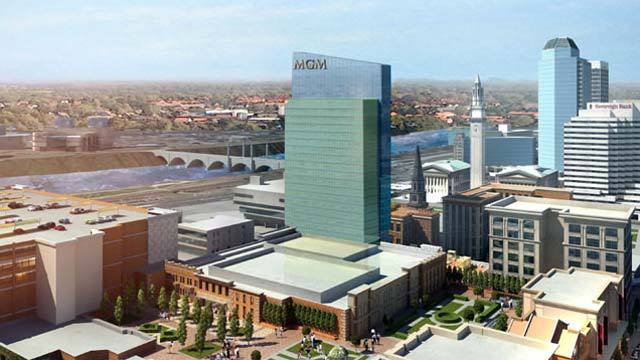 The city's mayor, Domenic Sarno, has billed the casino as a crucial piece of economic redevelopment for Springfield's tornado-ravaged South End.   
Phoenix Rising
"From that storm rises a phoenix," Sarno said, clearly a man with a flair for a rousing literary soundbite. "For those who fought against us, whether from inside or outside, but want to dictate the future of the city of Springfield, let me send a resounding message: that we dictate the future of the city of Springfield and we're going to continue to move forward on all fronts.
"Putting people to work, putting people through education, economic development and continuing our strides on public safety," he added.
It may be a phoenix rising, but it's a phoenix that has undergone a cost-cutting redesign. As MGM witnessed construction costs booming last year, it reshuffled the plans for a 25-story gleaming glass tower into a six-story block instead. Even so, the cost is coming in well above the original estimate of $800 million    
But despite what they may be plotting across the border in Connecticut, Massachusetts' first ever integrated casino resort is on schedule to open in 2018.    
Suffolk Downs' 80-Year History to End 
Meanwhile, on the other side of the state, Massachusetts last thoroughbred racetrack, Suffolk Downs in Revere, is to be sold for redevelopment. The Massachusetts Gaming Commission officially approved the sale on Thursday.
"The purchaser has no interest in live racing and will not continue live racing at the property," according to Gaming Commission General Counsel Catherine Blue. "The transfer will have an impact on racing in the commonwealth in that it will result in the closure of the only Thoroughbred track in the commonwealth at this time," she added.
The desire to safeguard Suffolk Downs was one of the primary motivations for the establishment of the 2011 Gambling Act, which expanded casino gaming in the state and created the Massachusetts casino licenses.
Controversial Licensing
The bidding for the east Massachusetts license was closely and sometimes bitterly contested between the Wynn Resorts and the Mohegan Sun, which had pledged to build a casino in Revere and help save the racetrack.
The the Gaming Commission's decision to go with Wynn Resorts instead hammered the final nail into the thoroughbred horse racing industry the state. Many Revere residents and stakeholders in the horse racing industry felt betrayed.
Last month Mohegan Sun won the right to sue the Gaming Commission over "unfair treatment" during the licensing process.