Massachusetts Legislature Accidentally Outlaws Horse Racing, Plainridge Park, Suffolk Downs Suspend Operations
Posted on: August 1, 2018, 01:00h.
Last updated on: August 1, 2018, 12:58h.
The Massachusetts Legislature adjourned on Tuesday without taking care of one very important item of business: renewing laws that allow the state's two horse racetracks to operate.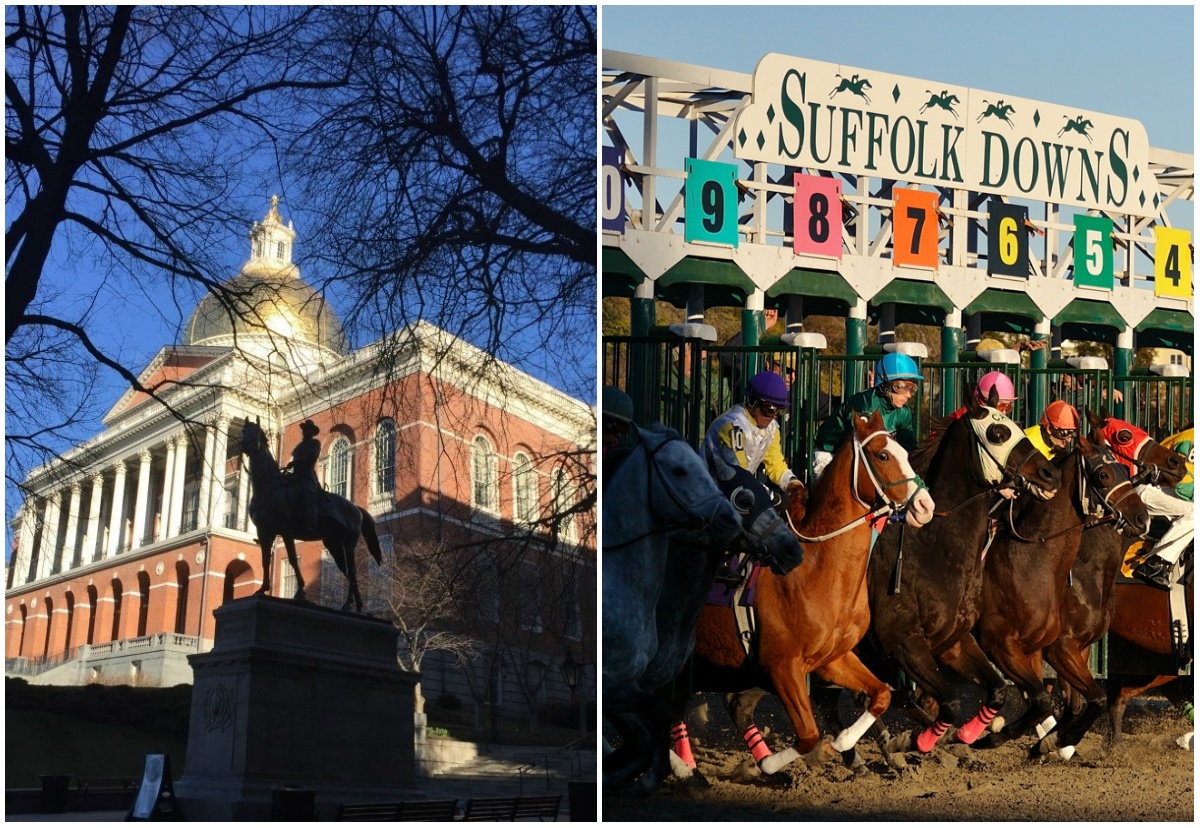 State lawmakers were scrambling early this week to pass bills to Governor Charlie Baker (R) before the last day of the legislature's regular annual session concluded on July 31. But they somehow forgot to act on House Bill 4809, a statute that would have extended the legality of horse racing parimutuel betting and simulcast wagering for 12 months.
Instead, horse racing and associated parimutuel betting became illegal in Massachusetts just after midnight on August 1.
"It looks like hundreds of peoples' jobs fell victim to the clock here," Suffolk Downs COO Chip Turtle told WGBH News. Suffolk Downs is one of two parimutuel tracks in Massachusetts, the other being Plainridge Park, home to the state's only commercial casino currently in operation.
"We'll get up in the morning, notify our employees and look at our options but they seem pretty dire for now," Turtle explained.
Simulcast parimutuel betting went dark at Suffolk Downs and Plainridge Park on Wednesday.
In a social media message, Suffolk Downs explained, "We will not be able to offer simulcasting today … as the laws authorizing racing and simulcasting in Massachusetts expired on 7/31. We are sorry for any inconvenience that this may cause to our customers and we hope that the Legislature renews the racing and simulcast laws in the near future."
Informal Turns Dire
Massachusetts lawmakers are scheduled to meet Thursday on Beacon Hill for what's supposed to be an informal session. State politicians are not required to attend the informal gagatherings, and major policymaking during these periods are rare.
Both the Massachusetts Senate and House can meet informally throughout the remainder of the year before they're scheduled to formally reconvene in January. The reason major laws don't typically pass during informal sessions is that only introduced measures that go fully unopposed can pass. No changes to the law at hand can be made.
HB 4809 was read and "passed to be engrossed" in both chambers. According to the Massachusetts Bar Association, a bill that's been engrossed is to be printed on parchment before returning to the House and Senate for final procedural votes.
Engrossed bills can still be amended, however, but not during an informal session.
Racing Calendar
Plainridge Park, home to the first commercial casino in the state, a slots-only facility, hosts live horse racing April through November. Racing is scheduled for Thursday, with a 4 pm local post time.
Suffolk Downs has only three live racing events the entire summer. The third and final racing competition is scheduled for this weekend, August 4-5.
"We literally have hundreds of people and hundreds of horses scheduled to ship in for the weekend for live racing," Tuttle revealed. The Suffolk Downs executive says if the Massachusetts Legislature does not find a way to renew horse racing laws before Saturday, 200 people scheduled to work the live event will be told to stay home.
The racetrack has around 90 full-time employees who operate its simulcast business.