Las Vegas Casino Security Needs to Watch for More Than Cheaters to Qualify for Federal Liability Protection, Expert Says
Posted on: August 27, 2018, 04:22h.
Last updated on: August 27, 2018, 04:22h.
If Las Vegas casinos and hotels want to receive the type of liability protection that MGM Resorts is seeking nearly one year after the Oct. 1 shooting, they're going to have to prove that their security systems can do more than just catch clever card counters at the blackjack table.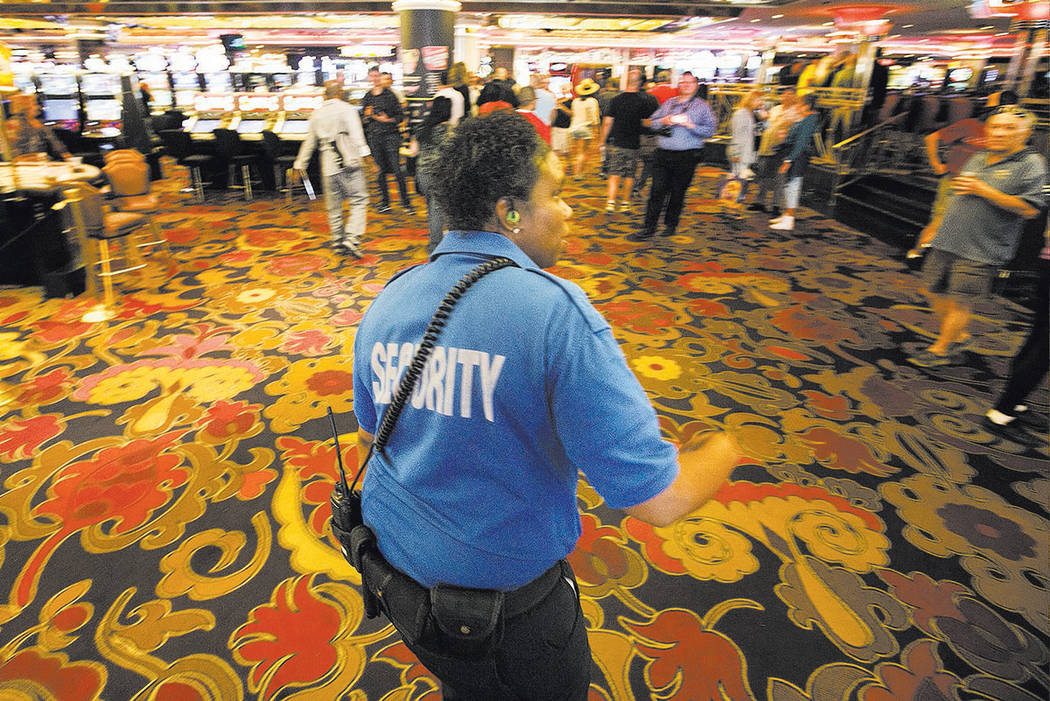 Hotels are currently not among the facilities that have been approved for Department of Homeland Security certification that protects and limits liability in the event of a terrorist or violent attack on their premises under the SAFETY Act of 2002.
And at least according to one expert, Las Vegas casinos might need to dramatically diversify and amplify  their surveillance procedures in order to meet those standards.
Lack of Guilt by Association
"What they would have to show is that those cameras are equally useful for terrorist threats, such as identifying knife fights or someone trying to put something in their ventilation system," attorney Brian Finch — who specializes in cybersecurity and data protection — told the Associated Press.
Finch has represented stadiums, venues, buildings, and other gathering places that have received federal certification protecting their liability under the SAFETY Act.
In a lawsuit filed against victims of the Oct. 1 shooting, MGM Resorts contests that since the company in charge of security at the Route 91 Harvest Festival — Contemporary Services Corporation — holds that DHS certification, the casino is not liable for any damages suffered by the victims by default. But that argument may not necessarily hold up in a court of law.
Strip Security Gaffes
Since that shooting that left 58 people dead, a number of smaller incidents have occurred on the Las Vegas Strip exposing potentially critical lapses in security.
In December 2016, a special report by the Las Vegas Review-Journal claimed that surveillance rooms in Las Vegas casinos often have no more than five people working in them at a time. And cashier cages along the Strip at the Bellagio, New York-New York, Ellis Island, Harrah's, SLS, and Circus-Circus have all been robbed since the shooting.
Additionally, in June, a Vietnamese couple was found murdered in their Circus-Circus hotel room after a man opened their door that was not locked. An arrest warrant for the suspect in the incident stated that the couple's hotel room was unable to properly close due to a broken "latch plate."
Later in the month, a man was caught by police after a 10-month long heist of several Las Vegas casinos. Posing as a worker, Danny Roy Salazar frequently gained restricted access to as many as 11 Las Vegas properties. Salazar then lifted items from the casinos  — ranging from electronics all the way to a photo booth — into a stolen refrigerator box truck.
Salazar didn't commit any violent crimes during his spree, but the fact that he was able to come in without restrictions via employee-only entries and then meander through buildings that have long been identified as potential targets of terrorism is at least one indicator of why those properties haven't done enough to receive certification from DHS.
Finch told AP that some properties might not be eligible for certification and that the turnover rate of customers in the hospitality industry presents different and especially complex challenges, versus venues with more stationary crowds, such as those at a concert, for example.
But for the future of Las Vegas tourism, assurances of at least a relative level of security will become increasingly important for guests to feel safe traveling to and staying in the gaming mecca.
Similar Guides On This Topic