Joe McKeehen Takes Down WSOP Main Event Final Table in Dominant Fashion, Wins $7.6 Million as New Poker Champ
Posted on: November 10, 2015, 11:31h.
Last updated on: November 10, 2015, 11:33h.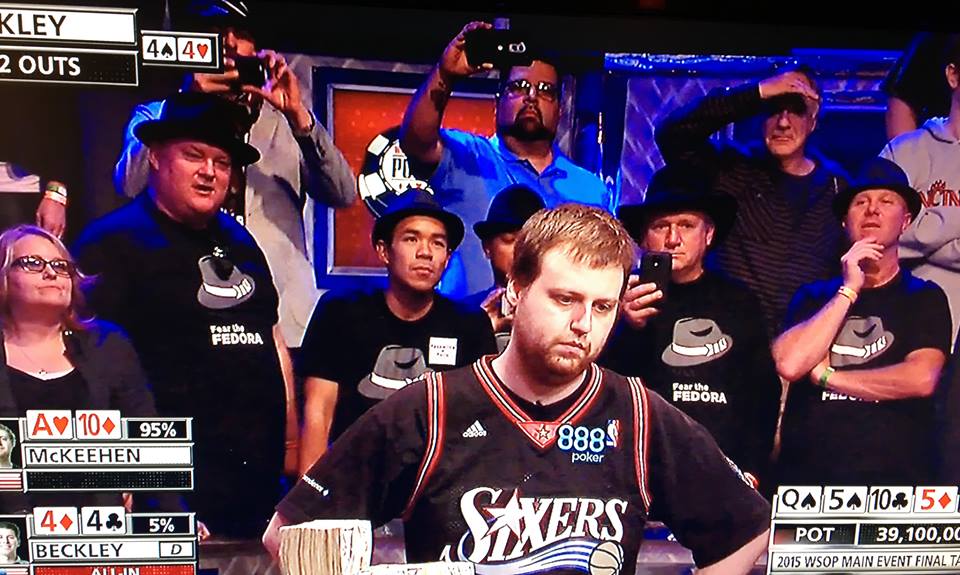 Joe McKeehen is the last man standing. 6,420 players ponied up $10,000 in cash back in July to enter the 2015 WSOP Main Event. After 10 days of competition, McKeehen had every last chip in play and is now officially the 2015 World Series of Poker Main Event champion.
The 24-year old poker pro finished things off on Tuesday evening by eliminating his last two opponents Neil Blumenfield and Josh Beckley, in that order.
With the conclusion of the Main Event, the 46th annual World Series of Poker season came to an end. It was a memorable year. The first-ever online poker bracelet event took place and the inaugural Colossus attracted the largest field in live poker tournament history.
But, like every other year, the Main Event matters the most, particularly to viewers, and its champion will forever be remembered.
Joe McKeehen could now never win another poker tournament and yet still be in an elite group that includes legends such as Phil Hellmuth, Johnny Chan, Doyle Brunson, and Chris Ferguson. Wait, scratch that last name.
Never a Contest
McKeehen started the final table with more than 63,100,000 chips, better than 33,000,000 more than second place player and Israeli Ofer Zvi Stern. McKeehen was a 7/5 favorite.
By the end of the first day of play at the final table, the man from Philadelphia was an even bigger favorite. He sent the first three players to the rail on Sunday, then another on Monday, and the final two on Tuesday.
McKeehen had an uncanny knack for flopping top pair or better. He also was able to play a "small ball" poker strategy that his opponents were unable to defeat.
Time and time again, McKeehen would raise pre-flop with a weak hand or fail to connect on the flop and still win the pot.
He consistently put in a min-raise before the flop and approximately a half pot-sized bet on the flop, regardless of his hand strength, and rarely faced a raise during the final three sessions.
The other November Niners were at a chip disadvantage throughout the final table and were unable to find the right spots to play back at McKeehen's aggressive play.
He put together one of the most dominating WSOP Main Event final table performances ever. Not even the great Phil Hellmuth, a two-time champ, can say he dominated this event at the level poker fans saw from McKeehen this week (although he probably would).
Blumenfield, Beckley Go Busto
Tuesday's first elimination was 61-year old Neil Blumenfield, a charismatic amateur from Northern California. Blumenfield didn't have many chips left when he was dealt pocket deuces. That hand seemed like a monster to a player with merely 12 big blinds.
Of course, deuces weren't nearly enough to compete with McKeehen's pocket queens. Blumenfield was sent back to California with a nothing but a measly $3,398,298 for his efforts.
The final player to face the wrath of Joe McKeehen's insane card-catching abilities was Josh Beckley. With an eight- to-one chip disadvantage, Beckley was forced to shove with his 4♦4♣ and found himself in a coin flip situation against A♥10♦.
Joe McKeehen loses races about as often as Michael Phelps. This one was no different. Beckley can't feel too upset about the end. He's taking home $4,470,896, which is peanuts compared to the $7,683,346 the champion won, but still a pretty good day at the office.
McKeehen also gets a $250,000 diamond-and-jewel-encrusted bracelet, and a place in the poker history books.
Similar Guides On This Topic