Golden State Warriors Survive Game 5, But Kevin Durant Achilles Injury Keeps Toronto Raptors Series Favorites
Posted on: June 11, 2019, 08:14h.
Last updated on: June 11, 2019, 08:14h.
The Golden State Warriors found a way to win Game 5 of the NBA Finals Monday night in Toronto after the emotional loss of Kevin Durant, but the Raptors remain the NBA Finals series favorites.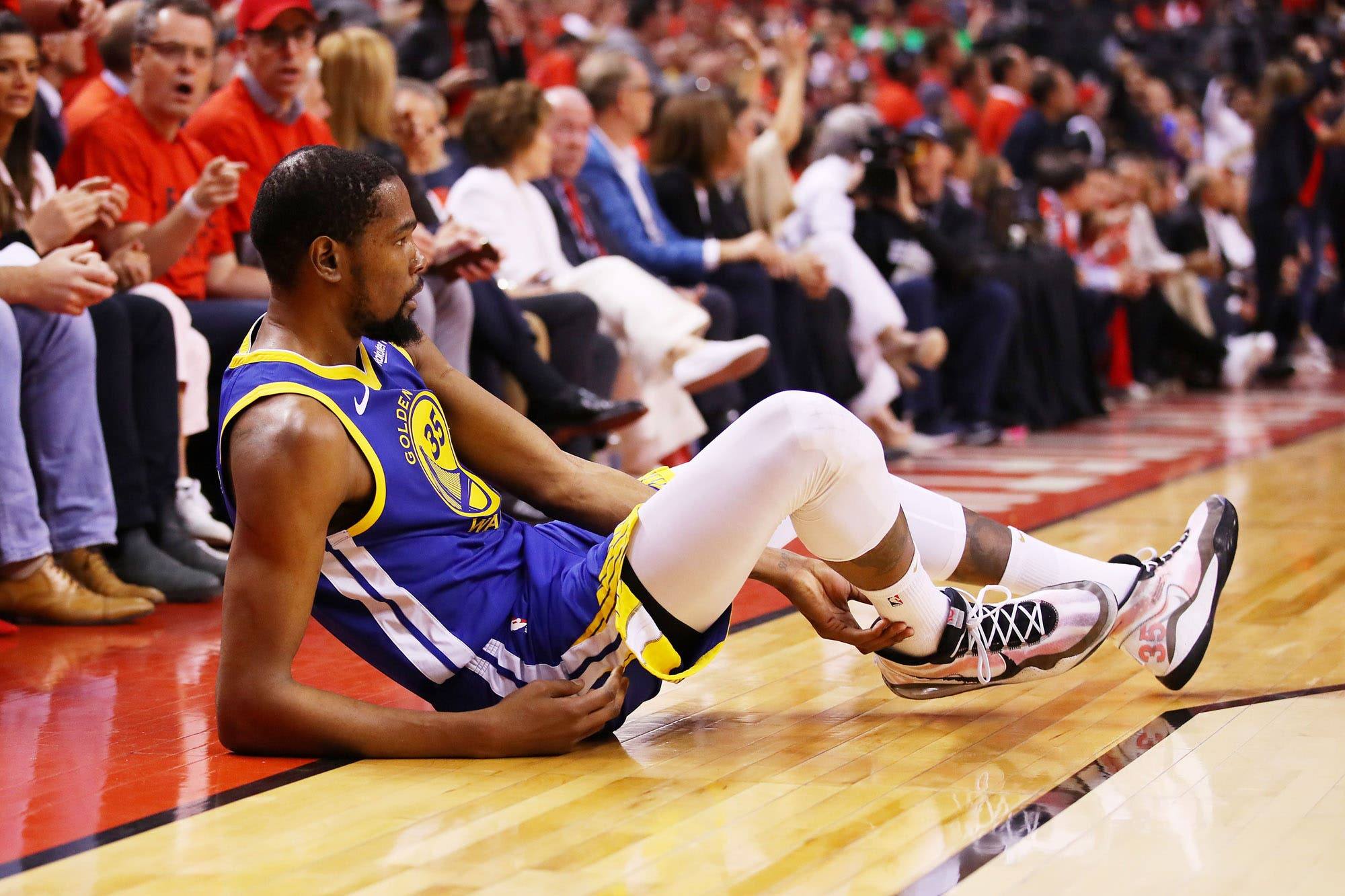 Playing in his first game of the championship series after being sidelined by a right calf injury, Durant went down barely a quarter into the game. He left the arena on crutches.
An emotional Warriors General Manager Bob Myers told reporters after the game, "It's an Achilles injury."
Prior to coming back, he went through four weeks with a medical team, and it was thorough, and it was experts and multiple MRIs and multiple doctors, and we felt good about the process," Myers added, holding back tears.
The Warriors – led by Splash Brothers Steph Curry and Klay Thompson – put together a remarkable performance to win 106-105 and force a Game 6 in Oakland Thursday night.
Las Vegas has the home team Warriors favored at -150, and Raptors the underdogs at +130. The over/under is 210.5 points. Tipoff is scheduled for 9:00 pm ET.
Steph scored 31 points, and Thompson added 26. Kawhi Leonard was sensational in the fourth quarter, and ended with 26 for the Raptors.
Series Odds Shorten
The Raptors remain up three games to two in the NBA Finals, and need just one more win to claim the franchise's first title.
As of this morning, Toronto remains the favorite at -310, and Golden State at +250. Raptors bets will net just $32.26 for every $100 wagered on those odds, while Warriors bets would net $250 for each $100 risked. Prior to Game 5, the series price had Toronto at -550.
KD's injury – which if MRI results confirm a torn Achilles could keep him off the court for a year or more – impacted both teams, as well as fans and oddsmakers. FanDuel in New Jersey refunded any losing player prop bet on Durant in Game 5, the sportsbook telling customers it's about "doing the right thing."
KD said in an Instagram post, "I'm hurting deep in the soul right now I can't lie. But seeing my brothers get this win was like taking a shot of tequila, I got new life lol."
NBA Finals Game 6
Both teams have two full days to regroup after what was one of the more dramatic NBA Finals games in recent memory. Oddsmakers believe the Warriors have at least one more win in them.
The point spread in Las Vegas as of this morning has the home team spotting the visitors three points. Bettors can also take over/under team total points (Raptors 103.5, Warriors 106.5).
Game 5 was presumably costly for oddsmakers, as a flurry of activity came in on Golden State after KD was confirmed to play. One bettor plopped down $50,000 on the Warriors on pick'em odds. Several Las Vegas sportsbooks confirmed that more money was on the Warriors last night.
Latest Casino Stocks:
Retrieving stocks data...
Retrieving stocks data...
Retrieving stocks data...
Retrieving stocks data...
Retrieving stocks data...