Golden Entertainment's Stratosphere, Arizona Charlie Acquisitions Approved by Nevada Gaming Commission
Posted on: October 20, 2017, 03:00h.
Last updated on: October 20, 2017, 11:04h.
The Stratosphere, along with two Arizona Charlie's resorts, has been officially sold to Golden Entertainment, a company whose holdings are well-known to Nevadans due to its more than 50 taverns under the PT's brand of pubs and restaurants.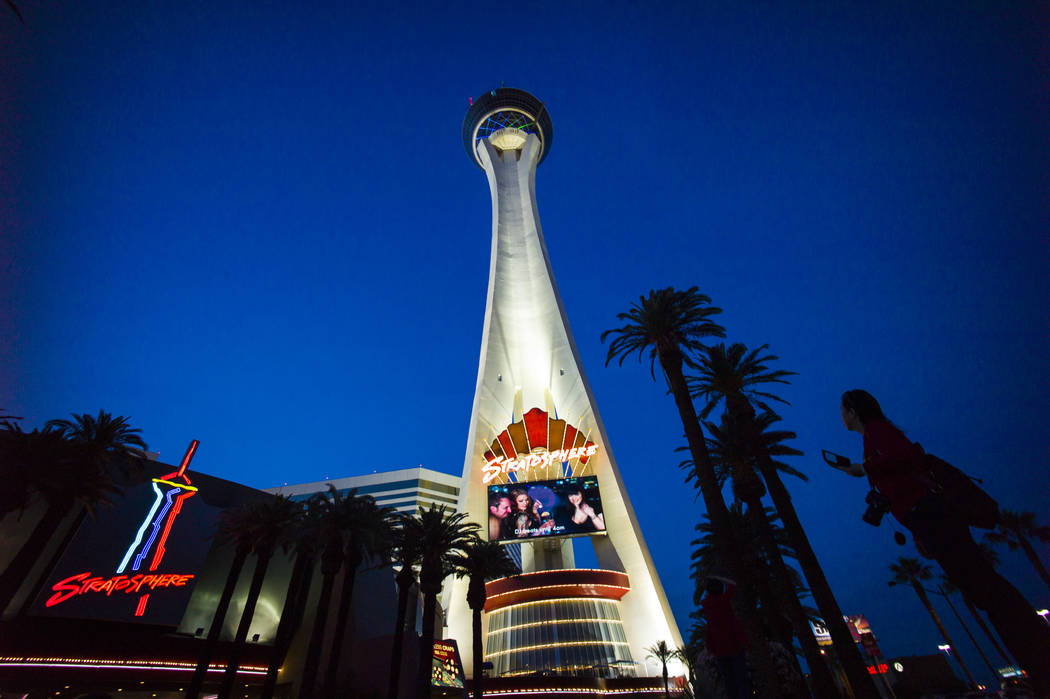 The Nevada Gaming Commission unanimously approved Golden Entertainment's acquisition of the three properties from American Casino and Entertainment, a deal that sends the seller $781 million in cash up front, along with four million shares in Golden. Combined, the transaction totals about $850 million.
Golden Entertainment and American Casino came to the terms in June.
During the Nevada Gaming Commission meeting this week, Chairman Tony Alamo praised the deal, and said he believes it's a sign that good things are coming for the northern end of the Strip.
"The Stratosphere is iconic. Whenever you see Las Vegas, it's always part of the landscape," Alamo declared. "It was probably put at the right place at the wrong time, 25 years too early. It's in a very challenged area. Everyone comes to Vegas to see it, but they don't want to stay there. But I think the north part of the Strip is going to revitalize."
The finalized deal means Golden now operates more than 15,800 slot machines, 114 table games, and over 5,100 hotel rooms between its holdings in Nevada, Montana and Maryland.
Increased Presence
Golden Entertainment has been one of the best-performing gaming and hospitality companies in Nevada in 2017. The company is reporting record earnings this year, with net revenues totaling $110.5 million in the third quarter, a nearly eight percent gain on the same period in 2016.
The corporation's bread and butter comes from its gaming, both inside its taverns, as well as its lucrative Golden Route Operations subsidiary. The distributed gaming operator manages 12,000 gaming machines in Nevada and Montana.
While Golden has been behind the betting terminals found in various Nevada eateries and quick shop stops, such as Buffalo Wild Wings, 7-Eleven, and Hooters locations, the company is ready to take on a more prominent role in Las Vegas.
Golden already owns the Pahrump Nugget, Gold Town, and Lakeside Casino, as well as the Rocky Gap Casino in Maryland. But adding the Stratosphere and Arizona Charlie's locations gives the company a larger presence in Las Vegas.
Golden CEO Blake Sartini says acquiring the two casinos is a "transformational event" for the company.
Stratospheric Plans
Topping out at 1,149 feet, the Stratosphere Tower is tough to miss when flying into McCarran International. Many Las Vegas visitors take the elevator ride to the top of the observation deck where a rotating restaurant and "sky ride" attraction provides an expansive view of the Las Vegas Valley.
But Golden Entertainment wants to make sure those guests book rooms there as well.
The company said during a recent conference call that part of that mission might be accomplished by building conference space at the Stratosphere. There's currently no such space, other than a 25,000-square-foot meeting and wedding hall.
Similar Guides On This Topic