Wynn Plaza Shopping Complex Opens Sans Hoopla
After months of keeping us in suspense, Wynn Las Vegas has opened its Wynn Plaza shopping promenade with virtually no fanfare.
The 70,000-square-foot Wynn Plaza made its under-the-radar debut on Oct. 11, 2018.
It's a beauty.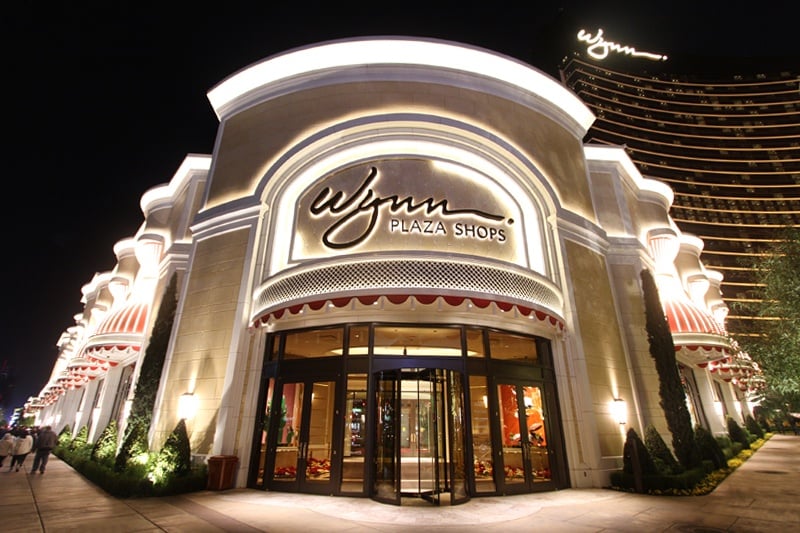 Wynn Plaza boasts a new must-see piece of artwork, Smiling King Bear by Spanish artist Okuda San Miguel.
Smiling King Bear is 16 feet tall and is done in the artist's signature prismatic style, which is definitely something we didn't just copy and paste from a news release.

While Wynn Plaza is slated to have about 25 tenants, it's worth noting the shopping center opened with about half that number. We trust that's the reason for months of delays, and the aforementioned lack of flair around the mall launch.
Remember, Wynn Plaza is part of Wynn Las Vegas.
Back in the day, the former CEO would've not only insisted all the stores be in place when the mall opened, he'd have arranged for fireworks or a parade or something over-the top to mark the occasion.
Back when Steve Wynn opened Mirage, there was an erupting volcano.
When he opened Bellagio, there were dancing fountains.
When he opened Wynn Las Vegas, the whole world was watching.
But times have changed. Steve Wynn is no longer at the helm of Wynn Las Vegas due to a cavalcade of sexual misconduct allegations, and not only that, Wynn Plaza isn't even the sole owner of Wynn Las Vegas.
Wynn Resorts sold half (49.9%) the ownership of Wynn Plaza (and other retail space at Wynn and Encore) to Crown Acquisitions in late 2016.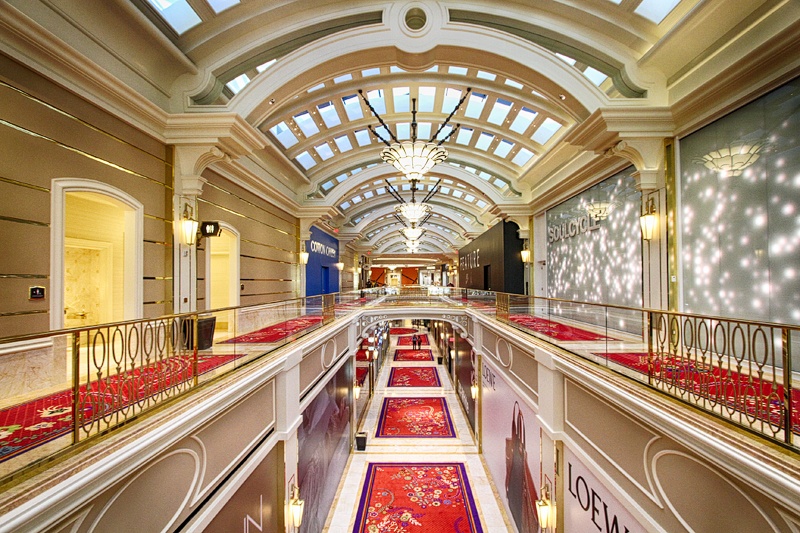 Does the co-ownership or half occupancy explain why there was no celebration around the opening of Wynn Plaza? Who knows. We're not even entirely sure we care. It's shopping.
Still, we love shiny new things in Las Vegas, and Wynn Plaza is certainly that.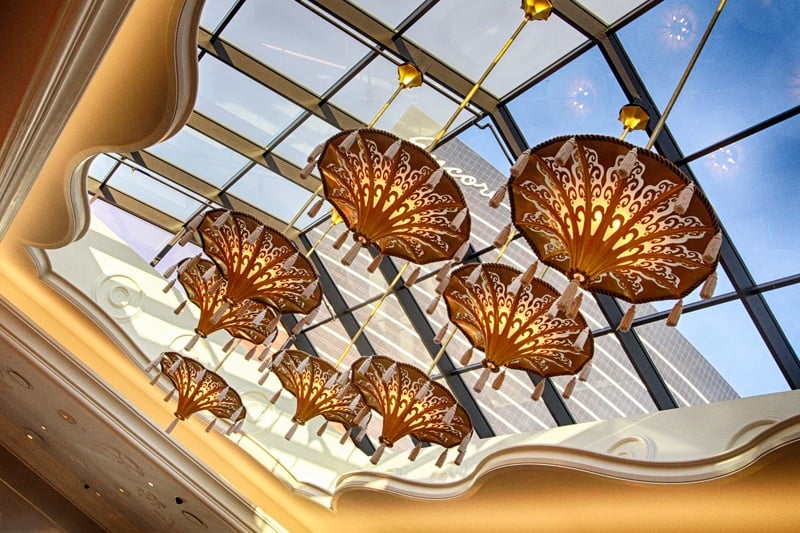 Beyond the multi-colored bear, there's another piece of high-profile art at the other end of the mall, Arrows and Flower Neon Sign by Takashi Murakami and Virgil Abloh.
Takashi Murakami is known, of course, for revitalizing traditional narratives of transcendence and enlightenment. The Internet, it seems, has a lifesaving news release for every occasion.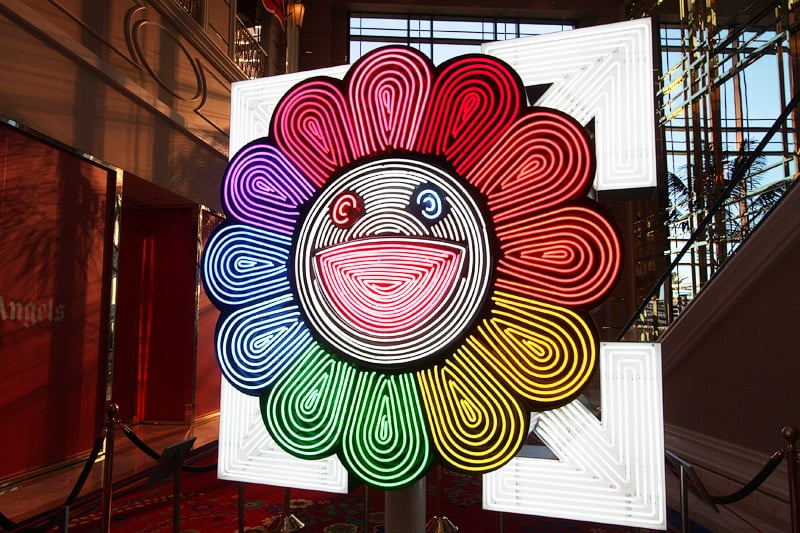 The security guard said the artwork is valued at $3 million. We are clearly in the wrong line of work.
Did we mention it moves?
There are currently two dining options at Wynn Plaza, the highly-regarded Cipriani and Urth Caffe.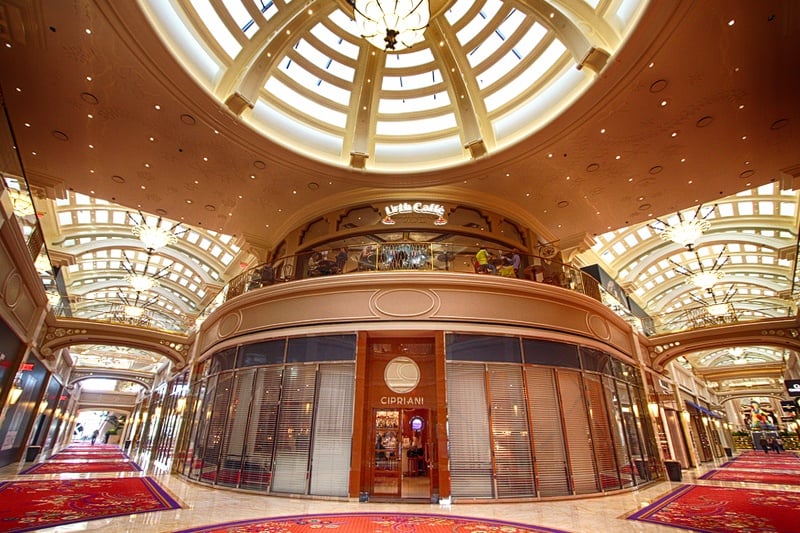 We can't wait to give Cipriani restaurant and bar a try, not only because of the warm, welcoming decor, but also because they didn't kick us out for taking photos of the place.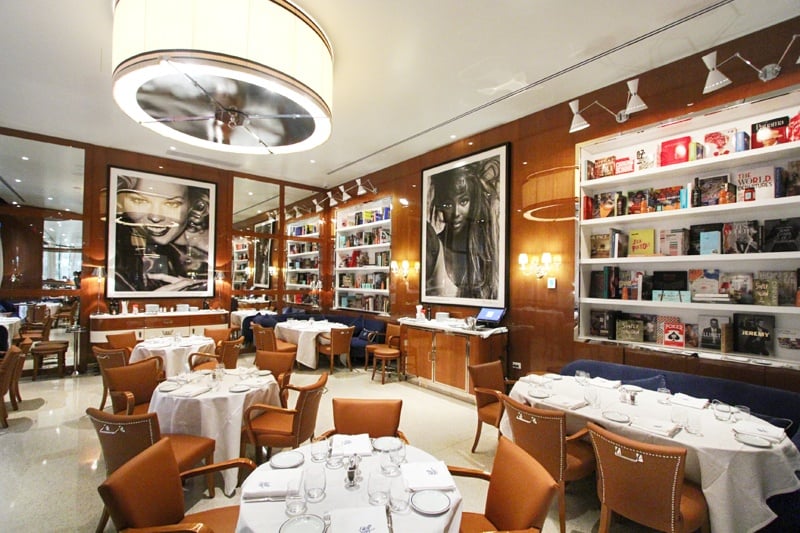 Urth Caffe looks appealing as well, and not just because it has a metric ass-ton of desserts on display.

We weren't kidding about the desserts.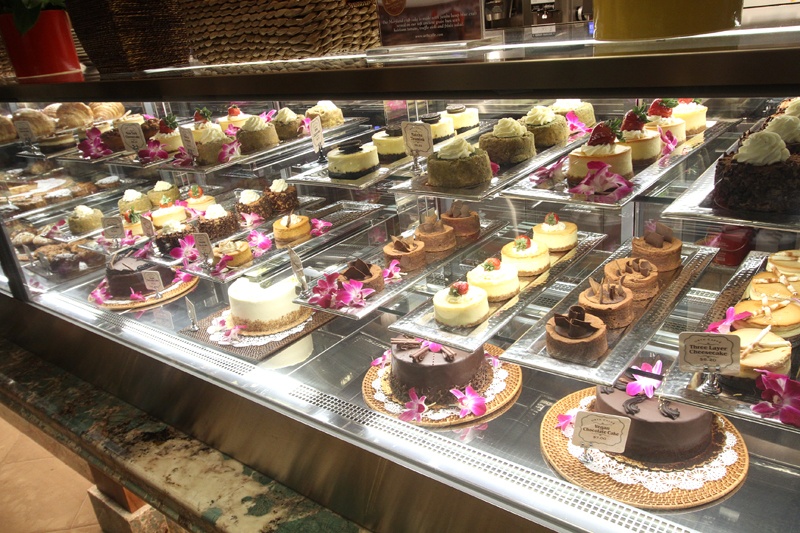 Wynn Plaza has a number of luxury brands, approximately zero of which we're the target audience of. To make things even more awkward, no one that shops at Wynn Plaza would ever end a sentence with a preposition.
Wynn Plaza also has an indoor cycling center, SoulCycle. Which is just sort of weird. Partially because it's in a mall. But also because it sounds like people may voluntarily exercise.
The folks at Wynn Plaza have obviously taken a lot of time and care in both designing the space (credit for that goes to longtime Steve Wynn collaborator Roger Thomas) and selecting tenants.
Here's an interview with the Wynn Las Vegas retail guy.
While we're not a shopping person (we own a total of one blazer), we suspect affluent shoppers will appreciate the stunning design of Wynn Plaza as well as the brands offered, a number of which are new to Las Vegas.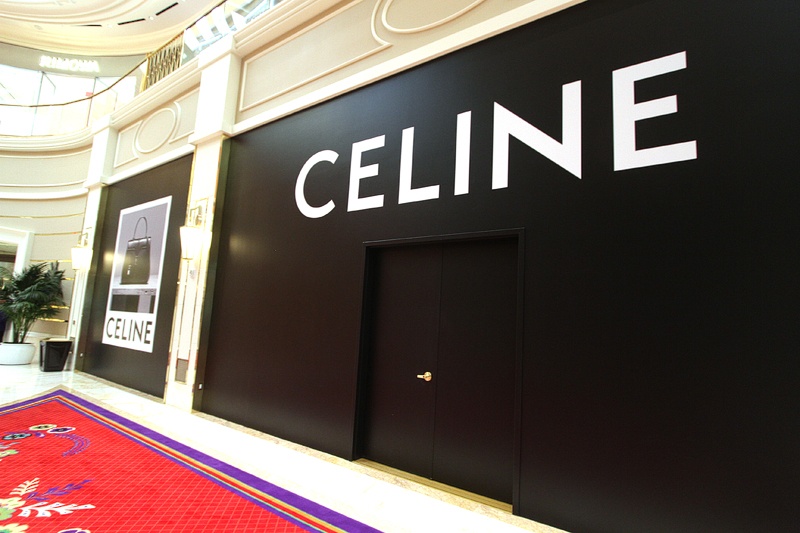 Despite the fact half of the stores aren't open yet, things should pick up moving into the holiday season, and Wynn Plaza is well worth a stop.
Eventually, people are going to notice if you only have one blazer.