Wynn Las Vegas Reveals Awakening Theater Entrance
As we were the first to share, the new show at Wynn Las Vegas is called "Awakening."
The theater has undergone a major overhaul, and the famous "Le Reve" pool has been drained and demolished.
Fun fact: Drained and Demolished was the name of our band in high school. And, boy, were our hands tired.
The theater isn't the only thing that's gotten a refresh at Wynn. The show's lobby and entrance have been completely changed up for the new show.

Naturally, we popped in for a sneak preview and to take some photos. Refreshingly, we were not tackled by Wynn security for doing so.
The Wynn Theater entrance was previously adorned with a flock of butterflies. Or kaleidoscope of butterflies. Or flutter. We are a blog, not a knower of collective nouns.
Here's a "before" photo of the Wynn Theater lobby.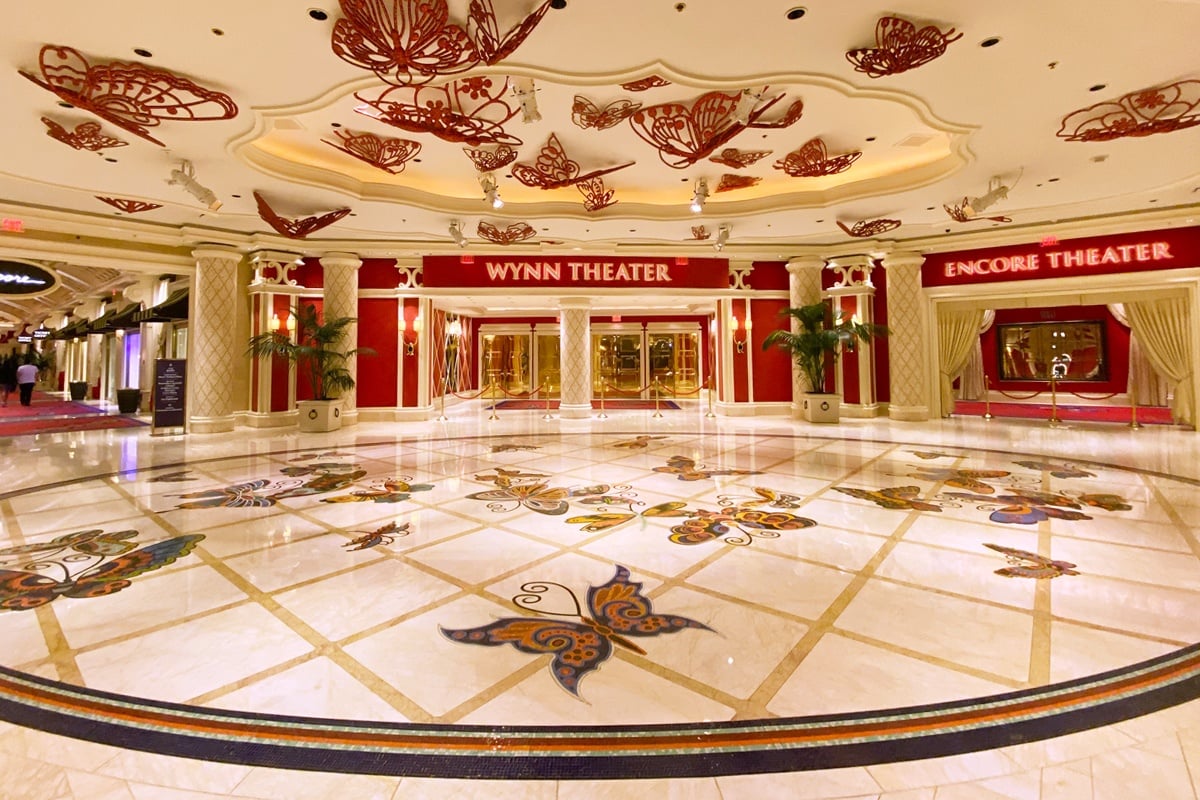 Anyway, the butterflies have been replaced by flowers.

Other inhabitants of the former theater entrance have flown away as well. Popeye, by artist Jeff Koons, was moved to Encore Boston Harbor. It hasn't been on display there for quite some time, and last we heard, it had been sold.
Another Koons sculpture, Tulips, was relocated to Wynn Plaza, the hotel's shopping promenade.
The new Awakening Theater lobby has the flair we've come to expect from Wynn Las Vegas. Here's a quick look.
It's classy, tasteful, and doesn't give too much away about the new show, which cost "north of $100 million" to develop.
We've heard the show is about "saving magic." We probably know more, but we refuse to spoil all the surprises.
The new entrance has two curved video screens.

The "Awakening" sign is currently covered by a drape.

The theater doors are flanked by two candelabra wall sconces. The sconces hold crystals rather than candles. So, they're more like "crystalabras."

Behind the "crystalabras" (yes, that's annoying, we promise not to use that word again) is a cloth backing featuring hand-beaded balls. No way the designers at Wynn would just slap some everyday balls up there.

Near the theater lobby space, there's a revamped cafe in the works.
In keeping with the new theater and stage production, The Cafe is being rebranded to Caffe al Teatro, an Italian term meaning, "a cafe that's a cannoli's throw from the theater."
During the retooling (and downsizing, we hear) of the cafe, there's a pop-up stand for The Cafe, called The Cafe Express Cart.

The menu is modest, but it will satisfy your caffeine cravings.

"Awakening" debuts this fall, although no opening date has been announced. Given the investment and talent involved, high hopes abound in anticipation of this new entertainment offering on the Las Vegas Strip.
Note: Please don't throw cannolis. It's the Wynn.