"The Walking Dead" Badass Daryl Dixon (Norman Reedus) Rides SlotZilla Zip Line in Las Vegas
Just about the only thing this blog loves as much as Las Vegas is "The Walking Dead," so we definitely had a moment when we learned Norman Reedus, known to zombie fans around the world as Daryl Dixon, visited downtown and rode on the SlotZilla zip line on Jan. 22, 2015.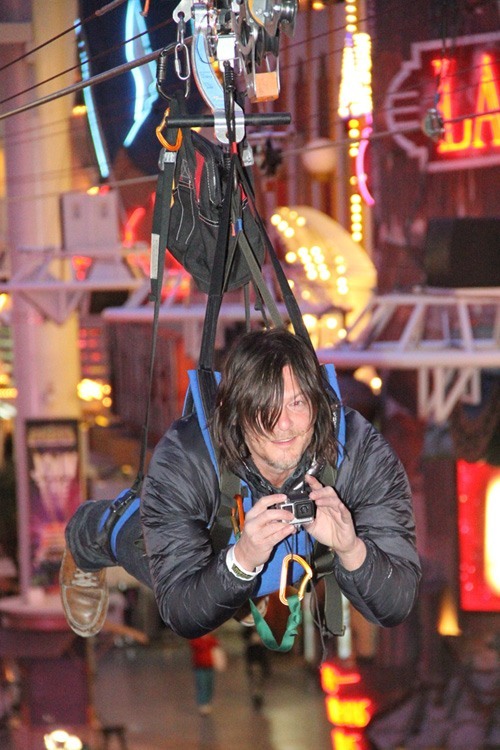 Reedus opted for SlotZilla's upper "Zoomline," where riders travel the length of the Fremont Street Experience laying face down, superhero-style. Which is apt given Daryl has certainly achieved superhero status on AMC's smash hit, "The Walking Dead."
Season Five of "Walking Dead" premieres Feb. 8, 2015, so you know where we'll be. Here's a teaser.
A short time before Norman Reedus zoomed, he posted a photo on Instagram with an Elvis impersonator outside the SlotZilla ticket office on Fremont Street. The "Walking Dead" star also posted a photo of the slot machine inspired by the popular show.
Full disclosure: We work for Fremont Street Experience, which operates SlotZilla. Our opinions are our own, however, especially the ones involving our borderline creepy fanaticism for all things "Walking Dead."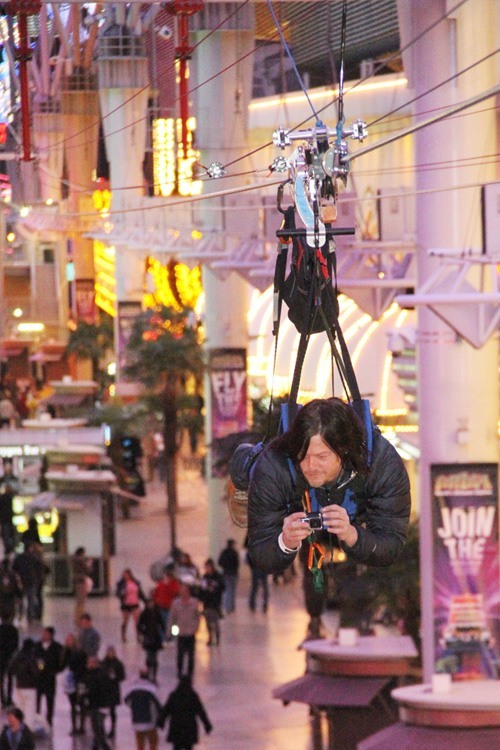 From what we can sleuth, Norman Reedus is in Las Vegas shooting a film called "Sky," possibly with Lena Dunham and Diane Kruger. Read more.
Not surprisingly, we spend a lot of time downtown and on Fremont Street (and did before we ever started working there), so we were crushed to have missed bumping into Reedus in person. From people we've talked to, he's down-to-Earth, unassuming, soft-spoken and patient with fans asking for photos and autographs.
You truly never know who you might encounter in Las Vegas. And if you're really lucky, you might even get to meet the only guy we're confident will never be killed off on "The Walking Dead."