Tacos El Gordo Closes on The Strip (Temporarily)
Tacos El Gordo, a Mexican restaurant with a rabid cult following, shuttered suddenly to just about everyone's surprise on Nov. 30, 2014.
Update (12/5/15): Just nevermind the rest, Tacos El Gordo is back!
Here's a look at Tacos El Gordo prior to the abrupt shuttering.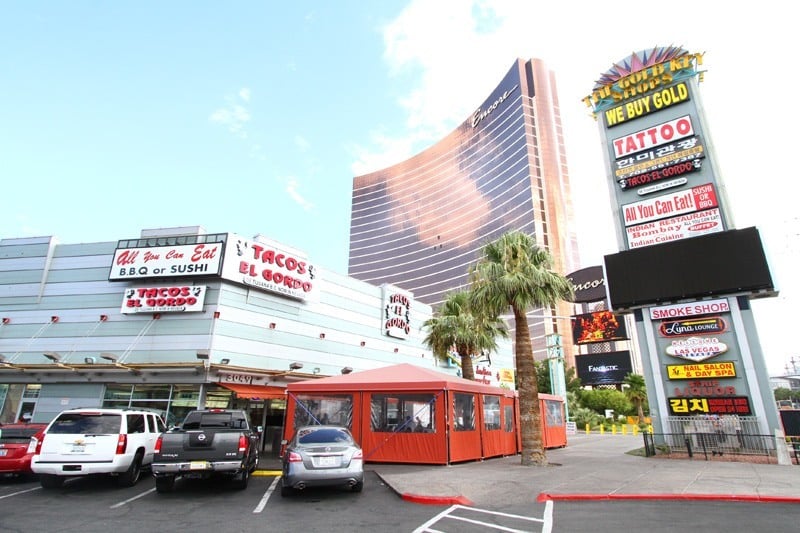 Rumors flew that the restaurant would re-open again, but we've confirmed that's not to be. Immediately after the restaurant closed, owners of Tacos El Gordo began taking down signs.

The tent outside Tacos El Gordo (erected due to the popularity of the restaurant) was removed right away, and owners of the restaurant have been taking out kitchen equipment and other fixtures, all signs there's no turning back now.
We had to poke our head inside for a security breach, of course.

We spoke with a teary-eyed Tacos El Gordo manager to try and get the inside scoop on why the restaurant closed.
Apparently, the restaurant's closing was a mutual decision between the owners and management of the strip mall where Tacos El Gordo has thrived for some time. The decision to close the restaurant wasn't financial, but rather was the result of an acrimonious relationship between ownership and the mall's general manager.
While we're not taking sides, the mall manager sounds like a bit of an asshat, at one point saying Tacos El Gordo serves "junk food." It appears the mall manager also was not a fan of the traffic caused by the popularity of Tacos El Gordo. Clearly, this individual is also not a fan of "money," because Tacos El Gordo was the main draw at this otherwise bland mall, and the foot traffic was undoubtedly a boon to other businesses in the mall.

During our time at Tacos El Gordo, a few days after closing, there was a steady stream of disappointed fans of the restaurant, many of whom had been coming to Tacos El Gordo for years. The looks of shock and dismay were universal.
One of the few bright spots in the closure is that the employees are being transferred elsewhere and will not be laid off.
Taco lovers will also be happy to hear there's another Tacos El Gordo location in Las Vegas. While not as accessible for those staying on The Strip, it's a short taxi ride, and possibly worth the trouble, depending upon the depth of one's desire for tasty, cheap tacos.
The other location is at 1724 E. Charleston Blvd., Las Vegas, NV 89104.
The anguished wails following the closure of Tacos El Gordo are a reminder that in Las Vegas, it's best not to get too emotionally attached to anything. The good news is that even when something worth loving goes away, Las Vegas always makes more.