Shocking Nude Photos of Las Vegas Celebrities Leaked
Las Vegas has been rocked to its core as explicit photos of several Sin City celebrities have been leaked. Vital Vegas has gained exclusive access to these scandalous images.
The shocking photos reveal an intimate side to several members of the Seven Magic Mountains
art display recently unveiled in the desert just south of Las Vegas, pictured below.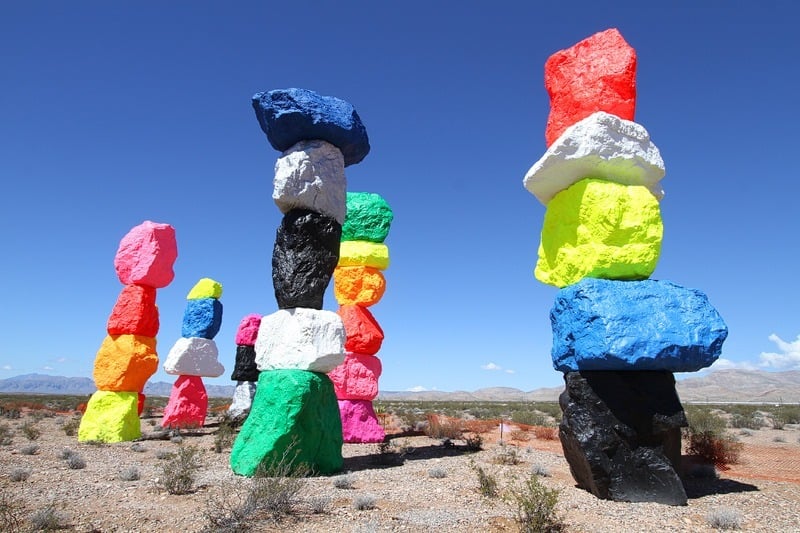 The Seven Magic Mountains display has gained international attention, but now several of
its stone pillars are likely to receive even more renown, for all the wrong reasons.
It seems several of the rock formations posed for "tasteful nude photos" while in college
to earn extra money to pay for tuition and living expenses. It's a phenomenon not uncommon
among starving artists, but given the visibility of the Seven Magic Mountains exhibit, this
is sure to send the art world into a tailspin.
Please be warned: These images are NSFW.

The subjects of the nude photos have declined comment, but we have confirmed the images
(complete with ample amounts of cleavage) were taken in or around the porte-cochere of
Bellagio Las Vegas.
Hotel officials have also declined to comment.

Cases of nude photos being leaked is not uncommon among celebrities, but it's believed this
is the first such instance of nude rock sculptures. The fact the subjects involved are
associated with Sin City makes this story all the more seductive.
It's unclear whether the subjects of the leaked celebrity photos will pursue legal action,
but you can be sure many lawyers, and probably mineralogists, are looking into the matter.
An important lesson from this episode: What happens in the Earth's mantle and crust doesn't always stay in the Earth's mantle and crust. Or something.